If you've been looking at the supermarket circulars, you might come away with the notion that a traditional July Fourth celebration includes hamburgers and hot dogs; coleslaw and potato salad; and perhaps a red, white and blue dessert to match an array of star-spangled paper plates and napkins.
I love a good cookout! And there are more and more wonderful options for vegetarians and vegans in the form of plant-based "meat" or smoked carrot "hot dogs" with all the fixings, so a cookout is a great option for all the summer holidays and get-togethers. Yet there's a much older New England tradition for the Fourth of July — salmon and peas.
Legend has it that Abigail Adams served salmon and peas at the first Fourth of July, though that tale has largely been debunked as the couple were in different cities on that day. Nonetheless, perhaps Abigail still ate this fare on or around that date, taking advantage of seasonal bounty. So many traditions begin, of course, with what's in season: spring lamb at Easter and Passover; winter squash at Thanksgiving. It's mostly been forgotten that salmon and peas, often along with freshly-dug new potatoes, were coming into season right around Independence Day.
Before the rivers were dammed up and fouled with the effects of industrialization, salmon were plentiful in New England, and this was the time of year that they were running the rivers. (Sadly, finding eastern salmon is pretty rare these days.) In the climate of the region, particularly before it began to warm up more recently, peas were among the first fresh produce of the year, right around the Fourth of July. These days you can find fresh shelling peas at farm stands and farmers markets, and though it's an extra step to shuck them, you will be rewarded with the sweetness of fresh-from-the-field produce.
Most of the old recipes are for poached salmon, boiled peas and steamed new potatoes with some sort of white sauce, often seasoned with fresh dill. But if you're wedded to the idea of a cookout on July Fourth, here's a good technique for grilling salmon. The marinade here has Italian flavors to go with my suggestion of a pea and lemon risotto, but this technique for grilling salmon will work with any flavor marinade you choose, so don't hesitate to experiment. (We often make the salmon using a bottled Asian-flavored marinade, and bring it, at room temperature, for a Tanglewood picnic with a side dish of peanut noodles.)
The risotto technique is pretty standard, but with the addition of fresh peas and a good dose of lemon. Personally, I find many risotto recipes need a bit of acid to complement the creaminess of the rice. This recipe works equally well with frozen peas when fresh are not in season, and can easily be vegetarian by subbing vegetable broth for chicken, and even vegan by omitting the butter and Parmesan. (You will have leftovers, but not to worry — risotto reheats well in the microwave.)
Whether for the Fourth of July, or just a summer supper on an average weekday, salmon and peas is sure to please!
GRILLED SALMON WITH BALSAMIC MARINADE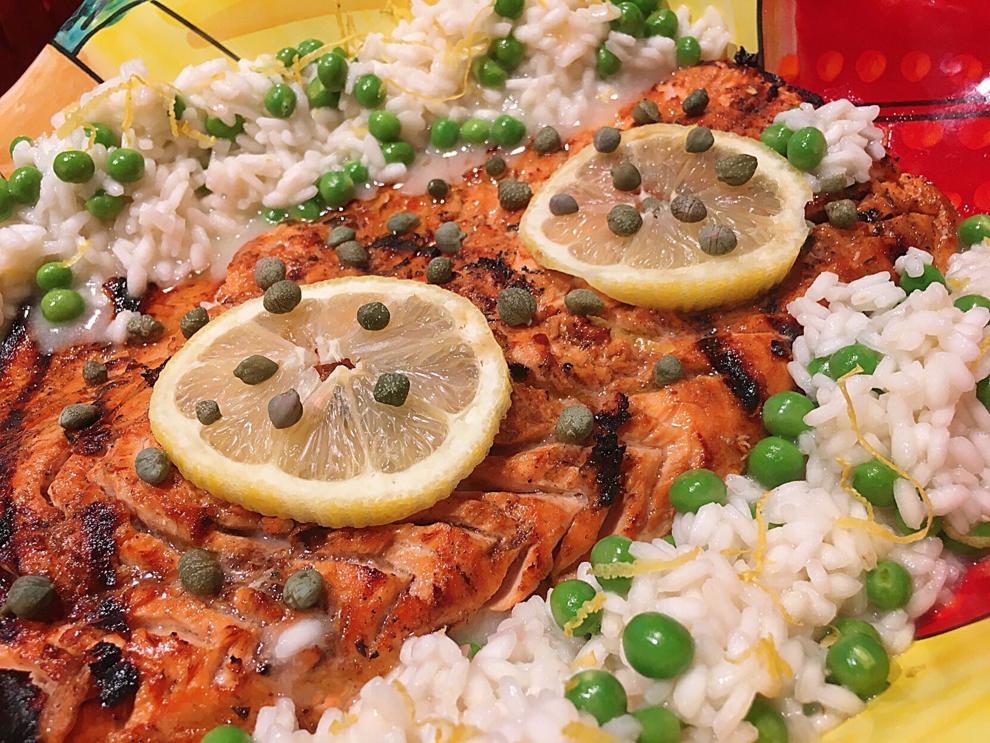 Serves 4-6
INGREDIENTS:
1 tablespoon balsamic vinegar
2 tablespoons red wine vinegar
1/2 teaspoon dried oregano
1/2 teaspoon kosher salt
1/8 teaspoon fresh ground pepper
1/2 teaspoon Dijon mustard
1 tablespoon extra virgin olive oil
2 pounds salmon fillet, in one piece or 2 smaller pieces
1 tablespoon capers, drained, for garnish, optional
2 thin lemon slices for garnish, optional
DIRECTIONS:
Combine both vinegars, oregano, salt, pepper, and mustard in a small bowl or glass measuring cup and whisk to mix. Add the olive oil and mix again. Place the salmon fillet in a shallow baking dish just to fit and pour the vinaigrette marinade over. Cover with plastic wrap and place in the fridge for 1 to 3 hours. Remove from the refrigerator 30 to 45 minutes before cooking to take the chill off.
Preheat the grill to high. (We use a gas grill. If you have a charcoal grill adjust the instructions to work best for you.) Prepare a double layer of heavy-duty foil big enough to fit the salmon, and fold up about 1/2-inch on the edges all the way around.
Turn the heat down to medium. Place the salmon directly on the grill flesh-side down and close the top. Save any remaining marinade. Allow to cook for 5 minutes, by which point the flesh should be firm enough to release easily from the grill.
Place the prepared foil on the grill and gently turn salmon skin-side down onto foil. Pour remaining marinade on top and turn heat back to high. Close top and cook for 5 to 8 minutes more. The salmon is done when flesh at thickest part of the fillet is firm to the touch. (The exact timing will depend on thickness of the fillet, usually total of 10 to 13 minutes total time.)
It is easiest to remove the foil with the salmon on top to a half sheet pan or baking dish. Salmon can be served immediately while hot, warm, or at room temperature.
RISOTTO WITH PEAS AND LEMON
Serves 6-8 at least, and leftovers reheat well in the microwave
INGREDIENTS:
2 to 3 cups chicken or vegetable stock, preferably low sodium if store-bought, or homemade
2 tablespoons unsalted butter, or use all olive oil for vegan
1 tablespoon extra virgin olive oil
1 small shallot, minced, about 2 tablespoons
Pinch kosher salt
2 cups Arborio rice
1/2 cup dry white wine
1 quart or 1 1/2 pounds shelling peas, shucked, yielding about 2 cups peas, or 1 cup frozen sweet peas
Zest and juice of 1 lemon, preferably organic
1/4 cup grated Parmesan
DIRECTIONS:
Place the broth in a medium saucepan, add enough water to make 5 cups liquid total, and bring to a boil on the burner behind where you will make the risotto. Lower the heat to keep just barely at a simmer.
In a medium, heavy-bottomed saucepan or Dutch oven, heat the butter and the oil over medium heat until the butter is melted. Add the shallot with a pinch of salt, and sauté until soft and translucent. Add the rice and stir for about a minute until coated with oil. Add the wine and stir until almost completely absorbed.
Set a timer for 13 minutes, and begin adding broth from the saucepan to the rice, 1 to 2 ladlesful at a time, stirring continually to keep the rice from sticking to the bottom. Allow the broth to absorb almost completely before adding the next 1 to 2 ladlesful of broth. Every time you add broth, it should just barely cover the rice. Adjust the heat as necessary to keep the rice and broth mixture hot but not boiling. If you seem to be running low on broth, add water.
When the timer buzzes, add the peas, set the timer for another 5 minutes, and continue adding broth and cooking as before. When the timer buzzes again, taste a piece or two of rice. (You may not have used all the broth.) It should be tender but still firm in the middle, al dente, similar to the desired doneness for pasta. If it is still too hard, continue cooking in the same way for a few more minutes. Add lemon zest and juice, along with the Parmesan, and stir until absorbed into the risotto. Serve immediately so the peas stay nice and bright.
For any leftover risotto, I find it helpful to stir another ladleful of cool broth, if available, into the cooled risotto before putting into the refrigerator.