It was just too hot this weekend.
Not hot, like 110 F on the West Coast, but too hot for the Berkshires in June. Too hot to be in the kitchen. Too hot to turn on the oven, unless you are my 16-year-old son, who decided that Sunday was the perfect day to make frozen mozzarella sticks in the oven. He obviously didn't hear about the hot-weather oven ban in our house. Maybe the desire to eat mozzarella sticks after his mid-morning workout was just too hard to resist. (Or maybe, he's just your typical American 16-year-old who isn't impacted by the heat like his 43-year-old mother is.)
With my kitchen a sweltering 500 F or more, I decided spending as little time in there as possible was the best course of action. I wanted to make something simple for lunch that would be light, but tasty and somewhat filling. Inspired by a basil plant on my back deck, I decided to make an easy caprese salad with the plum tomatoes, mozzarella pearls (mini mozzarella balls) and basil I had on hand.
Traditionally, caprese salad is made with 1/4-inch thick slices of mozzarella and either heirloom or beefsteak tomatoes, cut to the same thickness, and layered alternately before whole leaf basil is added. Balsamic vinegar and olive oil are both drizzled over the top. That's great for serving guests, but when making lunch quickly in the kitchen I opt for either cherry or plum tomatoes, sliced in half; some quickly chopped basil, a handful of mozzarella pearls tossed together with a light drizzle of balsamic vinegar and of honey. It's a delicious, easy, breezy salad for a hot summer day. The recipe below makes enough for four servings.
EASY CAPRESE SALAD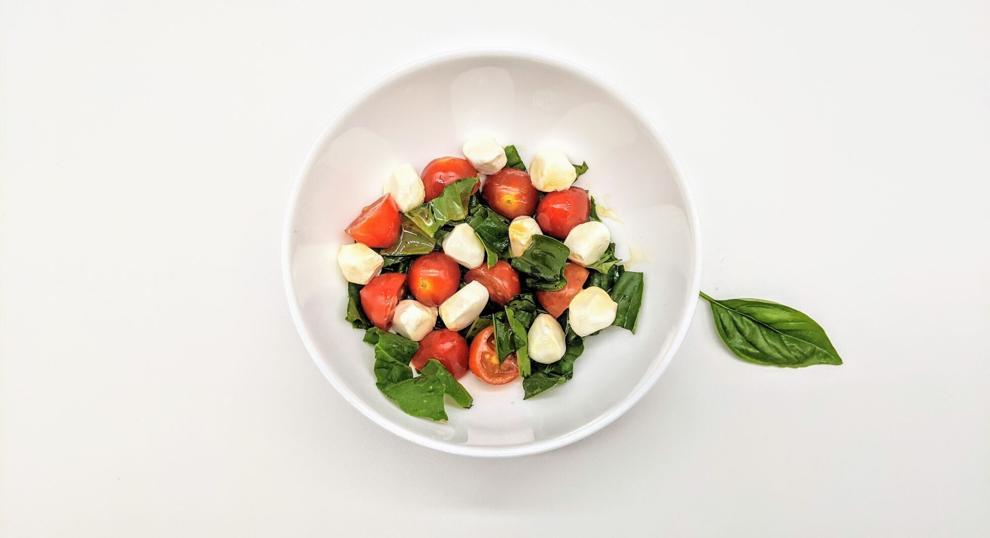 INGREDIENTS
One 10-ounce container grape tomatoes, halved or quartered
4 ounces fresh mozzarella pearls
1/2 cup fresh basil leaves, torn or chopped
1 tablespoon balsamic vinegar, for drizzling
1 tablespoon honey, for drizzling
Salt, if desired
DIRECTIONS
Toss together the tomatoes, mozzarella, and basil leaves.
Drizzle the balsamic vinegar, honey over the top of salad.
Sprinkle with salt as desired.