When the temperature outside rises, the oven in our house gets to take a vacation.
Instead, we rely on our grill, stove top, slow cooker and Instant Pot for our nightly meals. One of our main go-to meals is a quick stir-fry made with greens from the garden — pak choi, Swiss chard, spinach and kale; scallions and garlic; shiitake mushrooms, peas and chicken in a wok with sesame oil, tamari soy sauce, teriyaki sauce and some chicken bone broth.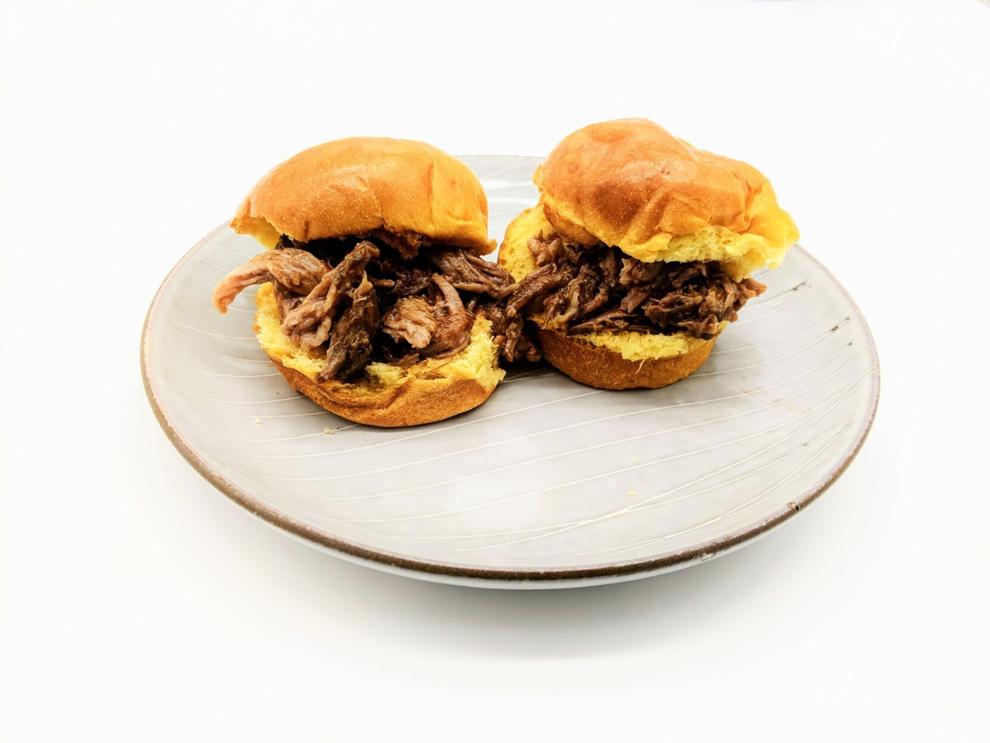 Another favorite, which I made over the weekend, is barbecue pulled pork — a pork butt roast covered in a simple rub and roasted in the slow cooker for seven hours on low. Once the meat is nice and tender, I slice it and begin shredding it. I do this by putting two forks in a piece of meat and pull in opposite directions to get thin strips of meat. (I've read that you can also do this with a KitchenAid mixer and recently watched a video on how to do it. But, I haven't tried it yet.) Once shredded, I lightly toss the pork with a 1/2 cup of G. Hughes Smokehouse Sugar Free BBQ Sauce, which is sugar-free and gluten-free (but any old barbecue sauce will do).
This recipe has become a favorite of mine because it not only makes a delicious pulled pork slider, but also because the leftover meat also makes a great pulled pork taco (or vice versa). To make the tacos, I warm up flour tortillas on my cast iron skillet, then layer them with salad greens from the garden (kale, Swiss chard and spinach), pile on some of the pulled pork and then top with sliced radishes, chopped onions and a drizzle of sour cream. The great thing is you can add any toppings you want to the taco.
SLOW COOKER BARBECUE PULLED PORK
INGREDIENTS
4 pound pork butt roast (also known as Boston butt) or pork shoulder
1/2 cup brown sugar
2 tablespoons kosher salt
2 teaspoons onion powder
2 teaspoons garlic powder
1/2 cup barbecue sauce (feel free to use more or less)
12-pack slider buns (for pulled pork sliders)
flour tortillas (for tacos)
DIRECTIONS
In a small bowl, mix together brown sugar, kosher salt, onion and garlic powders to create a dry rub. Coat the pork butt with the dry rub on all sides. Place pork butt in slow cooker (with a slow cooker liner), cover. Cook for 7 to 8 hours on low, flipping halfway through. There's no need to add water or broth, as the pork will create its own juices to simmer in.
When pork is done, slice into sections. Insert two forks into each slice, pulling in opposite directions to create thin strips of pork. Place in bowl and toss with barbecue sauce. If making sliders, place on buns. Serve plain or top with pickles, red onions, lettuce, etc. For tacos, heat tortillas in a pan. Remove, add pork and your favorite toppings, such as salad greens, onions, scallions, radishes, rice, cheese, sour cream, etc.