BRATTLEBORO — Dosa Kitchen earned its reputation for delicious food by seeking excellence with each and every dosa.
"Every dosa needs to be perfect," chef and co-owner Nash Patel said of the crisp crepes made of rice and lentils.
Dosa Kitchen started in 2014, selling food behind the Hooker-Dunham Building on Main Street. The business has gone from food truck to brick-and-mortar on Elliot Street, and now back to food truck.
Patel and his wife, Leda Scheintaub, co-owner, decided to return to the earlier model because they believe it's more efficient and the restaurant space needed a ventilation system. Scheintaub said it would be expensive to upgrade the system, and the couple didn't think it was the right thing to invest in when they were just renting. She emphasized that the restaurant didn't close because of COVID-19, and the couple doesn't want anyone to feel bad for them.
Being at Retreat Farm works out well, since it has connections onsite to electricity and water. Also touted is the abundance of free parking.
Google and Trip Advisor reviews are believed to help with building the business. The couple sees families and groups seeking their food out.
"We've grown quite a following," Scheintaub said. "We have a lot of destination diners, which is really rewarding."
The couple also wants to serve locals who have yet to try their food and become regular customers.
With the Food Truck Round Up starting Thursday, Dosa Kitchen's hours will be 5 to 8 p.m. Thursdays, then 4 to 7:30 p.m. Fridays, and 11:30 a.m. to 3:30 p.m. Saturdays and Sundays.
Dosa Kitchen is trying to share its love of dosas more broadly. The business is selling its batter in the Brattleboro Food Co-op, Putney Food Co-op, Keene International Market, Wild Carrot Farm and Rebop Farm.
Scheintaub said many people can enjoy the batter because it's dairy-free, sugar-free, gluten-free and vegan. The batter can be used for making dosas or other things, such as waffles.
At first, the batter was going to be a limited offering, so people could still make dosas during the COVID-19 shutdown when Dosa Kitchen closed for safety. The business got its batter out to farms so people could buy it.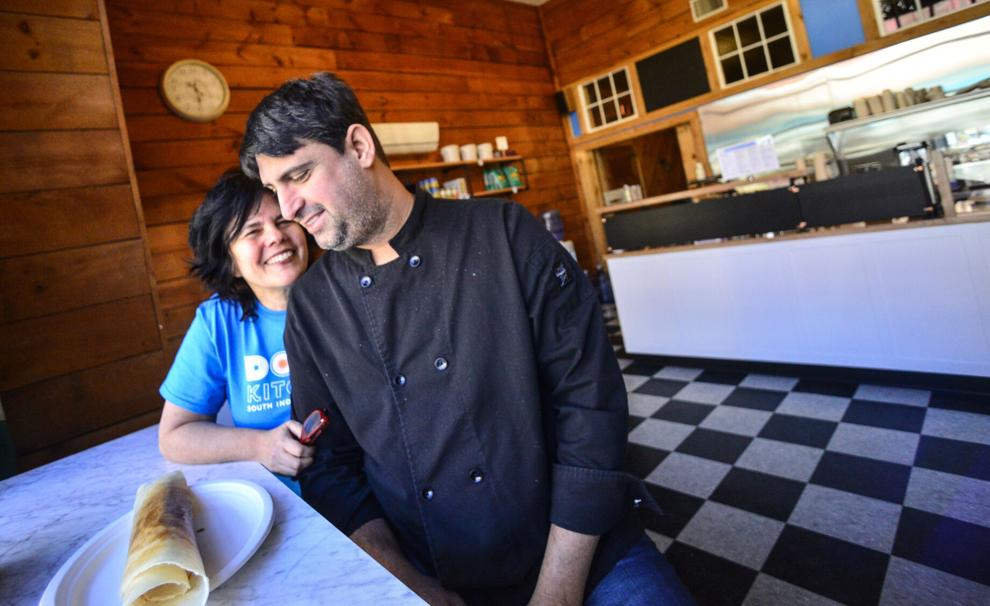 When the couple moved to Brattleboro from New York City in 2009, they set up a table at the Brattleboro Winter Farmers' Market. Patel said they made dosas and idlys, which are steamed dumplings made from dosa batter, and sambar, a lentil-based stew with vegetables and lots of spices in which to dip the dosa. The couple is currently working on packaging sambar and getting it into stores.
Scheintaub helped Patel jot down recipes with input from his mother. Scheintaub authors and edits cookbooks.
Growing up in Hyderabad, India, Patel learned how to make dosas from his mom at the age of 14 or 15, so she could sit down and enjoy a hot dosa after a long day of work. After being employed in hotels early in his career, Patel's initial job in the food industry involved working the register at a dosa place. That sparked his interest, and his next employer was the first pizza place to open in Hyderabad. He learned how to cook pizza from scratch and all the techniques for making different types of pizza.
Patel said he wanted to move away and got a chance to work at Pizza Hut in the Middle Eastern country of Oman. As part of that job, he was sent to different locations, including an American military base where he made a lot of pizza for soldiers before he moved to the U.S. in 2005.
In New York City in 2007, Patel met Scheintaub. She had the idea to move to Brattleboro.
"I came here kind of randomly once," she said. "I fell in love with it."
Scheintaub visited for three summers in a row and during the last one, Patel came with her, and they decided to get married and stay.
"I had dreams about Brattleboro all the time like when I wasn't there," she said. "They were all really magical, beautiful dreams."
Patel credits Scheintaub with coming up with the plan to start cooking his own food to sell. He said his mother is proud to have her cooking being enjoyed in Brattleboro, even though she had some reservations about the business idea at first.
Patel described wanting to break away from pizza, to cook the food he grew up with in India.
"Dosa was the calling," he said.
Scheintaub and Patel ended up writing, "Dosa Kitchen: Recipes for India's Favorite Street Food: A Cookbook," which was published in 2018. And the deliciousness of their food is spreading by word of mouth, bringing visitors from as far away as Connecticut, Massachusetts, New Jersey and New York.
Patel has noticed Indian families coming to Retreat Farm, not necessarily expecting to find authentic dosas in Vermont. He said mothers often test out the food before bringing all the others up to order. He stressed the importance of having the right ingredients, cooking everything as traditional as possible, and fermenting the dosa batter for eight hours.
Patel also takes really good care of the grill and keeps it well-seasoned, Scheintaub said. He pointed to his experience in many restaurants for making this a priority.
"It's really important how well you maintain a grill, because that's my livelihood, and it needs to be perfect," he said.
In the winter when the food truck is closed, Dosa Kitchen will focus more on advancing its product line and getting into more stores. Looking for a manufacturing facility, the couple is open to suggestions on shared space or part-time rentals.
"We're trying to get creative with how we can take the next step without a huge investment," Scheintaub said.
Dosa Kitchen also is participating in the Everyone Eats program, which is currently slated to run until the end of September after getting another extension. Local restaurants and food trucks are tapped to create meals made available for free to anyone who has been affected by the COVID-19 pandemic.
"It's such a brilliant program, and we're fortunate to be a part of it," Scheintaub said. "It's a way to be creative and share our food with lots of people."