NEWFANE — The 6th Annual Soup Fest and Silent Auction fundraiser will be held on Sunday, May 29, at the NewBrook Fire Station at Route 30. The…
Memorial Day can be many things. Since before recorded time people around the world have celebrated the arrival of spring. With the welcoming …
NEWFANE — Local Author Susan Mills will read from her new novel, "On the Wings of a Hummingbird," on May 26 at 7 p.m. at the Moore Free Librar…
PUTNEY — The Vermont Foodbank and the Putney Foodshelf co-sponsor a monthly food drop of free produce and some non-perishables on the fourth T…
A classmate from college read this column, recognized my name, and contacted me. Maybe we meet for coffee in beautiful downtown Brattleboro. I…
WESTMINSTER — Ariana Wunderle comes from a circus family so it was a natural that she chose a circus tightrope walk — in four-inch stilettos n…
Well intentioned people of the past century imported many handsome plants. Unfortunately, some of them – absent the predators of their homelan…
I have been married 37 years. Maybe it is 39. I forget. Early dementia. I am not certain that it makes much difference anyway.
The month of May is known for flowers blooming, grass turning green, days becoming longer and warmer, and of course, for Mother's Day.
TOWNSHEND — Gerda's Equine Rescue is hosting a tack and yard sale.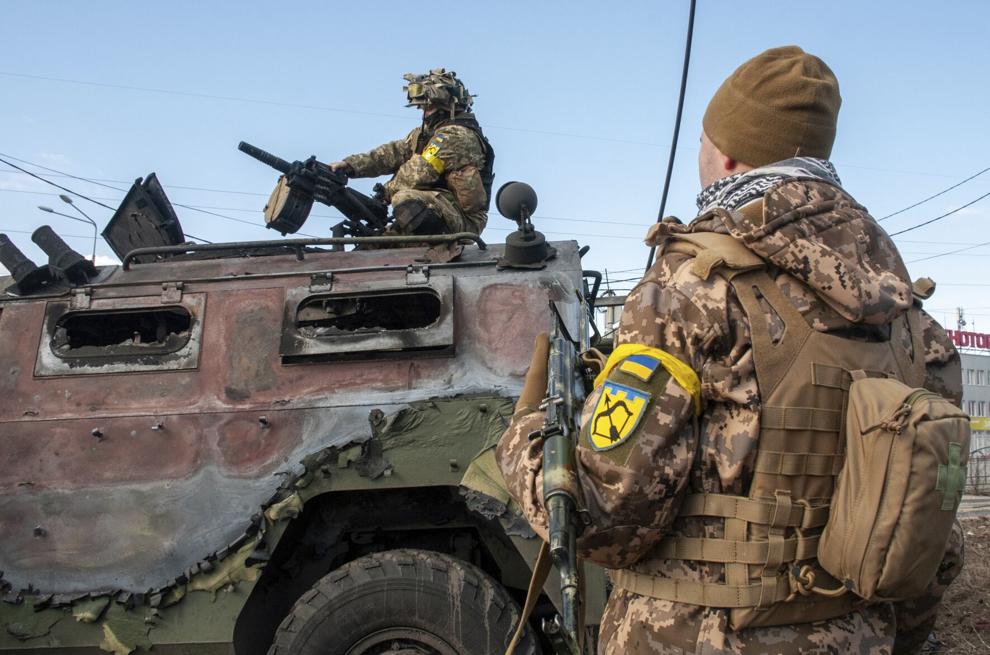 Vermont News & Media's three newspapers have a direct connection to people there who continue to work in Ukraine while under siege: Owner Paul Belogour has information technology teams based in Dnepr and Kyiv, Ukraine, which support the online operations of his other businesses, such as Vermont Innovation Box, Vermont Beer Makers and Vermont Real Estate and Development. Send your photos, videos and English-language reports from Ukraine to news@reformer.com to share them with Vermonters and other American readers.
SAXTONS RIVER — Good weather and friendly competition brought out 70 youthful anglers for this year's Saxtons River Recreation Area fishing derby.
KEENE N.H. — The latest effort of JoAnn and Bill Fenton, co-chairs for the Hundred Nights Capital Campaign, has raised $15,145 during the mont…
BRATTLEBORO — Experienced Goods, the thrift shop for Brattleboro Area Hospice, will be closing the location at the Transportation Center at 77…
"I am spiritual but not religious." The person who said that was kind of proud of themselves. I think it is the new saying these days.
BRATTLEBORO — On Thursday, May 19, from 4 to 5:30 p.m., Brattleboro Area Hospice will host a new eight-week Caregiver Support Group. The event…
The Federal Reserve Bank of Boston as of April 26, 2022 announced that Brattleboro Savings and Loan Association, Brattleboro, Vermont, has bec…
BRATTLEBORO — Brattleboro Savings & Loan has promoted Melanie Condon to vice president of operations.
BRATTLEBORO — The Federal Nuclear Waste Policy Committee of the Vermont Nuclear Decommissioning Citizens Advisory Panel will hold its third me…
WESTMINSTER — The Great Falls Regional Chamber of Commerce celebrated National Superhero Day on April 28 by recognizing 16 area superheroes, i…
BRATTLEBORO — An early morning fire at 39 Brookside Drive was quickly put out by the Brattleboro Fire Department on Wednesday.
DUMMERSTON — There will be a Tree Walk at Deer Run Nature Preserve on Saturday, May 21, beginning at 9 a.m. The walk will be hosted by Roger Haydock.
WESTMINSTER — The Westminster First Congregational Church women's fellowship, will be holding a Spring Sale on the church lawn, 3470 US Route …
BRATTLEBORO — Road crews will be working on two related paving projects in town this week.
WARDSBORO — Friends of the Wardsboro Library is sponsoring its annual Memorial Day weekend Plant Sale on Saturday, May 28, from 9 a.m. to 1 p.…
DOVER — The Dover Free Library will present the feature film "Confidence," starring Edward Burns, Rachel Weisz, Dustin Hoffman and Andy Garcia…
A long-time ago a buddy asked what I was up to these days. We had not spoken for years. I mentioned I was planning to be in a bike race which …