Starting Monday at 8:15 a.m., Vermonters age 30 and older will be able to make an appointment to receive the COVID-19 vaccine.
Going online to healthvermont.gov/MyVaccine is the fastest way to make an appointment, the state said, and there are enough slots at sites throughout Vermont for everyone who is eligible.
Those who prefer to make a COVID-19 vaccine appointment through a participating pharmacy can find links on the same page to Kinney Drugs, CVS and Walgreens. Anyone who is unable to make their appointment online, or who needs to speak with someone in a language other than English, can call 855-722-7878.
Vaccination sites are available around the state, and people can choose a nearby location when making their appointment.
Those age 16 and older will be able to make an appointment beginning April 19, and Vermont students with out-of-state addresses beginning April 30.
VACCINATION RATE PASSES 50 PERCENT IN BENNINGTON COUNTY
As of Saturday, 50.6 percent of Bennington County residents over the age of 16 have had at least one dose of a COVID-19 vaccine. It is the highest vaccination rate among all Vermont counties. Nationally, 45.1 percent of Americans over the age of 18 have received at least one dose, according to the federal Centers for Disease Control and Prevention.
The Department of Health reported that 249,724 Vermonters, or 45.6 percent of all those over the age of 16, had received at least one dose of a COVID-19 vaccine. According to the state, 161,200 people have completed their vaccination, and 88,600 have received a first dose.
In Windham County, 41.9 percent of residents have had at least their first dose.
So far, the state has received 509,900 doses of vaccine, 78.1 percent of which have been administered.
The state's vaccine dashboard is not updated on Sundays.
TESTING IN, QUARANTINE OUT FOR TRAVELERS
New travel guidance that took effect Friday requires testing, but no quarantine.
Vermont Health Commissioner Dr. Mark Levine noted that the CDC recommends that people delay travel until they are fully vaccinated. This is especially important now, when there are still high levels of virus spreading, he said.
Levine explained that visitors to Vermont must be tested three days before traveling to the state. Those who test negative are welcome to visit, and should bring their documentation with them.
Vermont residents who are returning to the state need to get tested in Vermont within three days of their return. Travelers' return date counts as day zero.
While a quarantine period is no longer required for travel, Levine encouraged people to continue following the basic public health guidance. "That means if you have any symptoms, stay home and away from other people until you receive a negative test result," he said. "Even if the test you got within the three-day travel window was negative, if you start to not feel well, stay home and get another test. And of course, if and when you are out of state, abide by our universal guidance to stay safe and protected."
The new travel guidance is now available at healthvermont.gov/covid-19/travel-quarantine.
Levine also reminded students and families who have school vacation coming up to review the new travel guidance and avoid large gatherings.
VETERANS' HOME REPORTS NEW CASE AMONG STAFF
PCR testing on Friday identified one new staff member with COVID-19, the Vermont Veterans' Home in Bennington announced on its website. The home reported that, as a result, indoor visits are canceled for all but the Cardinal unit, although outdoor visits remain available.
THE DAILY NUMBERS
The health department reported 133 new cases of COVID-19 in Vermont on Saturday, and 222 on Sunday, for a two-day total of 355. The reported total number of cases since the start of the pandemic is 21,202, which is 387 higher than Friday's total. The discrepancy was not explained.
All of Vermont's 14 counties reported at least five new cases over the past two days. Chittenden County had 96; Orleans County had 42; Caledonia County had 30; Bennington County had 29; Orange County had 28; Rutland and Windham counties each had 25; Franklin County had 17; Addison and Washington counties each had 16; Windsor County had 11; Essex County had eight; Lamoille County had seven; and Grand Isle County had five.
No Vermonters died of COVID-19 over the past two days, the health department reported. The state's death toll stands at 231.
Twenty-four Vermonters were hospitalized with the disease as of Sunday, and six of those patients were in intensive care.
So far, 364,178 people have been tested. The reported statewide seven-day average for positive tests has dipped to 1.9 percent.
The number of Vermonters reported to have recovered from COVID-19 has risen by 258 since Friday, to 17,354.
The statistics supplied by the Vermont Department of Health at midday each day are accurate as of the end of the previous day. The information is preliminary and subject to change.
BENNINGTON, WINDHAM COUNTIES REMAIN AT 'HIGH RISK'
With a seven-day average of daily new cases per 100,000 residents at 22.2, Bennington County remains in the "high risk" range, according to the nonprofit Covid Act Now. The county's infection rate, 0.88, means that active cases are decreasing, while a positive test rate of 2.4 percent indicates widespread testing.
Windham County, where the seven-day average has risen to 18.6 daily new cases, is also considered high risk. The county's infection rate, 0.94, shows that COVID-19 is still spreading, but slowly, and a positive test rate of 3.6 percent shows adequate testing.
Among Vermont's neighbors, Berkshire and Franklin counties in Massachusetts, Rensselaer and Washington counties in New York, and Cheshire County in New Hampshire are all rated as high risk.
Bennington County has reported 115 new cases over the past two weeks, and Windham County has reported 108. Chittenden County, Vermont's largest county, has had 853 over the same period.
Bennington County continues to have the highest infection rate of COVID-19 in Vermont, at 499.3 cases per 10,000 residents since the beginning of the pandemic. Chittenden County is second, at 414.8, while the rate in Windham County is 279.0 per 10,000.
COVID RATE RISES AMONG YOUNGER VERMONTERS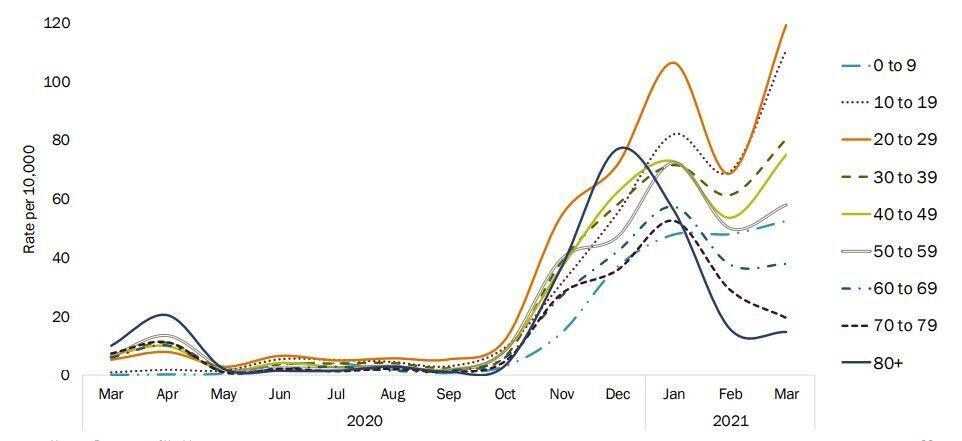 The rate of COVID-19 among those 70 and older is nearly three times less in March 2021 that it was in December 2020, the health department reported in its weekly data analysis. At the same time, the rates among 20-to 39-year-olds and age 19 and under have increased.
The department credited "the positive impacts of the vaccination efforts on the age groups that have had the opportunity to get vaccinated," reporting that about 90 percent of those 70 and older have received at least one dose of vaccine.
"As younger Vermonters become eligible to schedule vaccination in April, it is important to continue take prevention steps like wearing masks, staying 6 feet apart, staying home when sick, and other COVID-19 precautions," the state said.
SOME VT. COURTHOUSES READY TO RESUME LIVE TRIALS
Eight Vermont courthouses are once again ready for jury trials.
The Vermont Judiciary announced recently that the move comes after a year of work to construct barriers, test and improve air circulation and filtration systems, and develop process and facility enhancements to allow for social distancing to make them COVID-19 safe.
Two other courthouses are expected to be approved for 12-person jury trials in the coming weeks. Several are also ready for six-person jury trials, which could be used in some civil trials if all parties agree on the reduction of jury size.
Courts now available for jury trials are the county courthouses in Woodstock, Hyde Park, Chelsea and Burlington and the state courthouses in St. Johnsbury, Rutland, Barre and Brattleboro.
The courts expect approval soon for jury trials at state court facilities in St. Albans, Bennington, Middlebury and Burlington.
The county court building in Rutland is expected to be approved later this spring.
2,100 NEW COVID-19 CASES REPORTED IN MASS.
The state Massachusetts Department of Public Health reported more than 2,100 new confirmed COVID-19 cases and three new virus-related deaths on Saturday.
The number of estimated active cases across the state is now almost 36,000, up from a little more than 25,000 two weeks ago.
The seven-day average of confirmed coronavirus cases is now 1,444, a decrease of about 100 one week ago.
The confirmed death toll from the disease in the state is now 17,034.
The seven-day average of the number of people hospitalized for COVID-19 has declined from 2,347 patients at the start of January to an average of 717 patients now.