Making homemade ice cream sandwiches is messy, time-consuming, a little bit risky, but totally worth it in the end. Just like democracy.
In an election season like no other, in a new year, really, like no other, my family is choosing to celebrate Inauguration Day with a sweet treat that, perhaps, the new President Joe Biden might enjoy. Biden's love of America's favorite dairy dessert is well documented across the campaign trail, as he often stopped at every local ice cream shop from New York to California and in between.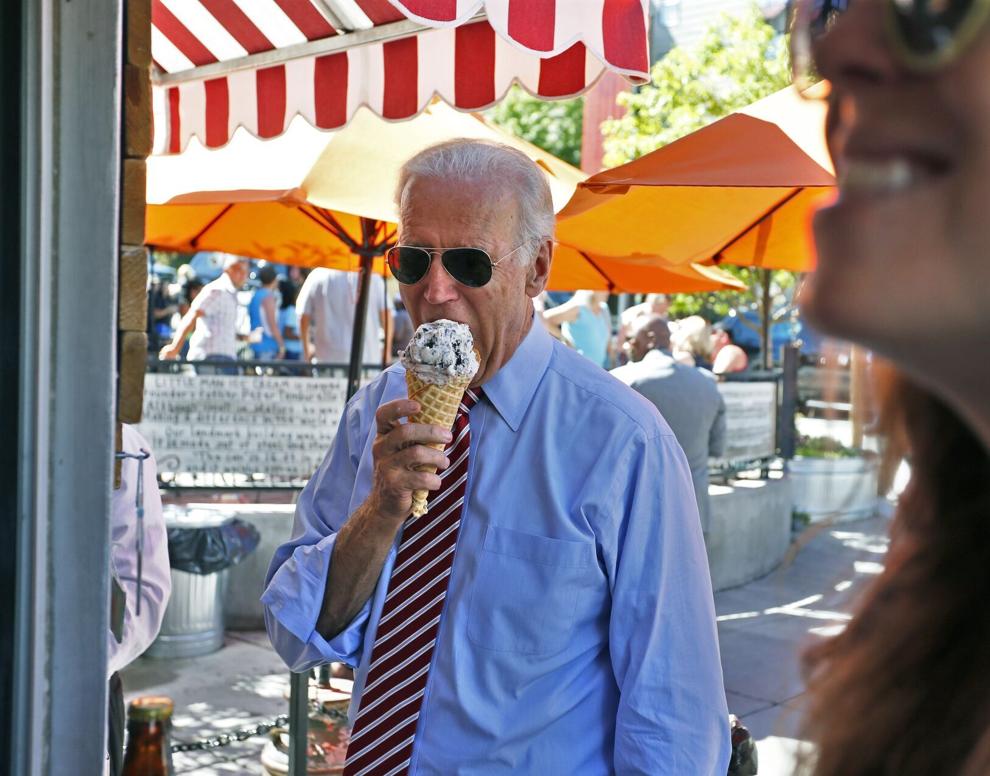 First Lady Jill Biden told Parade Magazine that "food is love," and I couldn't agree more. We could all use a little more love right now, even if your political views don't have you celebrating today. Ice cream can help with that, too.
For this recipe, I chose a sheet-pan approach instead of making individual cookies and sandwiching them with ice cream. Warning: These cookies are delicious and you will want to eat three of them in one sitting. Don't. Their richness is what makes them pair so well with the ice cream, but not so well with large portions. Make sure to under-bake this — you want a flat, moist cookie that isn't going to crack easily when you cut it or move it to another platter.
Also, you'll want to make sure you have a large enough, flat space in your freezer for the steps that require you to freeze the slabs of cookie. Full disclosure, mine rested on a few bags of frozen peas, which I thought was pretty level, but found the next morning that my top cookie slab had slid as the ice cream hardened when it first went back in the freezer.
Vanilla ice cream is as classic as you can get with this treat, but consider trying one of Biden's favorite flavors, including vanilla chocolate chip. I put a thin layer of ice cream on my sandwich, but if you go thick (you'll have to work fast!) consider pressing some festive sprinkles on the sides for extra fun. If you read this recipe and think, "no way am I doing all of that," (it's cool; we've all got our own pandemic pace in the kitchen) these cookie bars would also be just as great as the base for an ice cream sundae.
This makes a lot of ice cream sandwiches (the recipe says to cut them into 12, but I went smaller and got more), so wrap them individually in wax paper and store in a freezer bag. While there is hope that better days are ahead for all of us, we may need a few ice cream sandwiches along the way to get us through.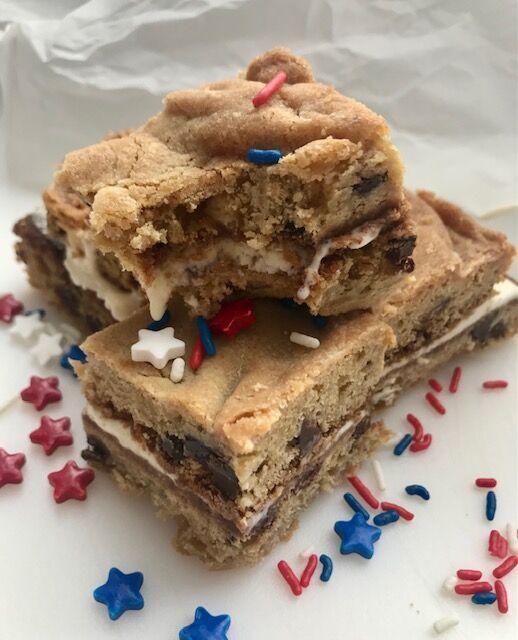 SHEET PAN CHOCOLATE CHIP COOKIE ICE CREAM SANDWICHES
Recipe adapted from lideylikes.com
Ingredients:
2 1/2 sticks (10 ounces) unsalted butter, at room temperature
1 cup light brown sugar, lightly packed
3/4 cup granulated sugar
2 large eggs, plus 1 large egg yolk, at room temperature
2 teaspoons vanilla extract
2 1/2 cups all-purpose flour
2 teaspoons cornstarch
1 teaspoon baking soda
1 teaspoon kosher salt
2 cups semisweet chocolate chunks or chips, (can use a mix of white or chocolate)
1 (1.5 quart) container vanilla ice cream, softened at room temperature for 15 minutes
Optional: Sprinkles and mini chocolate chips, for decorating
Directions:
Preheat the oven to 375 degrees F and line an 18-by-13-by-1-inch sheet pan with parchment paper.
Using a mixer, beat the butter and both sugars on medium-high speed for 3 minutes, until light and fluffy. On low speed, add the eggs one at a time, then the vanilla. Mix until well combined.
In a small bowl, whisk together the flour, cornstarch, baking soda and kosher salt. With the mixer on low, add the dry ingredients to the butter and mix until just incorporated, then add the chocolate chunks and mix until just combined.
Spoon the cookie batter onto the prepared sheet pan and spread it into one even layer that covers the entire surface of the pan. (This dough is wet and sticky; the best way to do this step is to dust your hands with flour and work quickly to flatten out the dough onto the sheet in an even layer). Bake for 12 to 14 minutes, until lightly golden brown and still soft to the touch. The cookie should seem under-baked. Cool completely.
Carefully invert the cookie onto a flat surface. Cut the cookie in half to form two equal-sized rectangles. Transfer one half to a large cutting board that fits in your freezer, with the bottom side of the cookie facing up. Freeze for at least an hour then remove from the freezer. Working quickly, spoon large scoops of ice cream onto the cookie. Spread into an even layer, making sure the ice cream reaches the edges of the cookie.
Place the other cookie half, right side up, on top to form a giant sandwich. Press lightly, then transfer the board or platter to the freezer and freeze until firm, at least 3 hours or overnight.
Using a sharp knife, carefully trim about 1/4-inch from each edge of the giant cookie sandwich, then cut it into 12 individual sandwiches. If decorating, place mini chocolate chips and sprinkles on small plates and press each side of the sandwiches into so the toppings adhere. Freeze all the sandwiches again until firm. Store individually wrapped ice cream sandwiches in wax paper until ready to eat.