By all measures, Tyler Gilbert was a precocious boy.
And like many bright children, Tyler was also sensitive, loving and had a bit of anxiety.
"My baby had his whole life ahead of him," says Christie Gilbert. "He was a great, wonderful kid who had a long, good life ahead of him. And it was taken. And essentially, my future was taken. My life was taken, too, because my life was Tyler."
On Aug. 4, in Hinsdale, N.H., Tyler was shot four times and killed by his father, David Lent, who then shot and killed himself.
"It was my job to protect my son," says Christie, shredding a tissue moist with tears, glancing to her side as if Tyler was sitting next to her, listening. "I will never get over this ever, ever. This will never get better."
She blames herself for not seeing how sick her former husband was, but she also blames the courts, judges, the police and the system for failing her family and her son.
PHOTOS: Remembering Tyler
In late 2020, police responded to an emergency call from a home in Fitzwilliam, N.H., involving David, who reportedly hurt a woman in front of a young child. David was arrested, but not before slugging a police officer and being stunned twice. He was cited with false imprisonment, two counts of simple assault — domestic violence, endangering the welfare of a child, simple assault on a police officer and resisting arrest, all misdemeanors.
In February, he was released with conditions that included he stay away from the woman and her child in Fitzwilliam. He was also required to go for counseling in Keene, N.H., because he'd been suffering from "delusional behavior"
Prosecutor Martha Jacques told the Keene Sentinel she hadn't heard of any issues with Lent's mental state after he was released from jail. In fact, in the week before the murder-suicide, Jacques said his counselor wrote in a letter that he was fully compliant with the mandated treatment and that his condition appeared to be stabilized with the use of medication.
"It's just a really tragic mental health crisis," Jacques told the Sentinel. "I don't know what set him off that day. I wish I had been able to foresee that."
Six weeks after he was released, David and a friend overdosed on drugs in Brattleboro. David died but was revived by emergency responders. His friend was not so lucky; he died.
No one in Brattleboro notified the court in Keene that David had violated his conditions by using drugs, Christie maintains.
And even if the court had been notified, no one was going to come to Brattleboro and take him into custody for a non-violent crime.
"How can people not have a problem with that," says Christie. "People getting out on violent charges and then violating [his conditions] within six weeks ..."
Christie had known David since she was 14 years old, growing up together in Brattleboro.
"He was always the sweetest, the funniest kid," she said.
But David struggled in life. Christie graduated from Brattleboro Union High School in 1992, but David had dropped out four years before, and was already into drugs, starting with marijuana and LSD, progressing as he got older to drugs like heroin and methamphetamine.
In 1997, Lent robbed a convenience store in West Dover using a crossbow. He pleaded no contest to burglary and assault and robbery charges, and was sentenced to four to 10 years on the assault and robbery charge, and one to five years on the burglary charge. As part of his plea agreement, the court agreed to dismiss charges against David related to two armed robberies of convenience stores in Brattleboro that same year. At the time of his sentencing, prosecutors acknowledged David had a substance use problem.
"I wrote to him pretty much every week for seven years, because no one else was there for him," says Christie. "I was just trying to be a friend."
When David was released from jail, the two got together as a couple.
"I knew he genuinely cared about me. So I was having this, I guess, daydream that wasn't real."
They got married, and David tried to stay clean. But as time went on, she realized that the David, who went to prison seven years before, wasn't the same man who came out.
David was angry, verbally abusive and disappeared for days at time, when Christie says he was using drugs and alcohol.
But it wasn't until he slapped her when she was eight months pregnant that she broke off their relationship.
They were both 34 then.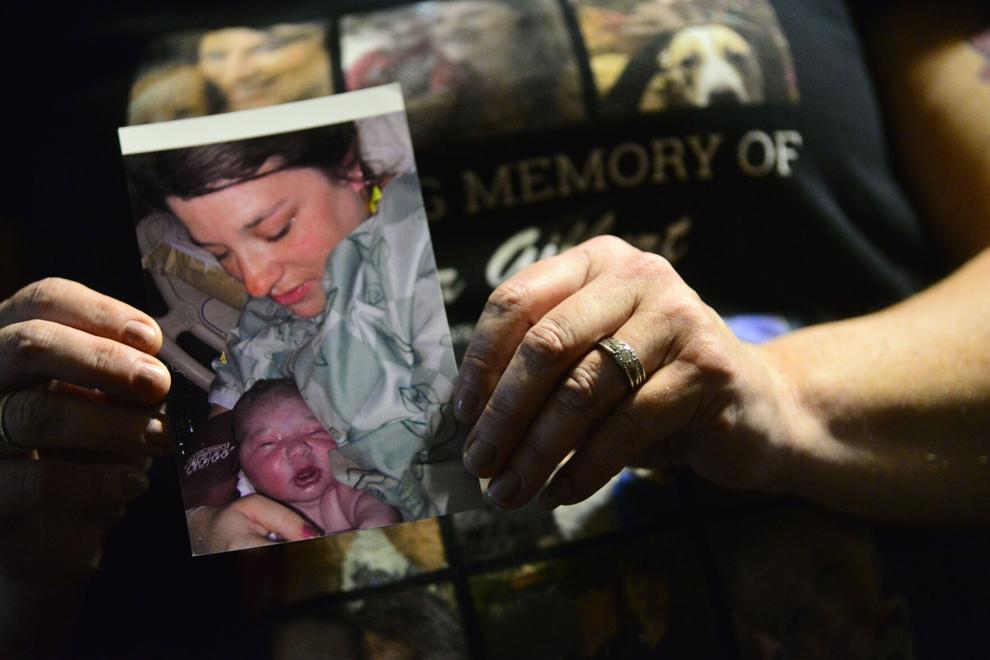 And even though she gave birth alone, she was happy to welcome her son into the world.
Four weeks after Tyler was born, David began to show up, off and on.
"He was good with the baby," says Christie, but again, he would disappear for days at a time.
"About a year later, he slapped me with Tyler in my arms," she says. "That was it. I couldn't take it, and he wasn't going to do that anywhere near my son."
A divorce followed, with court hearings every year to determine his visits.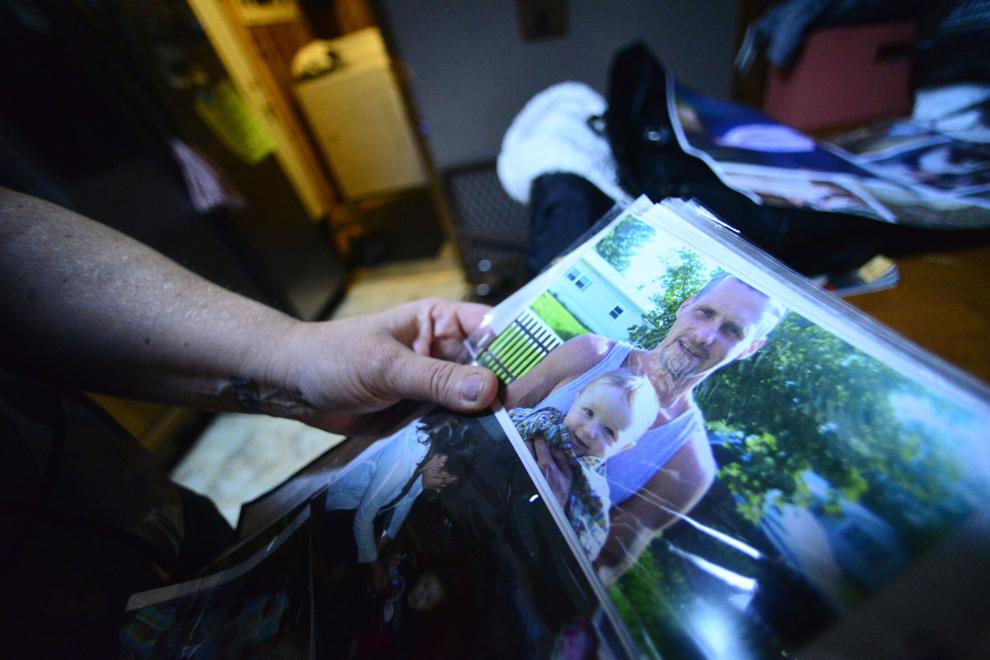 "I know he loved Tyler, deep down," she says. "I tried so hard for them to have a relationship. I never tried to keep him away from him, even though David sometimes thought that, but I was just trying to protect Tyler."
And Tyler didn't always want to visit his father, says Christie.
"There were times when he wanted to see his father and there were times when he didn't," she says.
Aug. 4 was the last time she saw her son alive. Christie dropped him off to see his dad at his grandma's house in Hinsdale, and David pressed $150 into her hand, telling her to go buy new school clothes for their son.
Then she got a phone call that made real the fear that creeps into the thoughts of every parent at one time or another. While most of us are able to squeeze those dreaded thoughts into a small pocket deep down into the dark depths of our imagination, Christie's world exploded, and the rubble surrounds her.
How do you even try to explain the resulting emptiness?
For Christie, one of the ways is a number: 6,800.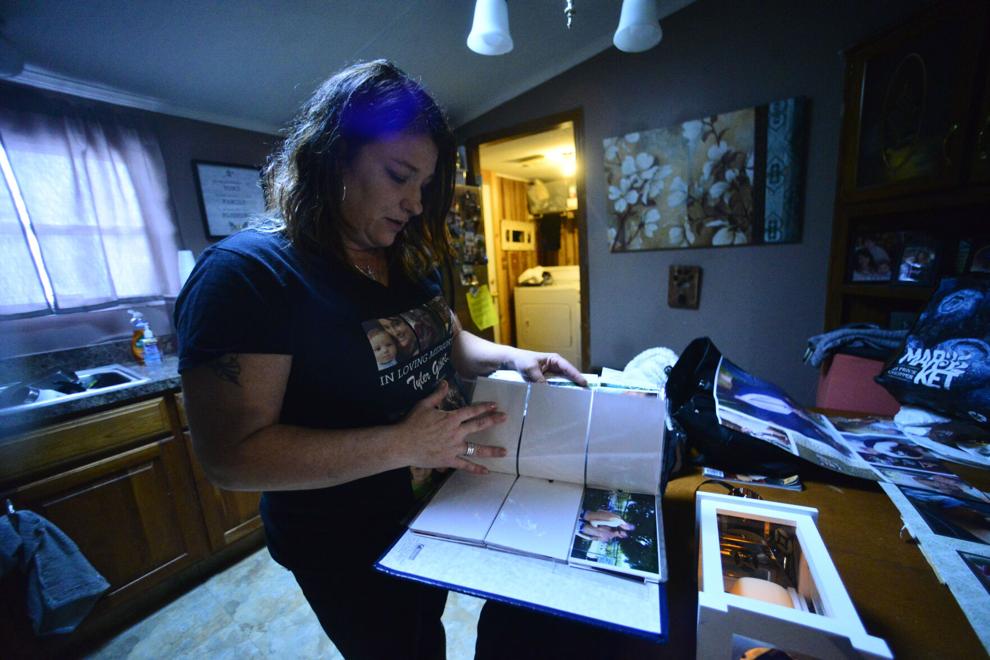 She has more than 6,800 pictures of her little baby growing into a 12-year-old boy. A long string of pictures that illustrate joy and promise and wonder and love.
"And in every single picture I have, he is smiling," she says.
Then, they end. No more quick snapshots to document Tyler's growth into a teen and then into a man. No visual record of the day-to-day doings leading up to someone who would have his own life, his own children.
I listen to Christie, and I wipe away tears. Her story resurrects that ancient fear in my chest, the fear of losing my child forever.
There are nights when I awaken to find our 10-year-old boy has scrunched into bed between his mother and me. I put my hand on his chest to feel the reassuring ups and downs of his breath.
I have imagined the terrible talons of despair that would await me if he was snatched from my existence.
I have pushed those thoughts away, though like any parent, they hover in the background and, if I turn and look too quickly over my shoulder, they are there, reminding me of the hollow in my heart that slowly fills each day I have with my son.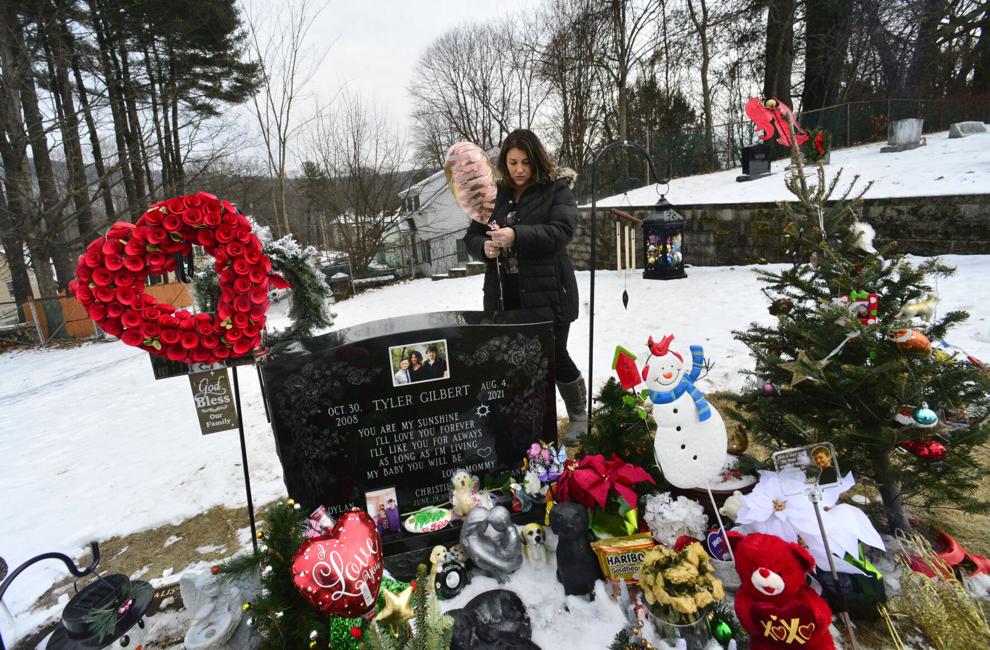 And though I can imagine the despair of waking alone, there is an even deeper pain that only people like Christie can express — the horror of knowing your child was taken from you by a man you once loved, a man you cared for and hoped would rise above his struggles.
With that knowledge comes the burden of feeling you are to blame, that if you had only looked deep enough, you would have seen the dark hole in the heart of a man who fathered your child.
Christie is left with that weight on her soul.
She came to me, hoping I could help her hold someone accountable for her son's death.
"I should have been notified he had a severe psychiatric condition," she said. "How do I not have a right to know? The custodial parent has a right to know."
She also believes she should have been notified when a restraining order was issued against David after the incident in Fitzwilliam.
"And why was there a gun in that house, when you know he is mentally ill and depressed?" she asks.
But there are no answers to these questions, questions that bounce around inside her head, leaving her with nothing more than 6,800 pictures and the overwhelming despair that it's all her fault.
"I think sometimes I have to be dying," she says. "I have to be dying, because that's the only way that it makes sense ..."
After 15 years of covering the courts, I know there will be no justice for Tyler and none for his mother, either.
Is there anything I can do to allay her pain, to turn down the dial on her self-blame? Not much, really. Just these words, this pebble dropped into an ocean of grief, its ripples insignificant in the waves of loss.
And as long as we have a system that relies on incarceration rather than intensive mental health care, we will continue to have tragedies like these.
Maybe we can make a difference in the future. Maybe someone will look back on this, maybe they'll read this and say, "We must do better."
It's still not going to change what happened.
Maybe Christie can find a way to take her pain and despair and self blame, and turn it into some sort of advocacy that can change the way the system works.
She's seen other parents move through their grief by way of this kind of advocacy, but she also knows her path ahead will be incredibly difficult.
"There's nothing harder than me not wanting to be on this Earth every single day because my baby's not here."