BRATTLEBORO — Given the great number of people rising to the many challenges imposed by the coronavirus pandemic, this year proved too difficult to choose just one individual for the Brattleboro Area Chamber of Commerce to name as its Person of the Year.
"All of you probably know an individual or an organization, an unsung hero who has gone above and beyond to take the sting out of the pandemic," Tracey John, past president of the chamber's board of directors, said at the chamber's annual meeting held remotely Thursday. "So today, the Brattleboro Area Chamber of Commerce is proud to salute all of the unsung heroes in our corner of southern Vermont who rose up to support their neighbors and keeping our community moving forward by naming them and each of you our 2020 Person of the Year."
Since 1954, the chamber has recognized a Person of the Year for having a positive impact on the community. It would be impossible to choose just one for 2020, John said.
She recalled the state shutting down nonessential businesses in March as the virus began wreaking havoc all over the world.
"We've all been challenged and more lies ahead, but over the last year — with ingenuity, perseverance, acts of kindness and by coming together — our community has demonstrated that we can rise to and meet the challenge," she said, noting how new business models were adopted and offerings were added to address new needs; grocery store employees served as frontline workers; nursing home staff became "substitute families" for residents; consumers committed to shopping locally; town officials made sure Halloween happened via a drive-thru event; schools ensured students were recognized for their achievements; entertainment and fitness classes were provided virtually; masks were made and donated; free meals were made available and public health protocols were followed to keep people safe.
John said that normally, she'd be speaking with attendees from a podium in a conference room at the Brattleboro Retreat and was instead at a desk at the chamber office talking to them on a computer screen.
"But we had a lot to adjust to in the last year," she said.
The chamber faced its own pandemic-related challenges. All its events were canceled, a staff member was furloughed, and other cuts were made to other staffing hours and salaries, said chamber treasurer Michele Coursen.
"Even so, all members stayed members regardless of their ability to pay and we never closed," she said. "Our commitment to our members never wavered."
The longstanding Holly Days, Holly Nights promotion continued the annual holiday season tradition of urging community members to shop and dine in local establishments. Coursen said the chamber was awarded $16,000 from the Vermont Agency of Commerce and Community Development, and two technical grants from the state for website upgrades and online accounting software.
Kate O'Connor stepped down from her role as executive director of the chamber after seven years.
"She was a pretty powerful force," John said. "She devoted a lot of her time and energy to the chamber."
John thanked O'Connor for her dedication to the community and said she hopes O'Connor is "enjoying this time for herself." Gina Pattison, the board's new president, applauded John for her strong contributions to the chamber.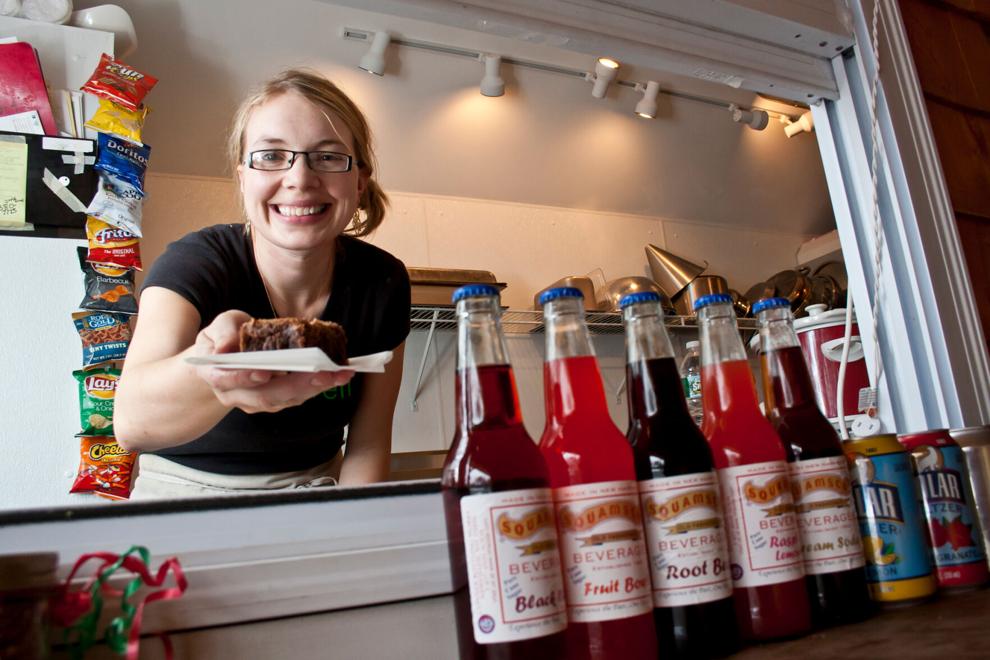 Gretchen Hardy, owner of The Porch Too and Hardy Foard Catering, was named the chamber's Member of the Year.
"This business started as a little food porch, mostly servicing offices and warehouse staff throughout their workdays, putting smiles on their faces and gourmet food in their bellies," said Nicole Braun, board member. "This chamber member was always there, day in and day out, no matter the weather with the biggest smile to make your day just that much better, never making you feel a nuisance no matter how many special requests you tack on to your number. It's no surprise that both this small little porch and the catering business took off."
Braun called Hardy "one of the nicest and most caring people" she's ever met.
"That's really sweet," Hardy said. "Thank you. It's been a hell of a last couple of years."
Hardy said the Porch Too recently marked its fifth year anniversary as her business in general celebrated a decade.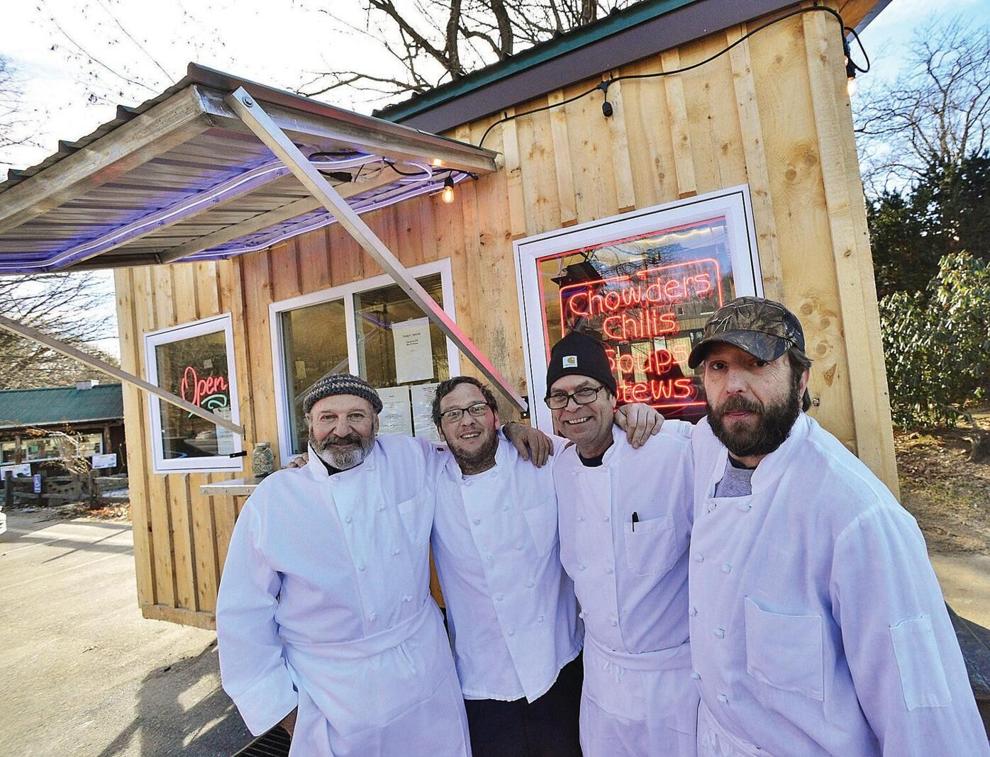 Jon Julian, owner of Top of the Hill Grill, was recognized as the chamber's Entrepreneur of the Year. He has worked as a carpenter, developed a small garden providing produce to local establishments, built wood burning stoves, took up dance, taught English as a second language and made high-end bedding and sleepwear with his wife before opening the barbecue spot on Putney Road in 1997.
"Twenty-four years later, the people are still coming," Pattison said. "Top of the Hill Grill commands a loyal and sizeable following. It's become a foodie destination experience."
Pattison said her son is one of the approximately 100 people who have received culinary training at the business.
"Thank you very much," Julian said. "I've always said Top of the Hill Grill is a team sport and I couldn't have done it without the wonderful staff that I've had over the years as well as the support of the Brattleboro community. It's been a great ride and I look forward to continuing it."
Chamber members celebrating anniversaries included Brattleboro Women's Chorus for 25 years; Howard Printing for 30 years; Brattleboro Food Co-op for 45 years; Berkley & Veller Greenwood Country Realtors for 55 years; WTSA for 70 years; Cota & Cota for 80 years; and Sam's Outdoor Outfitters for 88 years.