BRATTLEBORO — The Vermonter is back in action, a move celebrated in communities at stations throughout the state since the coronavirus pandemic paused the service.
"After 479 days, travelers can once again enjoy the convenience and the unique experience that only travel by train can provide," Heather Pelham, commissioner of Vermont Department of Tourism and Marketing, said Monday in a speech at an event at the Brattleboro Amtrak station. "And for so many, riding the train is not just about getting from Point A to Point B. It's really about the journey while doing so."
Pelham said riders take in scenery, read or catch up on podcasts and work. She said just thinking about travel lifts people's spirits and gives them hope, and tourism is crucial to Vermont's economy.
"Ridership on the Vermonter, I'm happy to say, has steadily grown over the last five years by almost 10 percent and we certainly hope that will continue," she said.
She pointed out passenger rail consumes less energy per passenger mile than planes and personal vehicles.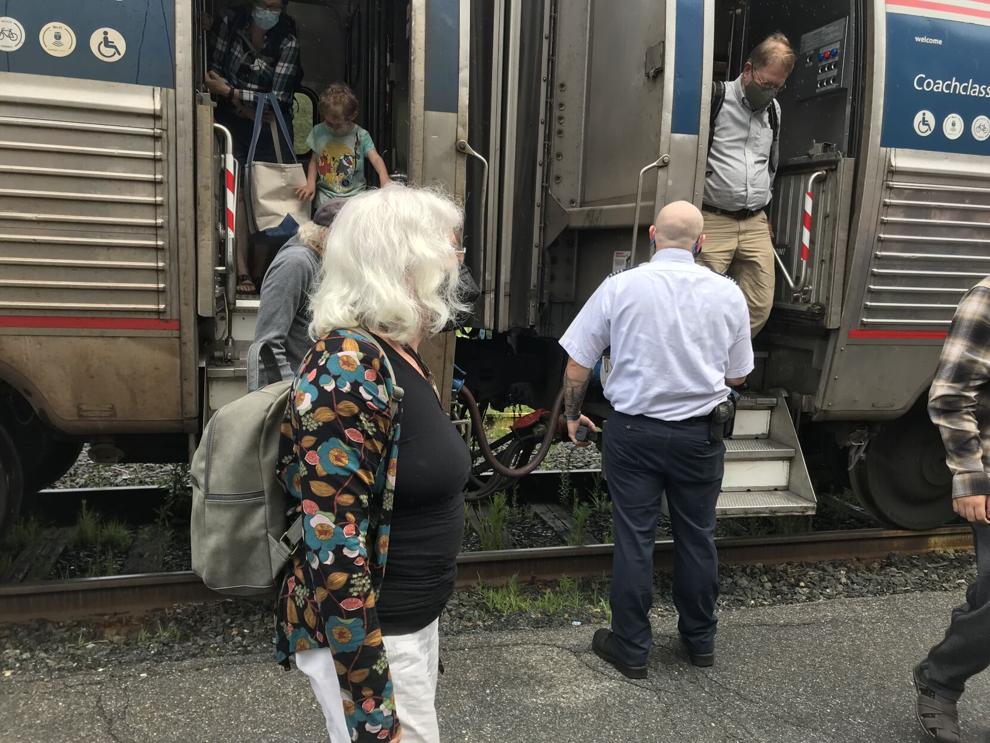 Jessica Green, owner of Gateway Travel in neighboring Hinsdale, N.H., waited for the train to arrive in Brattleboro. She said the train's closure definitely affected her travel agency but so did the pandemic more generally because it kept people at home.
"It's a big day," Green said. "It's been a long time coming."
Green said people rely on the train for travel and vacation. With repairs to a culvert where the railroad crosses the Connecticut River in Dummerston needed after stormwaters washed it away last week, she wasn't sure whether the event would need to be rescheduled.
"I'm just so excited that it's back," said Green, whose business formerly was based in Brattleboro.
Peter Gould, author and performer, described the train ride from Bellows Falls being "smooth."
State Rep. Mollie Burke, P/D-Windham-2-2, Gould's wife, said the train went "quite fast" but slowed down in Dummerston around where the culvert was fixed.
"It was great just to have the train so full and see all those people," she said.
In a speech, Burke said all the enthusiasm at the event "emphasizes how much people love trains and how excited we all are to have the Vermonter back. It also points out that we are hopefully on the other side of a pandemic."
Alexander MacScott, 5, dressed up as a conductor for the occasion. He loves trains and enjoyed the ride from Bellows Falls, his mother Andrea MacScott told the Reformer.
The family drove from the Hudson Valley area of New York just for the event. They had never been to Brattleboro before.
"It's lovely," Andrea MacScott said.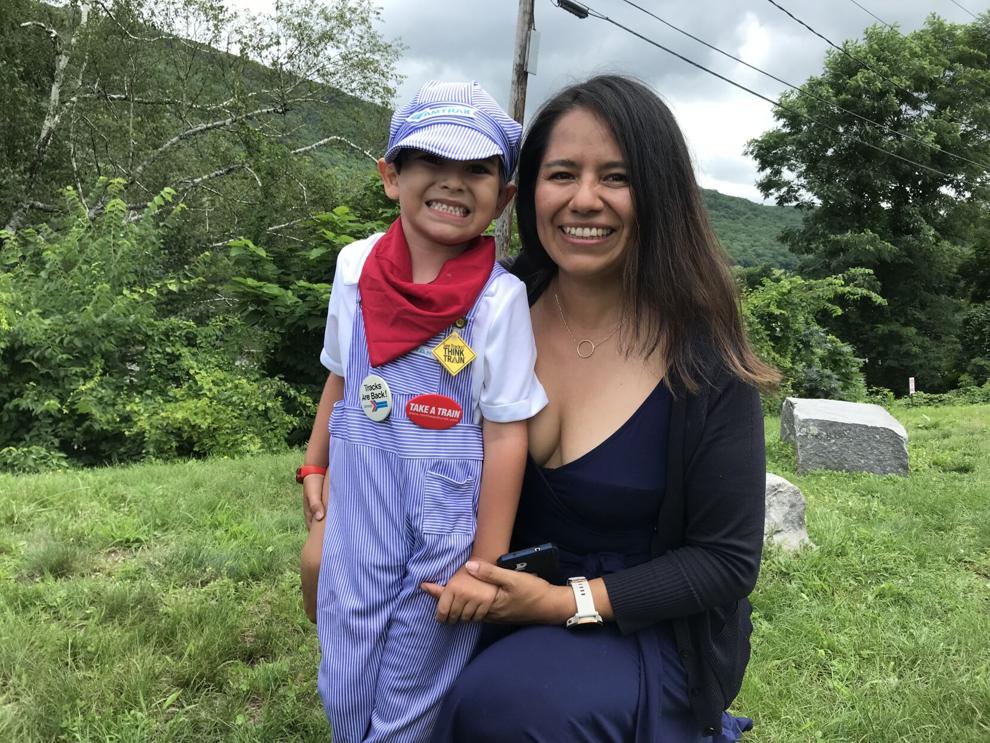 Brattleboro Select Board Chairwoman Elizabeth McLoughlin said the Amtrak service connects Brattleboro with other areas of Vermont and stations all the way to Richmond, Va., and other stations around the United States.
"We're celebrating the resumption of the train service," she said in a speech. "We're also celebrating the resumption of our interconnection with each other, with Vermont and the nation."
McLoughlin called public transit "a sustainable means of travel" and encouraged people to put the train at the top of travel options. She said the town will be creating a new parking lot with additional parking spaces before Amtrak constructs a new station next year.
"This station will be the first ADA level-boarding platform in the state of Vermont," she said, referring to the Americans with Disabilities Act.
She said a new bridge to Hinsdale near the station also will be built starting this year and the area is part of a downtown action plan the town recently put together.
Burke, a member of the House Transportation Committee and the Legislative Climate Caucus, said the transportation sector accounts for about 45 percent of the greenhouse gas emissions in Vermont. She's working to reduce those emissions through different policies and programs including the promotion of public transit.
Burke said Brattleboro had the second highest number of Amtrak boardings in Vermont in 2019 — 16,765.
"Let's bump that number up this year and make a case for the Valley Flyer to extend up to Brattleboro as well and further up the line, and hopefully we can get the Vermonter up to Montreal," she said.
Karren Meyer, a volunteer with Operation Lifesaver of Vermont and driver education teacher at Leland & Gray Union Middle and High School in Townshend who shared safety tips at the event, said walkers and runners should no longer use the railroad tracks now that the train is running again.
Vermont Lt. Governor Molly Gray joined state and community leaders to mark Amtrak's return to service in Vermont. Gray delivered remarks at the St. Alban's kick-off before riding the train from St. Albans to Essex Junction.
"I know I join many Vermonters in celebrating Amtrak's return to service in Vermont," Gray said in a statement. "Not only does today's return to service mark an important milestone in our successful fight against COVID-19, but also the renewed opportunity for Vermonters to travel the state, region and nation by train.
"I welcome the proposed investments by President Biden and Vermont's Congressional Delegation in infrastructure and high-speed rail," Gray said. "The proposed rail investments in the American Jobs Plan will allow more Vermonters an alternate form of public transportation for work and travel. The investments will also enhance the state's transportation resiliency while reducing our reliance on fossil fuels."