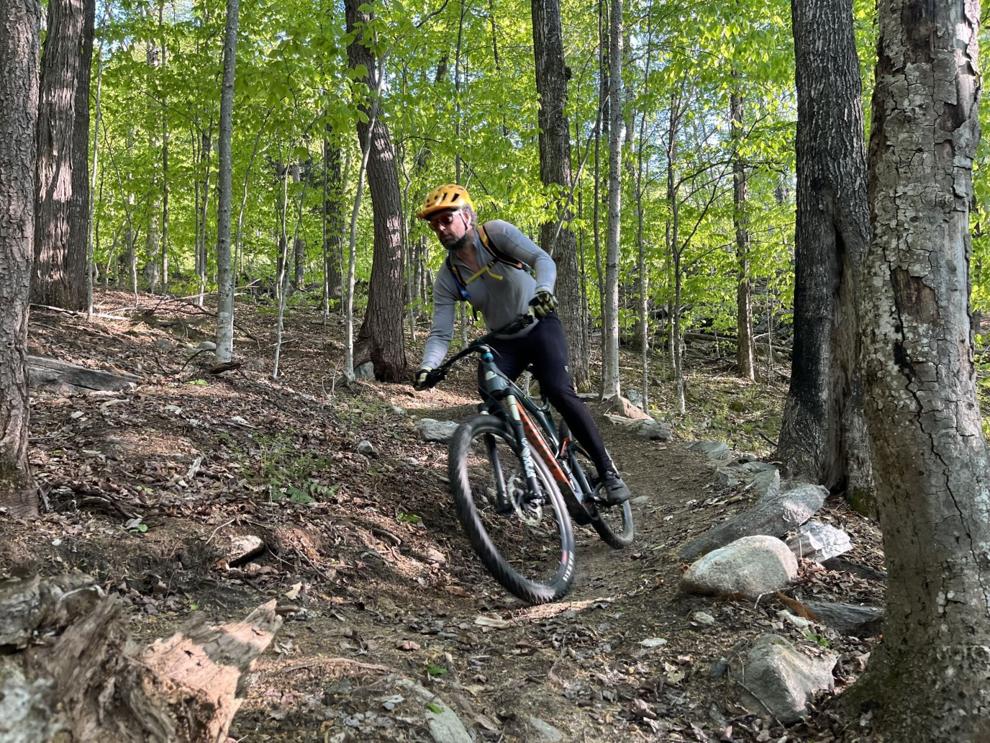 JAMAICA — Jamaica Area Mountain Bike Alliance's first trail is about to open at Ball Mountain Lake on U.S. Army Corps of Engineers land.
Jason Rickles, corporate secretary for JAMBA, said his group formed in 2019. He credited members Heidi Pancake and Dave Marx with leading the charge and getting a land use agreement with the U.S. Army Corps of Engineers.
"They did so about a year and a half ago after working through the Vermont Mountain Bike Association to help broker that deal and they forged a really good relationship with the UACE," Rickles said.
Construction on the trail began last summer. The hope is that it will be first of many at Ball Mountain.
Called Having a Ball, the trail is an upper section of two companion trails.
"We're thrilled by this amazing opportunity to be the first VMBA chapter to partner with the Army Corps of Engineers," Pancake, JAMBA chairperson, said in an announcement. "We're fundraising for the lower section."
Sustainable Trailworks of Poultney, which designed and built the stellar Slate Valley Trails network in Poultney, built Having a Ball. Pancake said the group is "standing by to work their magic on the next section."
Grants and fundraising led to a successful buildout of the first phase of the project, Rickles said. A ribbon cutting ceremony and brief reception will be held on the boat launch road at 2 p.m. June 2.
"Then we'll be doing celebratory laps into the evening," Rickles said.
His group also plans to place signature benches built by a local Eagle Scout along the trail.
Both phases of the project span about a half mile. Rickles anticipates the lower section will be completed in about a month.
"Sustainable Trailworks is pretty amazing in how quickly they build trails and the quality of their trails, and of course, it's sustainable," he said. "They put a lot of pro level assessment in."
Rickles said the company worked around wetlands and installed appropriate drainages.
JAMBA will be hosting group rides, family rides and women's rides throughout the summer. Information can be found on their Facebook or Instagram pages, or jambavt.org.
To support JAMBA's efforts, send a check to to P.O. Box 17, Jamaica, VT 05343 or make a PayPal donation via jambavt.org/donate, or visit the VMBA website at vmba.org/donate and choose Jamaica Area Mountain Bike Alliance in the dropdown menu under "Chapter Donations."