BRATTLEBORO — Peter Elwell was named the Brattleboro Area Chamber of Commerce's Person of the Year for his creative problem solving and commitment to serving the town he grew up in and then later came back to manage.
"I look forward to being part of [Brattleboro] as a volunteering community member going forward," the recently retired town manager said to the nearly 60 attendees at the chamber's annual meeting held Tuesday via Zoom.
Greg Lesch, executive director at the chamber, said Elwell was born in Brattleboro in 1962 and attended Brattleboro Union High School before earning an undergraduate degree from Middlebury College, then working out of state for much of his life. Elwell served as town manager in Palm Beach, Fla., for 14 years before the job in Brattleboro opened up.
"He had been following the Brattleboro town news off and on via the internet, but Sept. 24, 2014 revealed a Brattleboro Reformer headline that actually made him angry," Lesch said. "'Brattleboro town manager candidate pulls out.' The individual, who had all but accepted the position, had an 11th hour change of mind and declined to come to Brattleboro after all."
Elwell saw this as an opportunity to return to the community he longed for, Lesch said.
"The application process was closed but he managed to contact the Select Board chair and ask if he might be able to apply after all," Lesch said. "The board was more than open to doing so."
In 2015, Elwell was selected to be the next town manager, a post his father held for nearly 30 years.
Lesch said under Elwell's watch, the town upgraded its police and fire facilities, and addressed racial and social equity issues. Elwell hired a human resources director, fire chief, police chief and public works director.
"It's also noteworthy that when he first arrived, department heads numbered seven men, two women, and all were white," Lesch said. "In his wake, he leaves seven women, two men and two of those nine are BIPOC. A great legacy indeed."
Elwell told Lesch he kept employees safe during the COVID-19 pandemic with "a lot of adapting on the fly, then re-adapting and re-adapting again." Elwell is most proud of helping people who disagree find common ground and strengthening town governance.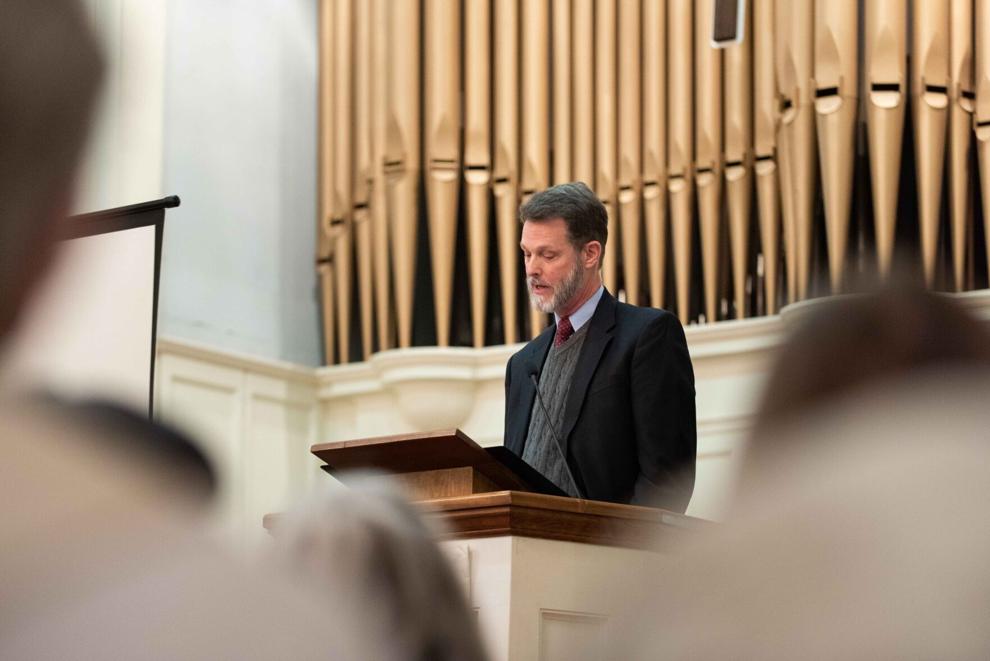 "There's not a lot that can leave me speechless but this did," Elwell said when accepting the award. "So grateful."
Elwell said he and his wife Wendy Harrison always loved Brattleboro and kept looking for an opportunity to live here. He thanked his family for their support, and town staff for their commitment and their desire to make positive change and serve the town.
"It's a great team all the way across town government," Elwell said. "And particularly that sort of newish group of department heads I want to shout out because there has been a lot of transition over the last five or six years and some really terrific people assuming positions of leadership. At times, it has been especially challenging so I thank them for the work that we got to do together and I'm really excited about the work that will continue."
Harris Hill Ski Jump Inc. received the Chamber Member of the Year Award in the year the group will hold its centennial event. The ski jump was first introduced in February 1922.
Since then, it evolved into a world-class event in which local volunteers continue to "make everything happen," said Gina Pattison, chamber board president.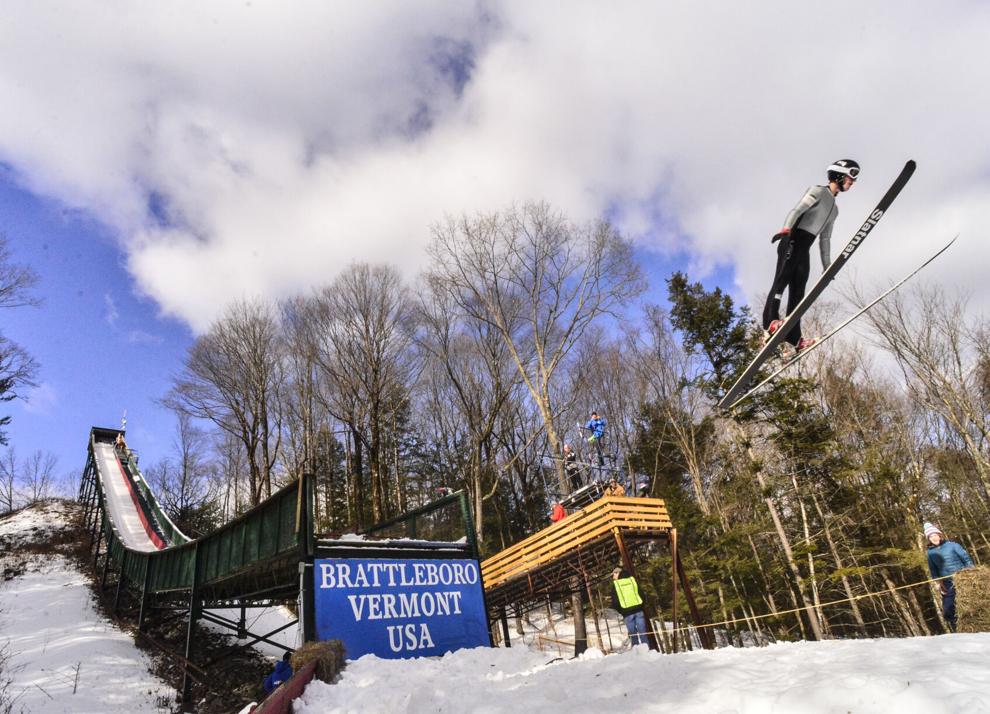 "We are so pleased to be honored and recognized by the chamber," said Patricia Howell, president of Harris Hill Ski Jump Inc. "This, even for someone like myself who has been involved for so many years, I stop in my tracks when I realize this is a monumental milestone, an unbelievable achievement — to think that for 100 years we've been ski jumping in Brattleboro."
Howell said the award "belongs to the town, the people in the town, especially the organizing committee and the volunteers, and so many people who give their time, expertise, their know how, to make this happen."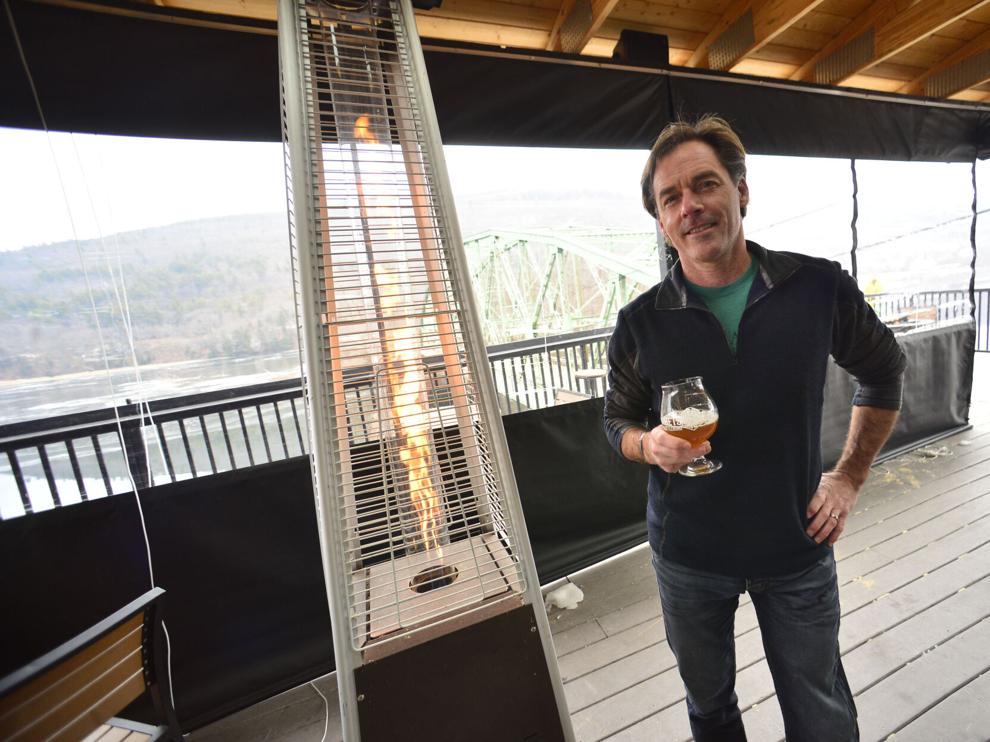 The Entrepreneur of the Year Award went to husband and wife Amy and Tim Brady, and David Hiler, who together own the Whetstone Station Restaurant & Brewery, Kampfire Campground and River Garden Marketplace. Tracey John, outgoing chamber board member, said a chance meeting at an innkeepers conference brought them together over beers at the Harpoon Brewery in Windsor in 2011 and they created a plan to redevelop River View Cafe in Brattleboro.
"They gutted and remodeled it with an eye for the inclusion of a nanobrewery, which would be the centerpiece of their plans," John said. "The Whetstone Station was born, turning out hearty meals and producing countless, never the same beer for their ever growing fan base. They ultimately settled on eight signature brews that would keep their customers coming back for more."
In 2015, the trio bought Kampfires Campground in Dummerston. Last year, they purchased the River Garden building from Strolling of the Heifers to create a live venue with a bar, food and craft market. John said each venture led to the next one and informed the needs for the next one.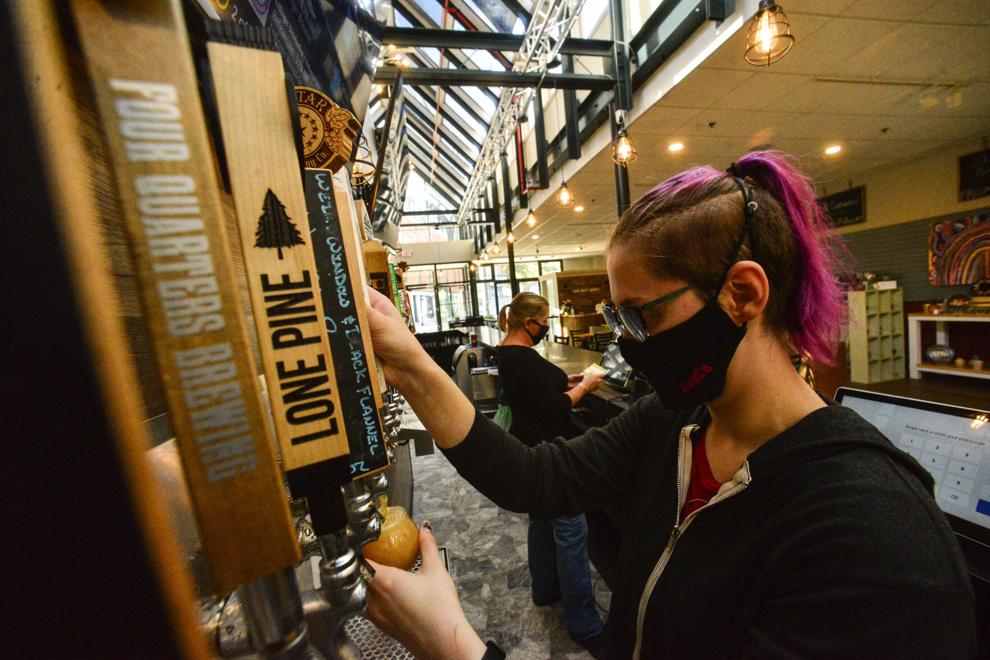 "Having grown up in and around Brattleboro this is a special honor for me," Hiler said. "When we started Whetstone Station 10 years ago, it just seemed like a great business opportunity. But as we pursued other avenues in the following years, we just kept coming back to Brattleboro as an ideal place to continue to invest. It has a strong supportive community, appreciative visitors, a conscientious business environment, but most of all, people talk to each other here."
Tim Brady said the trio tries to create spaces where they would want to hang out.
"When Amy and I moved to Vermont in 2006 to open our small inn and beer bar, we could never have foreseen the incredible path we would end up on," he said, referring to their former establishment known as The Inn at Putney Road in Brattleboro. "We're proud to have called Brattleboro our home and we look forward to continuing to contribute to the culture and community of this amazing corner of Vermont."
Anniversaries celebrated included Biologic Healthcare for 15 years, Supreme Fitness for 15 years, Estey Organ Museum for 20 years, Brattleboro Historical Society for 40 years, Youth Services for 50 years, People's United Bank for 180 years, and Garden Path of Elder Living for 188 combined years of running Holton Home and Bradley House.