BRATTLEBORO — With no family left or able to give Carman Louise Dawson a proper burial, her friends from the Brattleboro Union High School Class of 1964 stepped up.
"We felt it was very, very important to do something to remember our friend and classmate, Carman," said Ray Puffer, who now lives in the Albany, N.Y., area.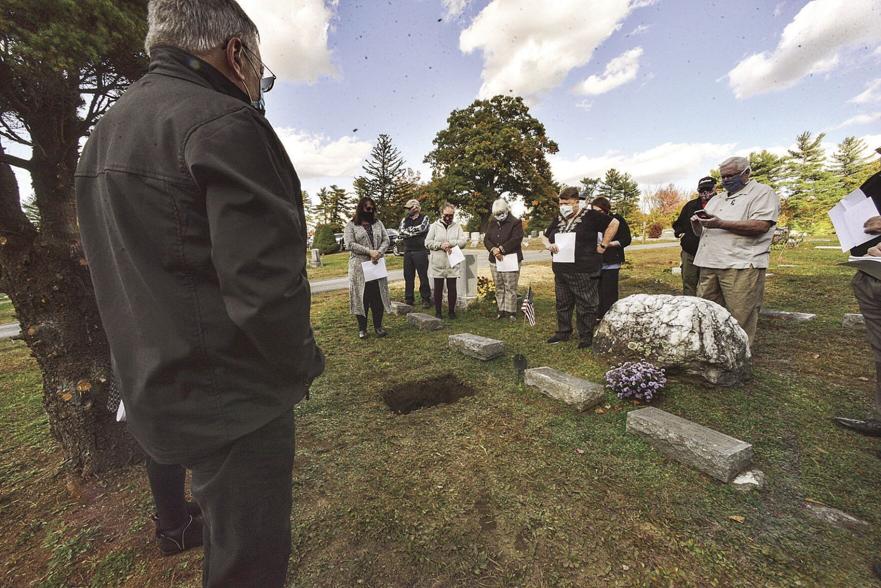 Dawson died on Thanksgiving Day last year. When classmates began digging around for information on her whereabouts, they learned her ashes were being stored at a funeral home in Bennington.
They "felt it was a shame," Puffer said. So they banded together and set out to bury their friend next to her father like she requested. They also played a song she wanted heard at her service, "His Eye Is On The Sparrow."
Of the approximately dozen attendees at Wednesday's committal service at Meeting House Hill Cemetery on Orchard Street in Brattleboro, only one was not a classmate. Joanne Gilford met Dawson later in life through a 12-step recovery meeting.
"I remember her saying that she wasn't even sure she belonged there but somebody told her she needed to come and check it out," Gilford said. "Upon reaching her 30 days sober, she was so happy that she celebrated with a bottle of wine. Boy, how we laughed over that. She literally did not get it until after the fact. She was able to maintain sobriety after that and has helped many others with theirs."
Gilford said she and Dawson would regularly eat at the Marina Restaurant in Brattleboro together and have long phone calls. They were friends for about 15 years.
"Carman was such a gentle, loving support to me during some challenging times in my life. She was a beautiful, peaceful soul who cared so much about the world around her," Gilford said. "She was a true pioneer in her heyday and never stopped trying to help others. Even towards the end when she entered the few facilities she was in, she thought she was there as an employee, not a patient. It was just how she was wired."
When Dawson's health began to rapidly deteriorate about three years ago, Gilford would visit her in the facilities. She called it an "honor" to share those moments.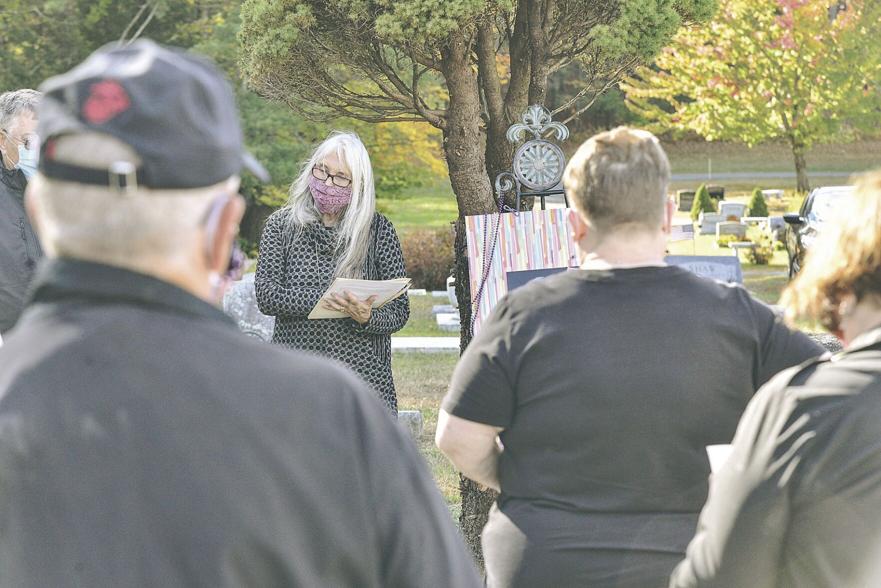 Dawson had dementia. Her brother Carl Dawson, who lives in Massachusetts, also suffers from the disease.
"He did remember enough to tell us where Carman had gone to," Puffer said. "She started at the Thompson House then she went to Bradley House and then, as her disease progressed further and further, she went to Crescent Manor in Bennington."
Sue Avery of Brattleboro was credited for arranging the logistics of the service. A few classmates and a friend who were unable to attend shared notes read by Puffer and Gilford.
Dawson was born on Christmas Day in 1946 and lived much of her life on Chestnut Street in Brattleboro, according to the obituary.
"Many will remember Carman as a classmate who stood taller than most of us!" states the obituary. "She had an engaging smile and a laugh out loud good sense of humor. Memories of high school will include her participation in a variety of activities including playing intramural sports as well as being a four year member of the color guard for the BUHS senior high band."
After graduating in 1964, Dawson enrolled at Endicott College in Boston then transferred the following school year to the University of Vermont. She majored in psychology.
After college, Dawson went out West. She worked for Raytheon, where she "experienced workplace violence including the loss of a friend and co-worker who took his own life on the premises," according to the obituary.
"This experience ultimately drew her to be engaged as a consultant helping others understand workplace violence prevention," states the obituary.
In 2012, Dawson is said to have developed an interest in online teaching and returned to Brattleboro. She was briefly employed by the University of Phoenix, according to the obituary.
"Unexpected medical challenges prevented her from continuing this near to her heart work; she remained in her family home on Chestnut Street until 2019," states the obituary.
Before reading a psalm, Avery said, "Sometimes there is sadness in our journey but there is also beauty, like the long-time friendships that with a phone call or a card can bring you to a place of remembrance and of youth and of times when life was just a little bit easier because we didn't know anything else."