BRATTLEBORO — Fresh off their successful conversion of a motel into supportive housing units on Putney Road, Groundworks Collaborative and Windham & Windsor Housing Trust are hoping to duplicate that success at Dalem's Chalet in West Brattleboro.
Built in the mid-1960s by Ursula Dalem and her late husband, Oskar, Dalem's Chalet has been a mainstay in local lodging. But Ursula, now in her 90s, recently sold the building to the Housing Trust, which is converting the lodge, now known simply as The Chalet, into 28 new units of permanent supportive housing for people currently sheltering in Brattleboro motels.
WWHT's executive director, Elizabeth Bridgewater, said the Housing Trust was able to quickly respond to funding opportunities to create new housing during the COVID-19 pandemic. This fall, in addition to purchasing The Chalet, the Housing Trust also launched the Re-housing Recovery Program that offers up to $30,000 in CARES Act funds to private landlords so they can create new rental units and/or bring existing units back to a rentable condition.
In exchange for receiving the grant, said Bridgewater, landlords have to impose a rent cap for five years.
With The Chalet and the grant program, she said, there could be between 85 and 90 new apartments by year's end.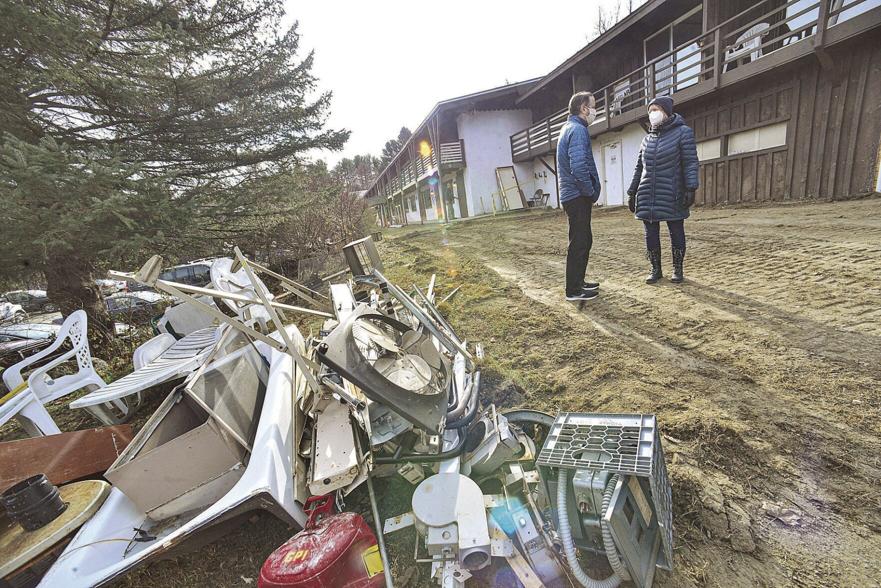 The Chalet renovation is projected to cost just shy of $2.8 million, said Bridgewater, with about $2.4 million coming from $30 million allocated out of CARES money by Vermont for state-wide housing initiatives.
The Housing Trust also received assistance from Neighborworks America and a private loan through Brattleboro Savings & Loan.
The additional funding was obtained to make repairs to an outbuilding that has seven units and the original farmhouse on the land, which the Dalem's occupied before they built their eponymous hotel.
Those units are currently occupied, said Bridgewater.
"We're welcoming all the residents currently living there," she said. If and when those units become vacant, she said, the Housing Trust will will consider how best to use them going forward.
RENOVATIONS INCLUDE NEW KITCHEN
In The Chalet, the kitchen and the 1,900-square-foot dining hall have been renovated for use by tenants and, hopefully, said Bridgewater, for the community at large.
"We hope, when it is safe to do so, we can engage the broader community," she said, with the space maybe being used for community meals and get-togethers.
Each of the rooms in The Chalet have its own bathroom and will be equipped with a small refrigerator and a hot plate as well as new furniture and fixtures, she said, and all the carpeting has been replaced with new flooring and energy-efficient windows have been installed.
Whole building renovations include installation of a sprinkler system, fire alarm system, and accessibility improvements in bathrooms.
Exterior work will bring walkways and stairs into code compliance, and regrade parking lots.
Bridgewater expects the project will be finished by Dec. 15.
"This was the fastest acquisition and rehab we've ever done," said Bridgewater.
URSULA DALEM INJURED
Bridgewater recently learned that Ursula Dalem, who has been living in the building during construction, has been hospitalized following a night-time fall. The details of the fall are not clear at this time, but she said she is heartbroken about the accident.
"We were all deeply saddened by the news that Mrs. Dalem fell and was badly injured," said Bridgewater. "I spent some time getting to know her during our conversations around the sale of the property. She is a compelling woman who has led an interesting life, some of which she shared with me in our many conversations. I grew quite fond of her."
The purchase agreement includes an estate clause that guarantees Dalem can remain in the building as long as she wishes. But even that can be hard for someone who created a business from scratch and is watching it change before her eyes, said Bridgewater.
"It must be very hard watching it transition from its former use to a new use and yet I feel confident that we've honored the agreements we made with her," she said. "When she is healed and comes home, we will continue to nurture and strengthen this relationship."
INTERUPTING HOMELESSNESS
Brattleboro has an extremely low vacancy rate for affordable housing — currently between 1 to 1.5 percent. For all practical purposes, this means there are no apartments available on any given day, never mind enough to absorb a large influx of people in response to the current public health crisis.
To meet the demand, the state has provided emergency motel vouchers, a program that is set to continue providing motel rooms as COVID-safe shelter through March 31, 2021.
"A bright spot that should be celebrated in this pandemic is that we have interrupted homelessness as a foregone conclusion and have provided shelter across this state for everyone," said Groundworks' Executive Director Josh Davis. "The Chalet project is an opportunity to get people into housing and provide services on site to ensure they remain successfully housed."
"It is abundantly clear that the health of our community is deeply connected with the health of every community member," said Bridgewater. "Everyone needs a safe place to call home."
Together, the two organizations recently converted the former Lamplighter motel on Putney Road, now known as Great River Terrace into 22 affordable units with on-site supportive services.
ON-SITE SERVICES
As with Great River Terrance, at The Chalet, Groundworks will coordinate and staff the on-site supportive services. Groundworks is currently hiring for three new positions to begin in the coming weeks: a site manager, a case manager, and program advocates, who will staff the property seven days a week from 8 a.m. to 11 p.m.
Case management at The Chalet will be provided by participating agencies. Pathways Vermont, Health Care & Rehabilitative Services, and Youth Services have all committed to providing case management coverage for the program.
Davis said Groundworks is hoping to establish a "satellite" food shelf at The Chalet to provide supplemental food to the people who will be living there. One reason is the distance from The Chalet to the two nearest grocery stores, about two-and-a-half miles to both.
Davis said Groundworks will have a van on site to make trips and The Chalet is also on a bus route, but it will be good to have food on site.
"We want to make sure the kitchen is stocked," he said.
The joint fundraising conducted by both organizations provided money to purchase the van, said Davis.
ONGOING WORK ON SOUTH MAIN STREET
Groundworks Collaborative is also in the middle of building a $3.3 million downtown homeless shelter to provide daytime support services year-round and night-time accommodations starting next winter.
At the beginning of pandemic, Groundworks closed its seasonal overflow shelter on the Winston Prouty Campus. As a result, more than 180 people in 100 different households are currently sheltering in Brattleboro motels.
The state is expected to continue the emergency motel voucher program through March 2021.
Meanwhile, Groundworks is getting ready for the winter by planning to open an overflow shelter with 16 beds in the conference room of a local motel, with a tentative start date of Nov. 30. This plan will allow emergency shelter beds for folks who are new to Groundworks. No one currently in a motel room will have to leave. Davis declined to identify the motel, saying he wanted to keep its location "low key."
The Day Shelter will open in the new building at 54 South Main St. on April 1. The 2021/2022 Seasonal Overflow Shelter will open in the new building in November 2021.
Groundworks also received some CARES funding, some to convert offices into a two-bedroom unit in the shelter on South Main Street and some to purchase safety equipment such as touchless soap dispensers and faucets and new air exchangers.
"We are fortunate to live in a state that has prioritized shelter for people experiencing homelessness, by opening up motels and working with organizations like Groundworks to provide supportive services," said Davis.
At this time, Groundworks is working through community partners to provide meals for residents of the additional shelter beds. The organization is not calling on its volunteer meal teams in the short term, except for those interested in providing homemade dishes for the upcoming Thanksgiving, Christmas, and New Year's holiday meals for people sheltering in motels. Anyone interested in helping in this way should contact Groundworks at meals@GroundworksVT.org.
Bob Audette can be contacted at raudette@reformer.com.