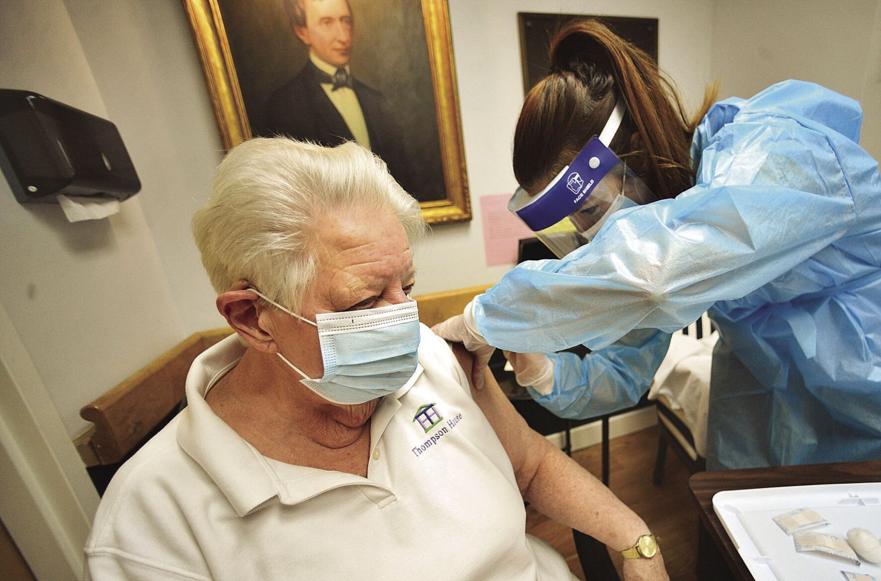 MONTPELIER — Fifty-two people died from COVID-19 this month in Vermont. And by the end of the year, at least 130 deaths are anticipated to be attributed to the coronavirus.
"December will be the deadliest month of the pandemic for Vermont," Michael Pieciak, commissioner of the Department of Financial Regulation, said Tuesday at the governor's twice weekly news conference. "Eighty-five percent of our deaths so far this month were connected to a long-term facility."
Vermont recently reported its 7,000th case since the pandemic, Pieciak said, "however, Maine has recorded more cases than that in just the past three weeks and New Hampshire just the past two weeks. So Vermont continues to maintain a very low case count in both the aggregate and on a per capita basis."
The state's seven day average for cases decreased by 28 percent over the last 20 days and the positivity rate is going down, Pieciak said. While cases are anticipated to remain relatively flat over the next four weeks, he said he feels "confident Vermonters can beat this projected outcome."
Holton Home in Brattleboro is on a list of 11 long term care facilities experiencing outbreaks. The facility has eight COVID-19 cases, two of which are new this week, according to a slide from Pieciak's presentation.
Health Commissioner Mark Levine said other outbreaks involve the Vermont Police Academy, a funeral gathering, and a social gathering of several families in Bennington.
Gov. Phil Scott said for the second week in a row, the state's case growth and positivity rate continues to drop but it's too early to tell how holiday travel will affect the figures.
"Our hope, although, is we'll continue seeing a plateau or even a decline in the region," he said. "But we're holding our breath a little while."
Scott acknowledged restrictions and the need to think about every move have been frustrating as the pandemic has gripped the state for almost 10 months while vaccinations are awaited. Officials encouraged continued vigilance with regard to recommended health precautions.
Nearly 10,000 Vermonters have been vaccinated so far. By Jan. 8, residents of all skilled nursing facilities in the state except one are anticipated to be given the first of two doses.
"We're working with pharmacies and the federal government to accelerate the first dose at other long term facilities, residential care and assisted living facilities," said Mike Smith, secretary of the Agency of Human Services.
Health care workers, first responders and others at high risk are part of the first group to be vaccinated. Vaccines will later be available via primary care providers, pharmacies, Department of Health offices and "mass vaccination sites" with those who are 75 and older being prioritized then those who are 70 and older followed by those who are 65 and older.
"Underlying issues will be a priority no matter what age," Smith said.