A Whitingham man and former State Senate candidate is defending his social media post pointing out that two local lawmakers who voted in favor of a bill allowing the confiscation of firearms from restraining order defendants are working from home.
John Lyddy, in a post made to his account Tuesday morning, was critical of Reps. John Gannon and Laura Sibilia for voting yes on H. 133. The bill passed 102-44 on Friday, on a roll call vote, and is now before the state Senate.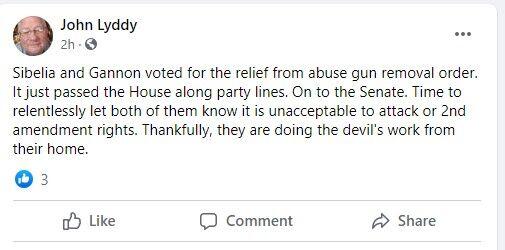 "Sibilia and Gannon voted for the relief from abuse gun removal order. It just passed the House along party lines. On to the Senate," Lyddy said on Facebook. "Time to relentlessly let both of them know it is unacceptable to attack our Second Amendment rights. Thankfully, they are doing the devil's work from their home."
Sibilia said she reported the post to law enforcement.
"I do perceive it as a threat. I have reported it," she said.
Gannon said, "I have spoken with the Chief of the Capitol Police, and I think it would be inappropriate to comment on the matter at this time."
"We are aware of the post," Capitol Police Chief Matthew Romei said. "However we can't comment further on this specific item."
"Generally, we receive reports on a regular basis about social media postings and other communications," Romei said. "There is a First Amendment protection to speech, especially speech directed at the government, or government officials, and that protection is important. However, that protection is not unlimited," Romei said. "Where appropriate, we investigate, and on occasion, refer charges through a local State's Attorney or the Attorney General's office."
The Capitol Police provide law enforcement services to the Vermont Statehouse and its members, as well as dignitaries, visitors, and staff. Romei said the department routinely collaborates with and advises elected representatives on safety and security concerns.
Reacting to the post, a spokesperson for Gov. Phil Scott called for civility and cooler heads.
"[Gov. Scott] decries all forms of intimidation, including on social media platforms, which continue to be used by online bullies for hatemongering, misinformation, harassment, and threats," spokesperson Jason Maulucci said. "We all have a responsibility to do what we can to tone down the rhetoric and hyperbole, find ways to heal and to have civil policy debates. Lending your voice to the public square, and an electorate that holds elected officials accountable for their decisions is a critical component of our republic, but we can do so civilly with informed debate and advocacy, not with hate in the comment section."
Lyddy, who mounted an unsuccessful campaign for the Windham State Senate district last year as a Republican, said he does not plan to demonstrate at Gannon and Sibilia's homes. Both lawmakers represent a portion of Whitingham, a town of about 1,300 which sits on the Massachusetts border and the Windham-Bennington county line.
"If they were working at the Statehouse, we'd demonstrate in front of the statehouse. That's their new Statehouse," Lyddy said, referring to the legislators' homes. "If they want to move back to the Statehouse, which would be perfectly safe now, we'd be at the Statehouse demonstrating."
Last week marked the one-year anniversary of lawmakers deciding to govern remotely, and House and Senate leaders do not expect a return to Montpelier this session. A study of the building has shown its spaces are too small to practically conduct business and still meet COVID-19 health and safety guidelines. Lyddy said with vaccines available, the Legislature should return.
Asked if advocating for going to someone's home was making the situation personal, Lyddy said, "If they wanted it not to be personal, they should be working from the Statehouse."
"My personal feeling is it comes with the territory. If you want your voice heard, you need to be where the people are," he said.
Lyddy said he had not been contacted by police, and does not expect to hear from them. But he said reporting the post as a threat was in essence an attempt to silence him.
"This is what they do. This is what legislators who don't have confidence in their position do," he said.
BILL PASSESIn voting on H. 133, Bennington County House members Rep Sally Achey, R-Rutland-Bennington, Rep. Mary Morrissey, R-Bennington 2-1, and Rep. Nelson Brownell, D-Bennington 1, voted no. The remainder of the delegation, and the entire Windham County House delegation, voted yes.
The bill codifies in state law that judges may order defendants in restraining orders "to immediately relinquish, until the expiration of the order, all firearms that are in the defendant's possession, ownership, or control, and to refrain from acquiring or possessing any firearms while the order is in effect."
Rep. Tanya Vyhovsky, D/P-Chittenden 8-1, was among the bill's supporters.
"As a gun owner myself and a person who grew up in a family of hunters, I respect the tradition of gun ownership and sportsmanship in Vermont. I am struck today by the one-sided argument that we must protect the right to wield a weapon at all costs with no regard given to the constitutional right to life," Vyhovsky said in explaining her vote.
"This is a relief from abuse bill that not only does not fundamentally change what is already allowable and common practice, it is also temporary and thus not an issue of rights but a temporary inconvenience to protect the constitutional right to life," Vyhovsky said. "I believe based on the statistics that it will save the lives of those who have been abused and terrorized and therefore I vote yes."
Lyddy said the proposal violates due process as well as the Second Amendment, and Article 16 of the Vermont Constitution, both of which establish the right to bear arms.
"The problem is no one's committed a felony no one's been convicted of a felony," he said. But the law would put those people in position to have their rights abridged "simply because another person says 'I feel threatened.' People who believe strongly in the Second Amendment now feel threatened."
In the 2020 state senate election, Lyddy finished fourth with 4,265 votes, or 8.89 percent of the vote, as Sens. Becca Balint and Jeanette White were re-elected. Marcus R. Parrish finished third, 94 votes ahead of Lyddy.
According to media reports, Lyddy also attended the Jan. 6 rally and insurrection in Washington, D. C. at the U.S. Capitol. He was among those marching to the Capitol but did not take part in the storming of the building, which resulted in five deaths and a massive FBI investigation.