NEWFANE — While most people probably hate the rainy, semi-cold days of late March to early April, others put on their raincoats, turn on their headlamps and voyage out into the streets of rural Vermont to help their slimy friends safely cross the road during the evening hours.
Patti Smith, a naturalist at Bonnyvale Environmental Education Center in Brattleboro, ventured out with other volunteers one recent evening — armed with lights, reflective vests, and a pen and notepad — to help amphibians cross the road to reach their breeding grounds.
The migration of the amphibians started around March 19. They tend to cross the road during the evening when it rains and when temperatures are around 40 degrees or warmer until the breeding season ends in late April.
Smith said many of these spring-migrating amphibians have probably made it to their vernal pool habitats by now, and on the next few rainy nights, some of them will be heading back across the road to their woodland territories.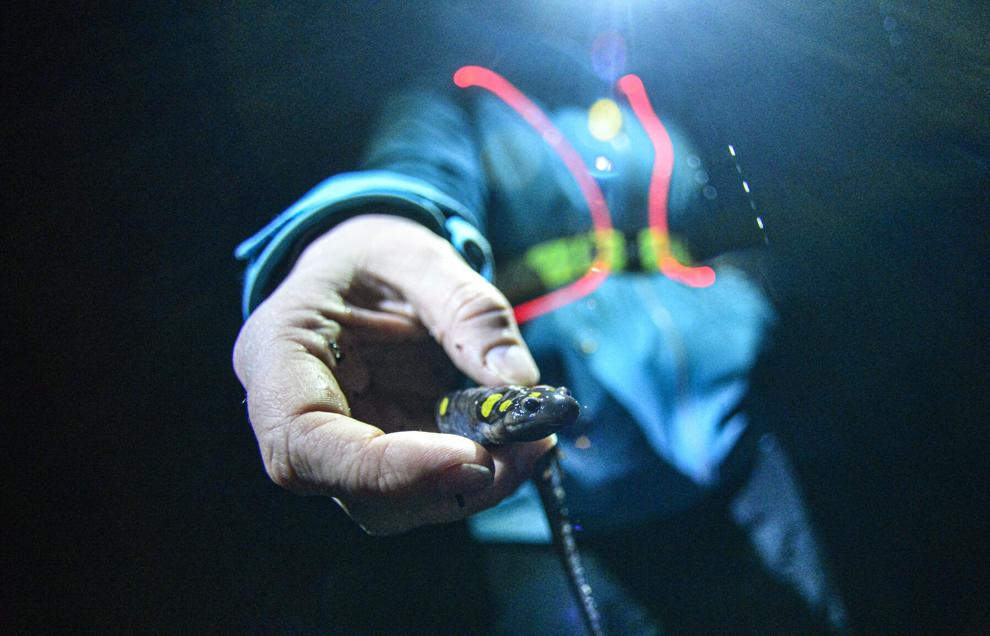 When the volunteers help move the amphibians, they are asked to identify the animals and whether they made it across or if they were hit by a vehicle. Counting helps the BEEC monitor population trends at the crossing sites, though it is an imperfect tool since migration conditions vary so much from year to year. Often though, much of the movement happens in the late hours when no one is out to observe or count.
"Where we were last night on Grimes Hill Road, the numbers have been lower there in recent years," said Smith. "The counting also helps us refine our understanding of when the amphibians will be out so we can do a better job of predicting when to summon volunteers."
PHOTOS: Helping out a slimy friend
PURCHASE PHOTOSBEEC offers the following safety guidance for people that want to help the amphibian migration:
"Please protect yourselves, motorists, and the amphibian crossing program by being prepared with safety gear in advance of migration nights and by following safety guidelines while you're out there," said Smith.
People should wear light-colored clothing, and reflective vests. She also suggested that when cars approach your site, step off the roadway and park your vehicles off the road and out of the crossing zone.
Another way to help is to avoid driving on rainy nights in April. If you find you must be out, drive slowly and avoid anything that looks like a stick or pebble on the road. And watch out for people in raincoats, and salamander crossing guards, too.
For more information, visit www.beec.org.