BRATTLEBORO — Comic-book superheroes wear masks, but real-life superheroes make them.
Case in point: Ruth Houle, of Brattleboro, and her 87-year-old mother, Rita Chabre, have made nearly 5,000 masks since March 22.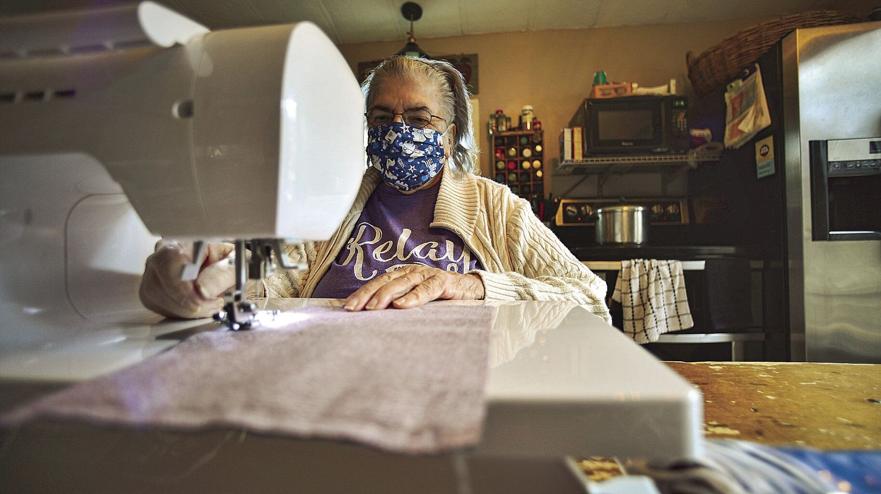 "Masks were difficult to find and we were hearing about frontline workers and first responders having to re-use masks," said Houle. "My mother said, I have fabric, and so, it began."
Within a day of posting on social media they were inundated with requests for the handmade mask, many people offering to pay.
"We felt that because we had the fabric and since our cost was really just the elastic and our time, we would not accept payment," said Houle. "We just wanted to help."
Making masks also required some Yankee ingenuity when elastic became hard to find as people across the country began making their own masks.
"We started going to the dollar store and buying elastic headbands at 10 for $1," said Houle. "We bought everything we could find at the stores in Brattleboro, Keene, N.H., and Greenfield, Mass."
Working early mornings and late evenings with her mom was a time to reconnect too, said Houle.
"We set goals for ourselves and pushed each other to meet them," she said. "With the current state of affairs, it was cathartic to put our minds and hands to work."
Much of the fabric they used to make masks came from Chabre's collection of fabrics.
"My mother lived in a time when things were not so dispensable," said Houle. "Things were saved, not tossed, or given away."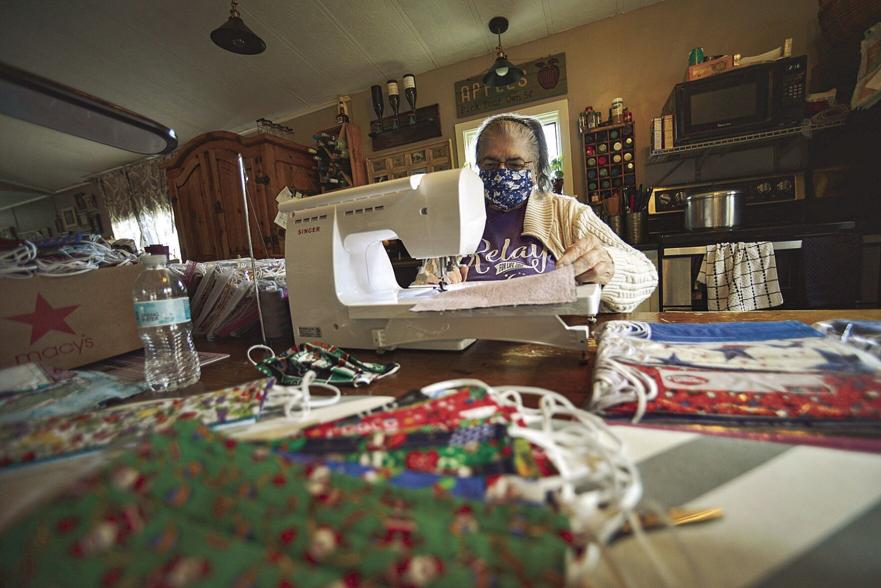 Chabre has used her fabric stash to make hats for cancer patients or to crochet blankets to give away.
"She has always put her hands and mind to good use," said Houle.
They also purchased some "fun" fabrics for kids, and sports and red-white-and-blue patterns for veterans.
"Our hope was to make them fun, so people wanted to wear them," she said.
The two women received 74 yards of fabric in donation, which helped them meet the demand from places such as the VA Hospital in White River Junction, Brattleboro area schools, the local hospital and the Brattleboro Retreat, to name just a few.
"We wanted to do our part to help in any way we could," said Houle.
For Tammy McNamara, of Dummerston, stitching masks is a way to relieve pandemic-induced anxiety as well as a way of giving back to her community.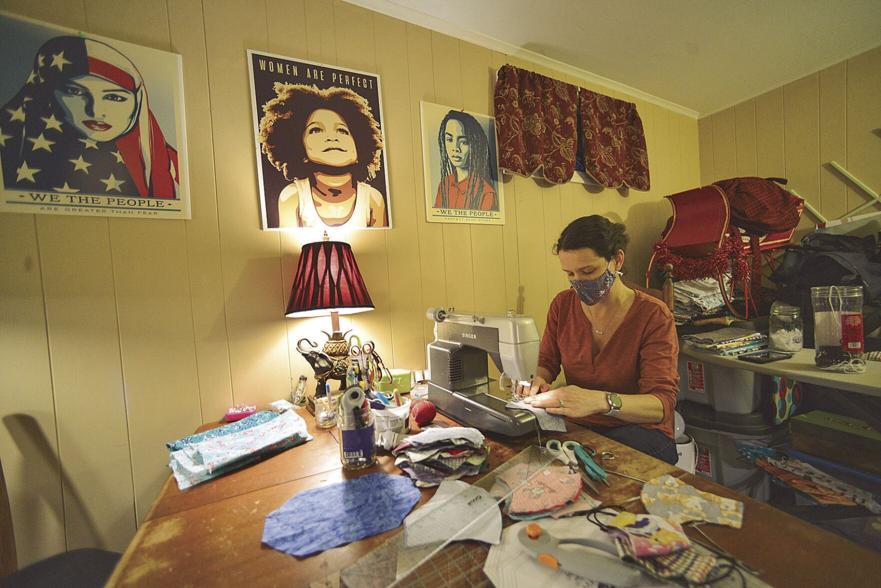 "Especially as we are asked to avoid meeting friends and family in person," said McNamara, who has made about 1,200 masks since the beginning of the pandemic.
"I usually spend a few hours most evenings sewing masks, after work and either before or after the kids go to bed," she said. "It was also a way to feel connected. I really enjoy making masks that fit well in fun or beautiful fabrics as I do believe if people enjoy them they are more likely to wear them."
Making masks was also a way to spend time with her children.
"Both of my children have been involved from the beginning," said McNamara, who admitted she had "very basic" sewing skills until her mom, Karen McNamara, moved in to help care for 8-year-old Grace and 5-year-old Ruby. "She moved in with her sewing machine and two large suitcases of fabric."
The mask making began because both McNamara and her husband, Sonny Rosa, need to wear masks at work.
"So I joined my mom in sewing them and we learned and adjusted new patterns and styles to fit the needs of our coworkers," she said, with her and her kids learning to sew from her mom. "It was so wonderful to have the kids learning sewing skills from their nana, as well as giving them a way to feel empowered during the pandemic when so much was out of our control."
McNamara said Ruby loves to pick the fabrics for making masks for her friends and helps to put the ear loops on them.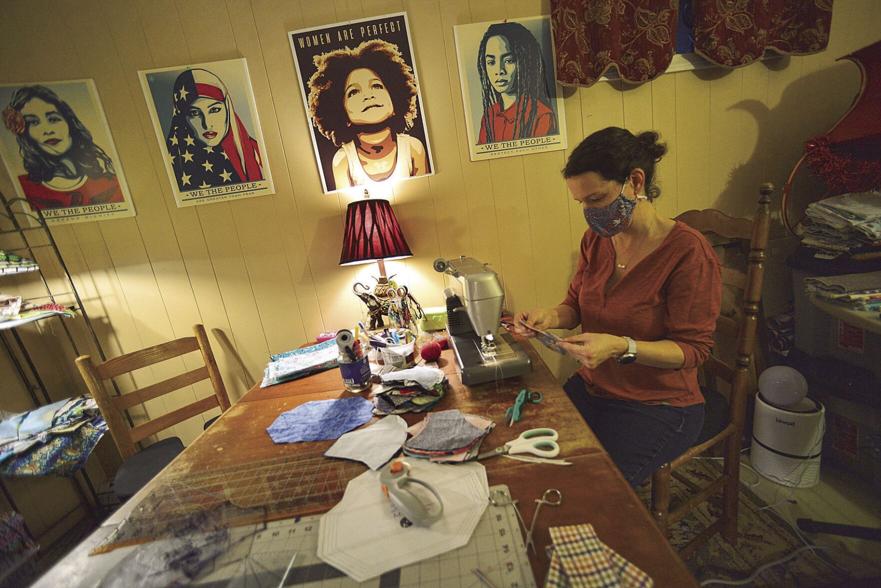 "Grace can sew a basic mask, and she also likes to sew masks for her dolls and stuffed animals," said McNamara, who gets her materials mostly from online sources.
"Many of our masks go to my coworkers and their families, teachers in Dummerston school, friends, family, classmates of my kids," she said. "Some also went to Groundworks staff and guests. I have also mailed them to friends and family around the country."
McNamara, who gives away the masks for free, said she has received financial help from Laura Chapman, of Putney.
Brattleboro resident Shanna Bethel said when she first heard about the need for face coverings, "My brain said it's time to sew and do your part."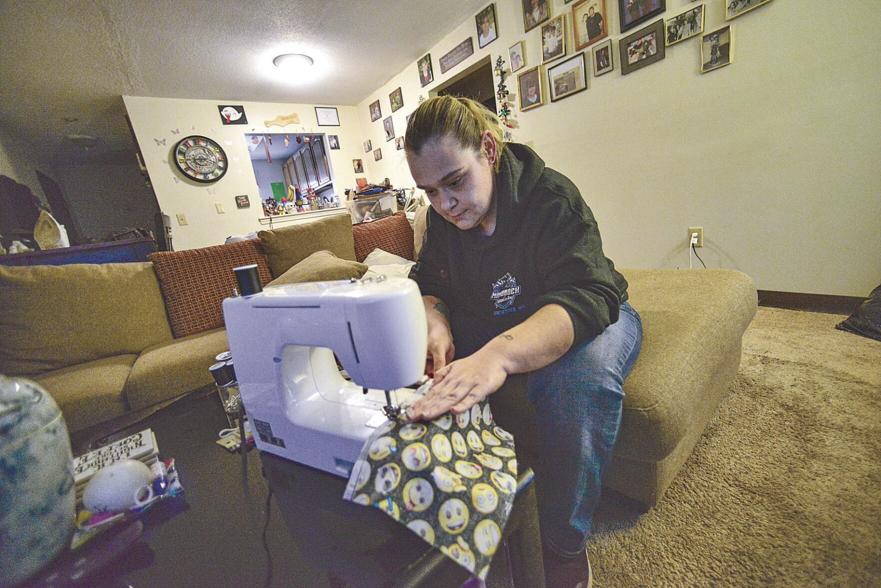 "What an adventure this has been since I haven't sewn since freshman year of high school," she said. "It hasn't been easy but I give it my all."
For Bethel, making masks has been about doing something productive during the pandemic year.
"Many years from now, when my future grandbabies ask what it was like, I can tell them I sewed masks," said Bethel, who thanked Bob Cornelier for his support and fabric donations, as well as fabric donations and motivational support from Will Bolster and Heather Monroe.
"Other than those donations I have put my own money into the rest of the materials I have used since March when the pandemic started," she said. "It has all been a non-profit situation, as the money I have made from selling masks just inspires me to continue making more masks."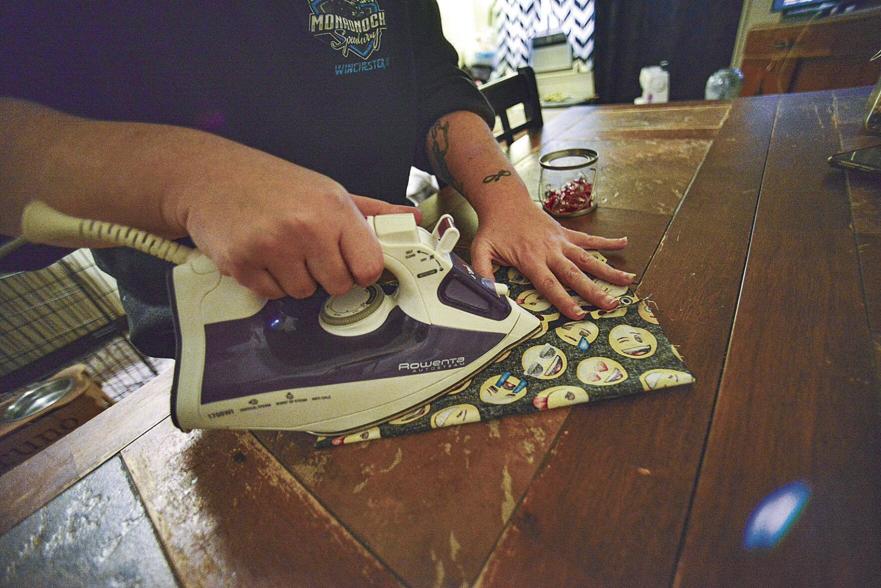 She has sent her masks to people in Indiana, New Jersey and Maryland, as well as to Vermonters and people in New Hampshire.
Crystal Foster, who is Bethel's cousin-in-law, said she got started because people in her household needed masks for health reasons.
"I have Lyme disease and a history of cancer," she said. In addition, her youngest child has been diagnosed with PANDAS, which is short for pediatric autoimmune neuropsychiatric disorders associated with streptococcal infections.
"With two out of five in our home being very immuno-compromised, we needed them," said Foster, who lives in Bellows Falls. "They were very hard to find in general, never mind ones that fit larger adults and children properly, or that didn't hurt or pull on ears, so I figured I could make some."
Foster, who considers herself "crafty," said she had the basic knowledge necessary to make masks.
"I was sewing them by hand, no machine, which was very time consuming," she said. "Shanna kept encouraging me to pull out my old machine and make more because she was selling them and people were very interested."
Tina Mattison, a counselor at Bellows Falls Union High School, saw the masks Foster was making and asked if she would make some for her, too.
"She loved them so much she gave me even more material and lots of kind words and encouragement to continue," said Foster. "I made a few and posted pictures on my Facebook page and suddenly I was getting flooded with messages."
From storage, she retrieved the sewing machine she had received one Christmas from her parents, David and Elaine Judd, and she set to work. She charges $5 per mask, which covers the cost of materials.
"I have taken all of the money I've made and used it to pay for supplies," she said. "Now I have upwards of 70 patterns in three different sizes and I am pleased to say, no negative reviews."
Foster said she has made hundreds of masks, some of which she donated to families with kids going back to school
"It keeps me busy and focused during times I'd much rather be spending with other family and friends or on trips outside of our yard," said Foster.
James Tirrell, of Brattleboro, said his wife's grandmother, 89-year-old Annette Vigneau, also of Brattleboro, has made "hundreds, if not thousands" of masks since the beginning of the pandemic.
"She was a nurse for 43 years," said Tirrell. "She wanted a way to help people and thought this would be a nice way to do it."
Vigneau has donated all of her masks to local doctor offices, the hospital and local schools.
"She has also given them to her children and grandchildren, who have given them out to their friends, family and coworkers in need and has shipped them to her daughter in South Carolina who has also given them out to friends, family and coworkers."
With the exception of a few donations of materials from family and friends, Vigneau has purchased all the materials herself, Tirrell said.
At this point in time she has made well over 1,000 masks and doesn't plan on stopping anytime soon.
"It has become part of her daily routine," Tirrell said.
Houle and Chabre received donations from Michelle Rowe, Kyle and Scott Cassavaugh, Bill Smith, Dianne and Henry Diemer, Melissa and Gene Whitney, Brattleboro Elks Lodge, Norman and Barbara Chabre, Sherri Chabre, Kris and Paola Safford, Shon and Liz Falkins, Trish and Josh Gagnon, Karen and Dana Zelenakas and Kelly and Scott Phillips.