PHOTOS: Tragedy at McNeill's Brewery
BRATTLEBORO — McNeill's Brewery, a fixture on Elliot Street since the early 1990s, was torn down Saturday, hours after a fire ripped through the building's second floor and presumably claimed the life of its founder and owner, Ray McNeill.
While the victim of the fire has yet to be officially identified, family and friends confirmed that it was McNeill, who lived in the building's upstairs apartment.
Brattleboro Fire Chief Leonard Howard said he made the decision to have the building torn down, because it was structurally unsound, even before the fire Friday night that further "compromised" the second story.
"Back in June, an engineer had advised that the building was unstable, and that the public shouldn't be in it anymore and told the owner (McNeill) that he really shouldn't be living in it," Howard said. "But it was his home, and he can decide whether he wants to do that or not.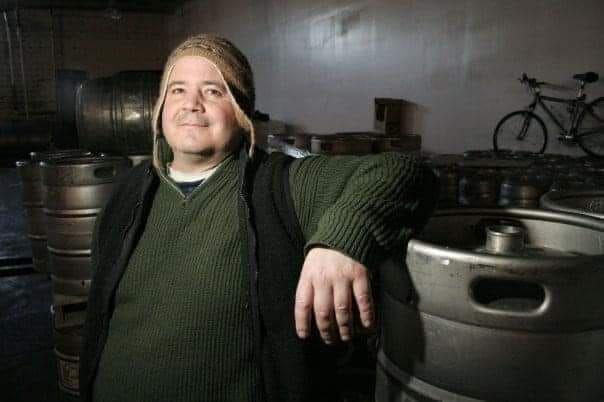 "At that time, we determined as a pre-plan for us, that if there was a fire in the building, we wouldn't enter the building because of the instability of the structure. With the fire compromising it even more, and in talking with an engineer this morning ... his advice was that it needed to come down. So, being the fire chief, that's my decision to make."
According to a statement issued by the Fire Department at about 11 p.m. Friday, firefighters were first dispatched to 90 Elliot St. for a reported apartment fire at 7:45 p.m. Engine 2 arrived at 7:45, and Capt. Joe Newton reported smoke showing from the second floor. Two minutes later, Newton reported fire showing and requested a second alarm.
At 7:52 p.m., Howard requested a third alarm be dispatched. Because of the structural integrity of the building, crews performed exterior operations only.
The fire was reported under control at 8:59 p.m. The fire is under investigation by the Brattleboro Fire Department, Brattleboro Police Department and Vermont State Police. Howard said he is awaiting word from the medical examiner before he can officially identify the victim.
The brewery had been closed since March 2020, before the start of the COVID pandemic, but McNeill had intended to reopen next year, if or when the building was ruled structurally sound. The recently reopened Kipling's Restaurant and Pub, right next door, did not sustain damage from the fire, but Howard said that was also a factor in the decision to tear McNeill's down Saturday.
"It's close to Kipling's," Howard said. "We told them that we didn't want them to operate their business until the building was stable and torn down."
Cindy Kane-Fitzgerald of Brattleboro watched the building being torn down with a heavy heart. She first visited the brewery with her husband and 3-year-old son about 20 years ago.
"I made friends with people that day that I'm still friends with," she said. "There are a lot of wonderful memories associated with that building. I played music in that pub, drank in that pub and made many friends in that pub. It was a wonderful spot. So many wonderful things happened there. It's going to be a real loss for the community."
Brattleboro Select Board member Jess Gelter also watched as a building full of memories came tumbling down, piece by piece. She proudly recalled winning the popular ring game at McNeill's, and she hoped that somebody was able to save the catamount head sculpture that was a fixture on the bar.
"Everyone had a relationship with that," she said of the catamount. "I remember how smooth it was, I think from everyone petting it when they were sitting at the bar."
The building that became McNeill's was constructed in 1892 and originally served as one of the fire stations on Elliot Street. Ray McNeill moved his brewpub there from another location in 1990.
As the building was being torn down, just around the corner at the River Garden Marketplace on Main Street, people gathered for an emotional pub "singalong" Saturday — similar to ones that used to be held monthly at McNeill's. Friends and longtime patrons sang songs and hoisted a few beers in tribute to the brewery and its owner.
"It was really kind of a clubhouse for Brattleboro for a long time," said Brattleboro resident Dan Lydon, who frequented the brewery since its opening. "There was a real crowd of regulars that would hang out there all the time, going back to the early '90s. And Ray really had the vision to provide that for people. Plus, he made some damn good beer. He was kind of the spearhead for the microbrew movement in this region."
Through his astute knowledge of the brewing process and his experimental nature, McNeill became a legend in the burgeoning craft beer industry. People visited from all over the country to sample his various concoctions, such as the ESB, Oatmeal Stout and the Dead Horse IPA ("You can't beat a Dead Horse" was a popular refrain).
"I just watched them pull all of the awards that he won off the wall," Lydon said. "He was one of the top award-winning breweries in the country, very, very high up in the world of brewing."
McNeill was also known to play his beloved cello with jazz bands at the brewpub, and would sit for hours pontificating at the bar about beer, politics and a variety of other subjects. On Saturday, many described him as "ornery" or "curmudgeonly," but always welcoming and inclusive.
"It would be very hard to describe the feeling that was there, especially in the early days," Lydon said. "There was a real kind of frontier town atmosphere to Brattleboro, and McNeill's kind of personified that in that era. Ray didn't take (stuff) from anybody. He ran a house that reflected his personality. More than anything, it was welcoming to all types and all kinds."
Maia Segura of South Newfane first frequented McNeill's while attending Marlboro College in the late 1980s.
"When he moved into the new building (on Elliot Street) there were a lot of us (former Marlboro students) who migrated over to the new space, and he made all of us feel welcome," said Segura. "I felt particularly safe in his space, even when going through hard times. He was completely nonjudgmental. He definitely gave us all a kick in the (butt) when we needed it, but he always gave us a safe place to land, and he never stopped being a friend, which was really incredible."