BRATTLEBORO — Firefighters dressed in their finest clothes gathered near the American flag in a wooded area at Brattleboro Fire Department's Station 2 in West Brattleboro to watch the swearing-in ceremony of the new fire chief and assistant fire chief on Monday evening.
Brattleboro Town Clerk Hilary Francis administered the oath of office to Leonard Howard III as he becomes the new fire chief effective April 1, and Charles Keir becomes the new assistant fire chief, taking effect April 5.
BRATTLEBORO — Sen. Patrick Leahy, D-Vt., sent a surprise gift to Brattleboro's former fire c…
Before they took the oath for their new positions, the current fire chief, Mike Bucossi, who retires on April 1, talked about Howard's family legacy in the area and how being a firefighter is deeply rooted in his blood.
BRATTLEBORO — When Capt. Charles "Chuck" Keir III first joined the Brattleboro Fire Departme…
"Leonard Howard III comes from a background of firefighting. His father, Sam, was the chief in Putney, his uncle Bruce was also the chief in Putney, and now his son, Lenny, is a captain in Putney," Bucossi told the crowd of firefighters and family that gathered to watch the event. "Lenny joined the call staff in 1987, and became a career firefighter in 1997."
Bucossi told the audience how Howard rose in the ranks over the years to become the assistant chief, and shared some anecdotes about their time working together, covering some of the bigger fires in the town's recent memory.
"We just read each other's looks over the years, and it has just been a really good working relationship and I appreciate everything that Lenny has done for me," Bucossi said.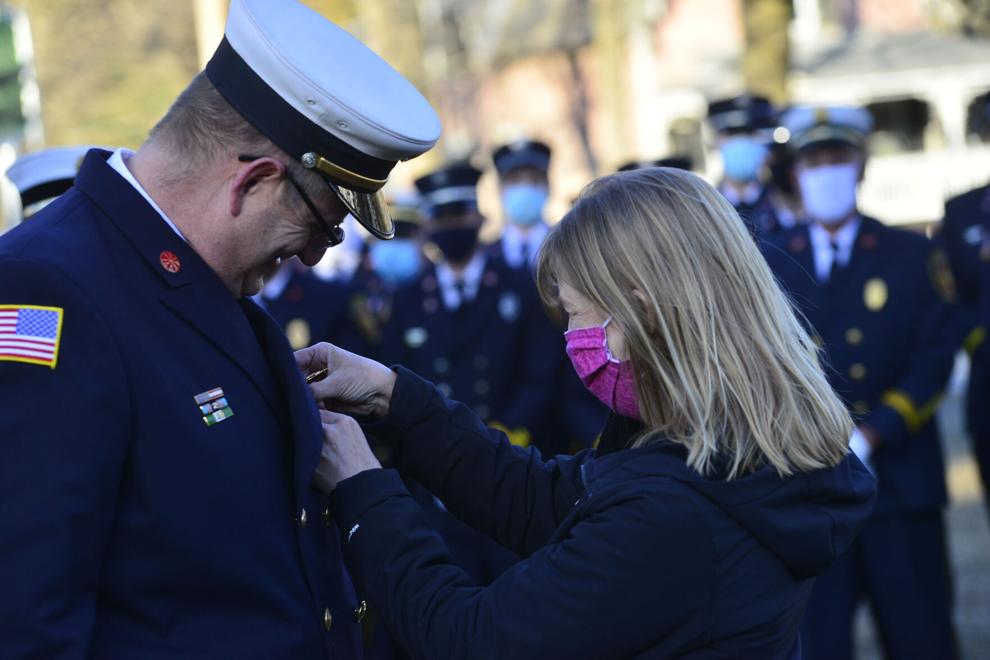 After being sworn in as the new chief, Howard's wife, Becky, put the pin on his uniform and the couple shared a kiss in front of the audience.
Then Chief Bucossi called up Capt. Keir to honor the firefighter, talking about Keir's impressive resume and heroic actions, before he took the oath as assistant fire chief.
"Chuck was hired in 2001; Chuck was the only person I know that would show up to a job interview wearing a Yankees hat," said Bucossi.
Keir's wife, Katie, pinned his uniform and gave her husband a kiss.
Before closing the ceremony, Bucossi bestowed some words of wisdom to the new chief and assistant.
BRATTLEBORO — Fire Chief Mike Bucossi is retiring after working for the Brattleboro Fire Dep…
"You will be putting your members into harm's way, and your first responsibility is to make sure they are safe and that everyone goes home, including yourself," said Bucossi.
To the editor: As my career with the Brattleboro Fire Department winds down there are some r…