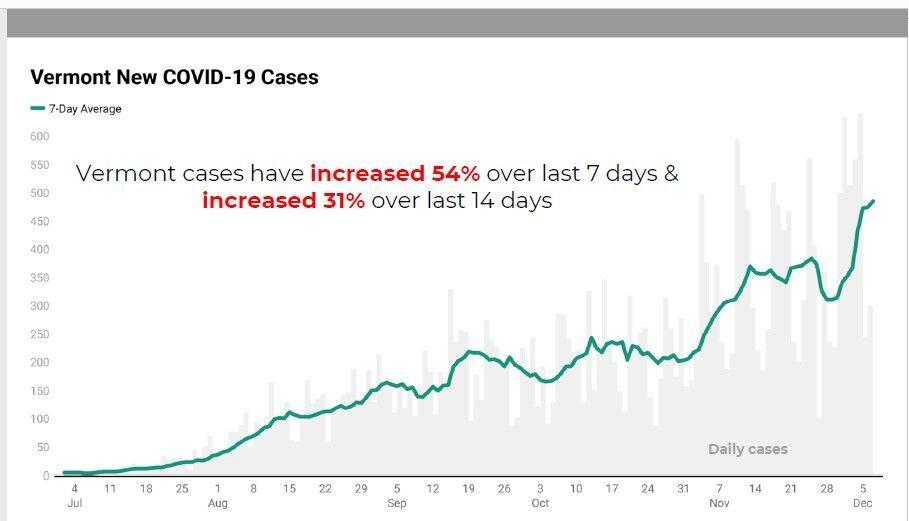 MONTPELIER — State officials didn't mince words Tuesday when addressing the recent spike in COVID-19 cases: It's a post-Thanksgiving surge, largely driven by unvaccinated people.
And if the state is going to control the elevated case counts projected for the next four weeks, it's crucial that people who haven't gotten themselves and their children vaccines and boosters roll up their sleeves.
"If you haven't gotten a booster, and it's time for a booster, you are not fully protected," Vermont Health Commissioner Mark Levine, said during the weekly state coronavirus news conference. "The booster gives the most protection possible against COVID-19, and we all need the most protection we can get right now."
"During the current surge, you must not consider yourself protected unless you get the booster. Period," Dr. Levine added.
"When you look at everything in total, it does look like a surge from the Thanksgiving holiday," Commissioner of Financial Regulation Michael Pieciak noted.
Vermont reported 300 new cases Tuesday, with 90 people hospitalized and 31 in intensive care units.
Vaccination, boosters and monoclonal antibody therapy are part of the state's strategy in managing hospital capacity, by reducing the number of people who need hospitalization, said Health and Human Services Secretary Mike Smith.
The state is also using beds in long-term care or rehab facilities to care for "sub-acute" patients who don't require hospitalization but are still recovering, Smith said. Eighty such beds were made available in October, 39 additional beds have since become available and 21 more will be, Agency of Human Services Commissioner Mike Smith said.
Bennington County: Surge focal point
Bennington County is a focal point in the surge. It has reported 646 cases in the past 14 days, the fourth most in the state in that span. Chittenden (915), Rutland (842) and Windsor (684) had the highest case counts Tuesday, according to the Department of Health COVID dashboard.
Levine said there wasn't an obvious correlation between Bennington County's vaccination rates and its recent surge in cases. He speculated that, given the nature of community transmission of the Delta variant — in which one person can infect three to five people -- it's likely that gatherings led to the increase.
Data during the Scott administration's weekly news briefing presently showed Vermont's new cases have increased 54 percent over the past seven days and 31 percent over the past 14 days.
Of those, the number of unvaccinated people getting sick is up 95 percent in the past seven days, compared to 52 percent increase for those fully vaccinated, Smith said.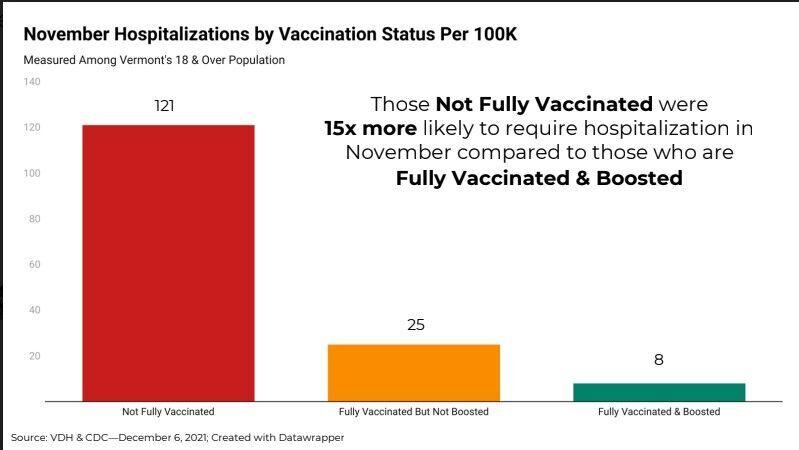 The data also shows that, of cases in Vermont's intensive care units, 90 percent are people who were not vaccinated against the coronavirus.
While Gov. Phil Scott and administration officials continued to stress the state's relative success in vaccination and testing compared to other states, they also beat the drum for vaccines and boosters at every opportunity.
On testing, Scott and Pieciak announced the Department of Financial Regulation has passed an emergency rule, requiring commercial insurers to fully cover the cost of at-home COVID testing. The policy, retroactive to Dec. 1, will allow about 140,000 Vermonters to have the cost of those tests reimbursed.
"The goal is to make it as easy as possible" and allow Vermonters to acquire those tests without upfront costs, Pieciak said.
Scott said during a Tuesday conference call with governors and the White House that "everyone reiterated vaccines remain our most important tool" in fighting the pandemic.
"It was reassuring to see President Biden lay out a national plan that looks a lot like what we're doing here in Vermont," Scott said.
He also noted that the state's nation-leading testing rate is 44,000 per 100,000 residents — 12 percent higher than the next highest state, Massachusetts.
"The 10th highest is 15,000 per 100,000 residents — that's three times less than Vermont, and there are 40 states below that."