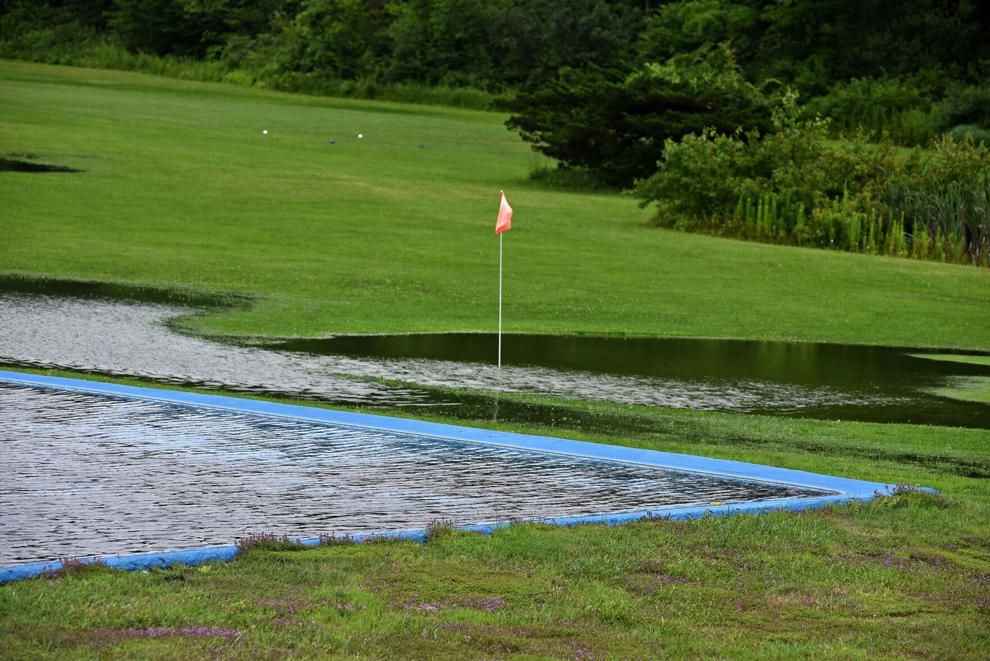 BENNINGTON — Bennington didn't get as much rain as other towns in the region over the weekend. But it has seen an extraordinarily wet July, which has brought flooding and soil erosion.
Bennington recorded 0.6 inches of rain between Sunday night and Monday morning, according to the National Weather Service. In comparison, Manchester got 1.4 inches during the same time, Woodford had 1 inch and Brattleboro had .75 inches.
The region is experiencing a "very anomalously wet weather pattern" for this time of year, said meteorologist Michael Main, of the National Weather Service's Albany, N.Y., office. He attributes this to ordinary showers and thunderstorms that are nonetheless moving slowly, sitting over an area for hours.
From July 1 to 18, for instance, Bennington received 7.4 inches of rain — nearly three times the town's 2.7-inch average rainfall for this period. (No comparative data was available for Windham County; Main said the weather service doesn't have an official reporting station in that area.)
On Wednesday, a storm reportedly led to the flooding of several buildings on Bennington's South Street and soil erosion in some construction sites.
Buildings that flooded included the offices of the Better Bennington Corp., a local nonprofit organization, and the basement of the Bennington Police Department, said Town Manager Stuart Hurd.
"Our sump pumps couldn't handle the flow," he said.
The water damaged some of the Police Department's computer surge protectors, but no employees had to be relocated, said Lt. Camillo Grande. He said members of the Bennington Fire Department and the town's Buildings and Grounds Department helped to control the flooding.
When asked, Grande said the Police Department has previously been flooded by rain but couldn't immediately remember the last time it happened.
Hurd said the Wednesday storm also caused a lot of erosion in Bennington construction sites, which left gravel along road surfaces.
More rain coming
July is only half over, and more rain is on the horizon. The National Weather Service is forecasting rain and thunderstorms for Tuesday and Wednesday. Less than an inch is expected on average, but some towns — unknown at this point — could get wetter.
United States Geological Survey data from monitoring stations for the Walloomsac River in North Bennington and the West River in Jamaica show both rivers are a good deal higher than they were last year, and that recent rain events this month have caused several sudden spikes in river height.
The USGS has a dashboard showing data for bodies of water throughout the Continental U.S. It can found at https://dashboard.waterdata.usgs.gov/app/nwd/?region=lower48&aoi=default.
The height or depth of rivers is measured in what's commonly called "gage height." It's a relative measurement, describing the distance from a certain point on the riverbed to the surface. The following measurements are all in gage height:
• At the Walloomsac site, the river rose from 2.94 feet at 8:45 p.m. Sunday to 5.06 feet at 2:30 a.m. That's an increase of more than 2 feet in a little under six hours, according to preliminary data.
• The Walloomsac saw two similar sudden increases last week, according to preliminary data: On July 14 ,when it rose from, 2.97 feet to 4.81 feet in about six hours, and on July 11 and 12, when it went from 2.25 feet as of 7:15 p.m. on July 11 to 5.89 feet at 12 p.m. the next day.
According to the USGS website, the "action stage" for the Walloomsac is at 6 feet. Flood stage for the river begins at 7 feet, with moderate flooding at 9 feet and major flooding at 11 feet.
• At the West River monitoring station in Jamaica, the river's height shot from 5.01 feet at midnight on Sunday to 6.94 feet as of 2 p.m. Monday, according to preliminary data.
• Similar increases were reported on July 12, when the West's height went from 4.85 feet at 11:45 a.m. to 6.9 feet at 8:45 p.m.
• On July 7 and 8, the river's height increased from 4.71 feet to 5.97 feet in about 12 hours.