First day of session
First day of the legislative session at the Vermont State House, in Montpelier, Vt.
MONTPELIER — The Vermont General Assembly made history Wednesday when, for the first time, it elected women to lead both chambers of the state legislature.
The State Senate elected its first woman and first openly gay president pro tem in state Sen. Becca Balint of Brattleboro, while the House of Representatives chose its fourth woman Speaker, Rep. Jill Krowinski of Burlington.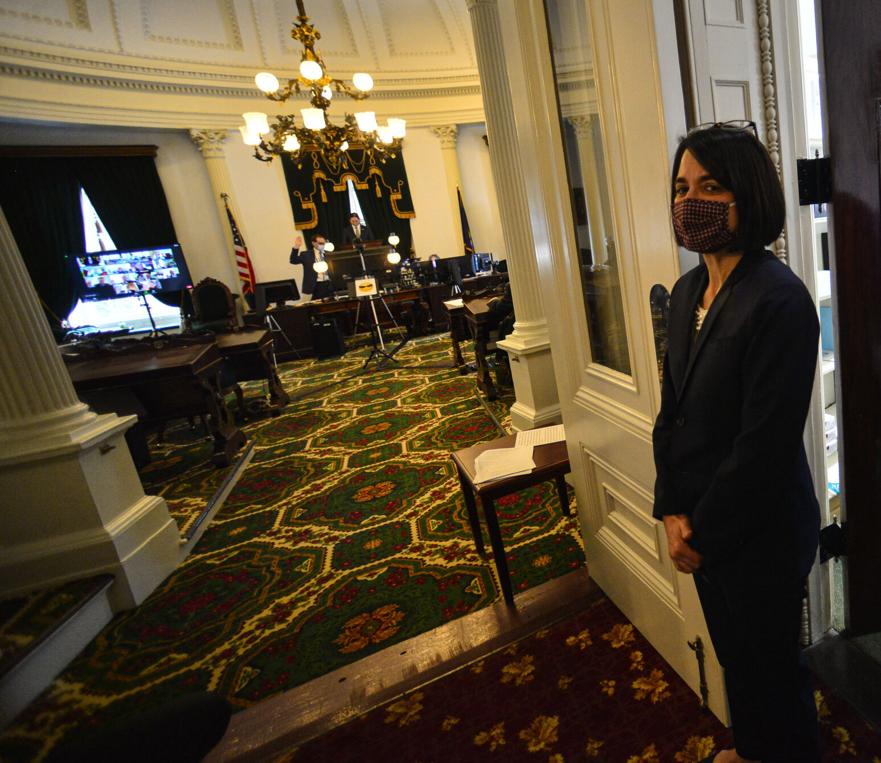 "Thank you for putting your trust in me. Thank you all for your service to your communities and our state," Balint told the Senate after her election. "We're going to do some very difficult, very important work together this biennium."
The House made more history when Taylor Small, D/P-Winooski, took the oath of office as the first openly transgender member of the Legislature.
Balint and Krowinski were chosen unanimously as the General Assembly took the unprecedented step of convening its session virtually rather than in person. The COVID-19 pandemic has forced both chambers to hold their public proceedings using video conferencing, in order to prevent transmission of the virus. Both houses have committed to do so through February and passed rules allowing virtual meetings while the emergency continues.
Both newly elected leaders urged their colleagues to focus on helping the state emerge stronger from the COVID-19 pandemic.
Balint asked members to "believe that together we can make positive change for our constituents, for our communities and for our state."
She asked her fellow state senators not to work harder, but to work differently, adapting to the challenges of working remotely over Zoom with "a renewed sense of the possible."
"Zoom used to be such a fun word," Balint said of the challenge of legislating over a computer screen.
"The entire country is weary from the pandemic, but the virus doesn't care. We must continue to address the dis-ease caused by this health emergency and the fear and doubt that many of our constituents feel," Balint said.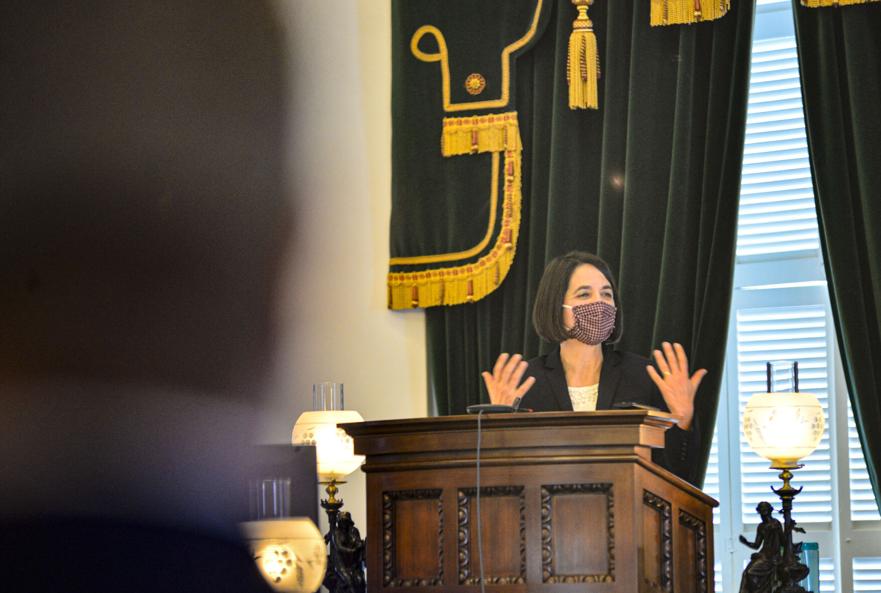 "Our authority and our political power comes from the people," Balint said. "We are 30 citizens who have been given an enormous responsibility. To listen deeply. To think carefully. To act with courage and conviction and a moral compass. To carry with us, each and every day, the stories and experiences of our constituents.".
Krowinski said that although Vermont has been relatively fortunate during the pandemic in terms of case counts and deaths, "too many have seen their lives changed. It has been a very long almost 10 months now and we are still many months from returning to the life we knew last winter," she said.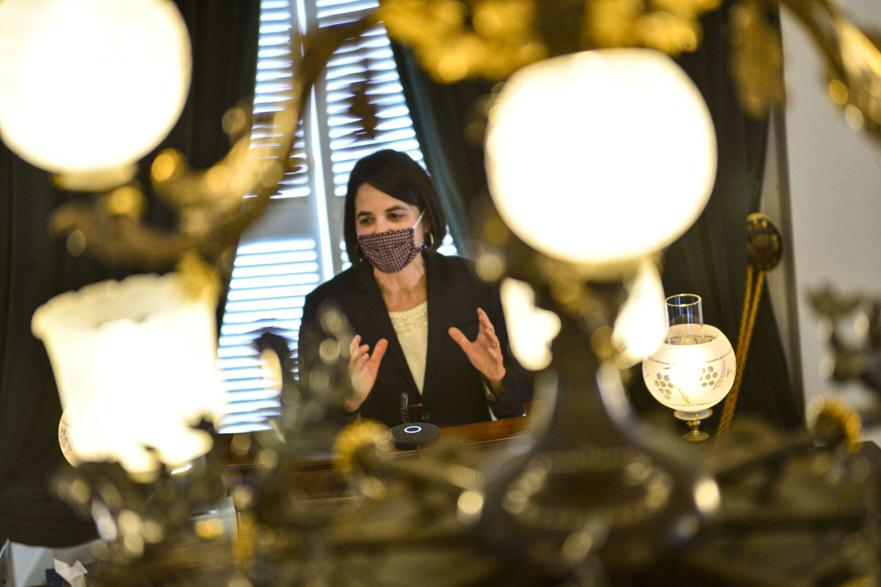 "We've seen too many Vermonters struggling to balance their needs," Krowinski said. "The responsibility before all of us is to provide our constituents with the support they need right now. We must chart a path forward and it must be on a course that leaves no one behind."
Krowinski offered an "open door" to Republicans, Progressives and independents.
'We are all in this together," Krowinski said. "This coming session will take an immense effort on our part to serve Vermonters. Together, we will govern with purpose. We will meet the challenges and we will build a stronger foundation for Vermont. One that moves all 14 Vermont counties forward."
"To be able to step onto that podium and look out at my colleagues and know that they trust me to help lead them through this very scary time for Vemornters is just a tremendous honor," Balint said. "I was moved a bit to tears thinking about it."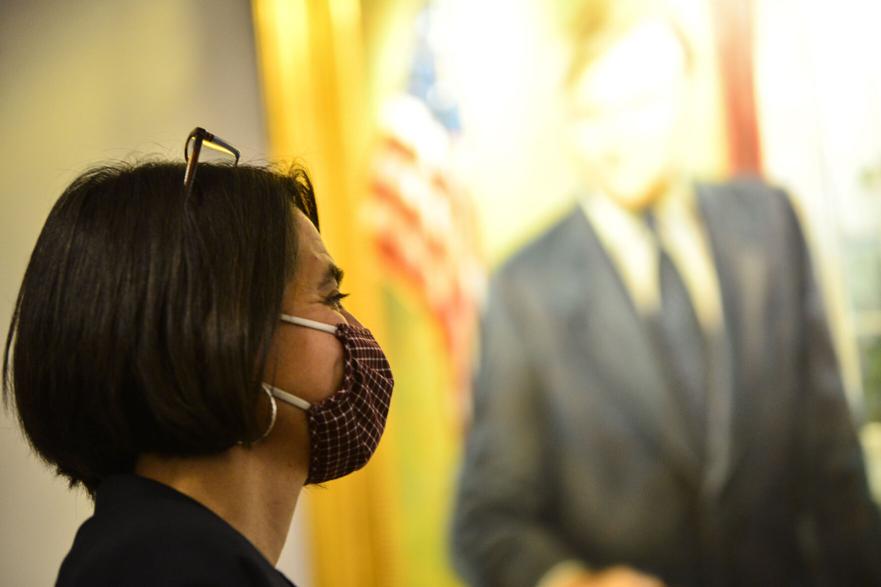 As the child of immigrants whose family was directly impacted by fascism in Germany, "to be part of a healthy democracy is breathtaking," she said.
Balint also said she is grateful to be following in the footsteps of other Windham County lawmakers including former state Senate President (and later governor) Peter Shumlin of Putney and former House Speaker Michael J. Obuchowski of Bellows Falls. "I feel they have shown me two great models how to do the work of the state while keeping in mind the folks back home," she said.
Unlike past inaugural sessions, this one took place in relatively empty quarters due to the COVID-19 pandemic. Most of the House's 150 members took the oath of office at home, over their laptops; with only leadership present at the State House. A quorum of state Senators was physically present in the Senate chamber, but shuffled in and out of the room to maintain social distancing.
Krowinski, the House's 92nd Speaker, succeeds Mitzi Johnson of South Hero, who was defeated in her bid for reelection.
A Buffalo, N.Y.-area native who worked as an aide to former Speaker Gaye Symington, Krowinski was first appointed to the House in 2012, representing Burlington's downtown. She served as Democratic Majority Leader under Johnson and worked at Planned Parenthood of Northern New England.
Balint, the 82nd president pro tem, succeeds Tim Ashe, who left his Chittenden state Senate seat to run for lieutenant governor. Originally from Peekskill, N.Y., Balint, in her fourth two-year term representing Windham County, is a former history teacher with masters degrees from the University of Massachusetts and Harvard. She lives in Brattleboro with her wife, Elizabeth R. Wohl, and their two children.
Lt. Governor David Zuckerman, who presided over the Senate one final time — as Molly Gray is to be sworn in as lieutenant governor Thursday — offered a farewell to the Senate members, wishing them the best and hailing their respect for the institution, its rules, and each other.
"I feel honored to serve with this body and in this state, where the institution of democracy is so revered and cherished across all parties be it Republican, Democrat, Progressive [or] Independent," he said.
"I am sad to be going but so pleased that in departing this position I know that you all hold those values dear and will set an example not only in this state but for the country," Zuckerman said.
In House committee assignments announced Tuesday afternoon, two Southern Vermont lawmakers joined key financial panels.
Rep. David Durfee, D-Bennington 3, joins Rep. Emilie Kornheiser, D-Windham 2-1, on the Ways & Means Committee, while Rep. Tristan Toleno, D-Windham 2-3, was assigned to the Appropriations committee. Durfee had previously served on the Health Care Committee, and Toleno was a member of the Commerce and Economic Development Committee.
Most area lawmakers kept their previous assignments. Rep. Nelson Brownell, D-Bennington 1, was the only other incumbent who changed committees, moving to Natural Resources from Government Operations.