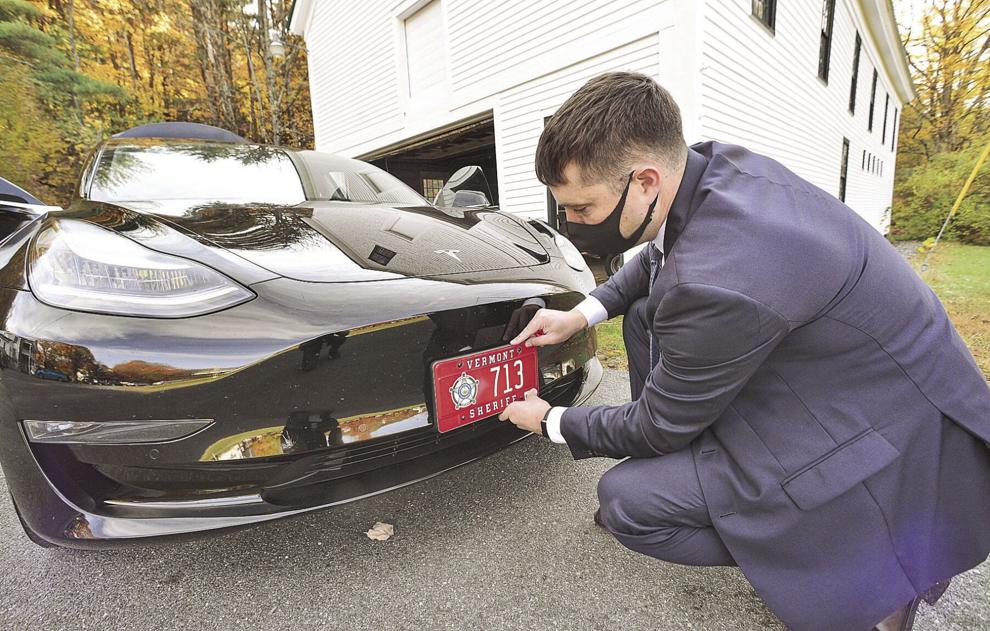 NEWFANE — Electric vehicles are showing up all over the place — in your neighbor's driveway, in the local public works department and in bus fleets around the nation.
But one place they're not usually seen is being driven by law enforcement.
That changed on Thursday when Windham County Sheriff Mark Anderson drove a black Tesla to the front door of the historic jail on Route 30 in Newfane.
"Right now, this is a pilot project," Anderson said. "We are looking toward the future. If this is successful, we will certainly consider electric vehicles as a primary leg in our fleet."
Anderson said it was not his original intent to replace one of his aging cruisers with a 2020 Tesla Model 3.
"As a result of pandemic, our normal vendors — Ford, Chevrolet and Dodge — have delayed production until the first quarter of 2021."
This meant he would have had to keep nursing along the replacement vehicle, which was estimated to need more than $7,000 in repairs this year alone, for another six to 12 months.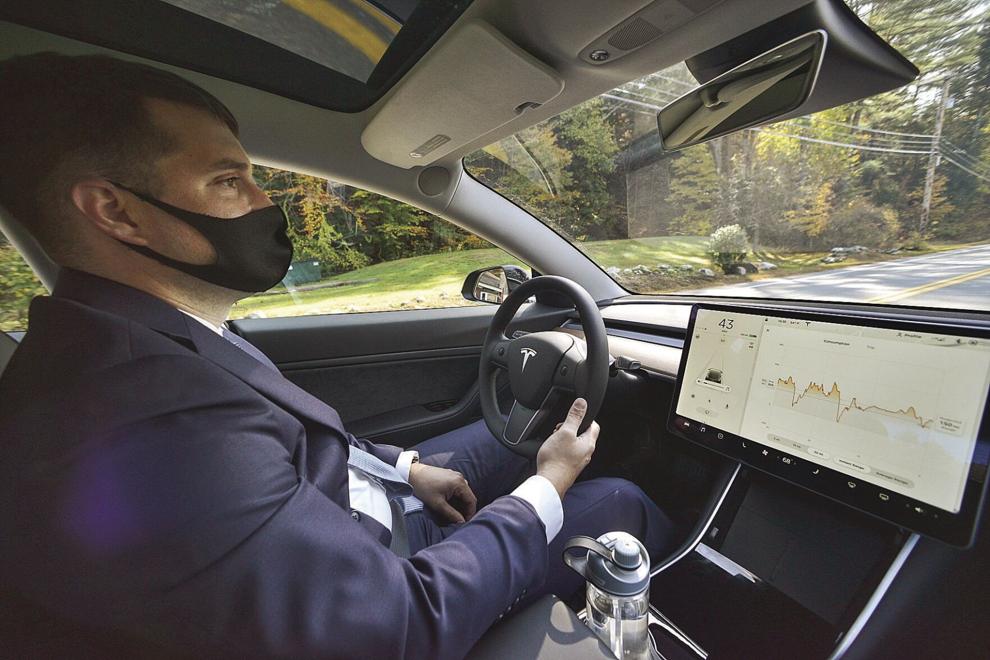 "We've been considering alternative energy vehicles," said Anderson, so he asked Tesla about their production times and was told he could have the vehicle in four to six weeks."
"This was in July, when we had planned to replace the other vehicle," he said.
Anderson crunched the numbers, including the purchase price, financing, the cost of ongoing maintenance and fuel, and the benefits of the Tesla warranty.
"With this there is no oil change and there's no fuel," he said. "And the warranty is far superior to anything we've had before."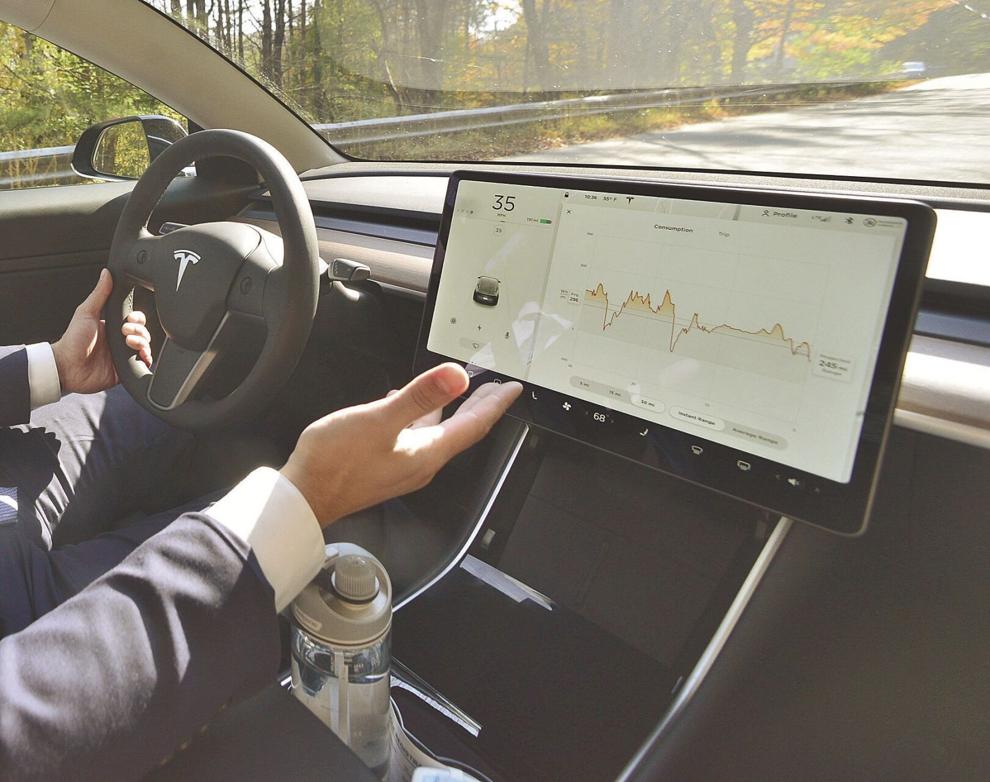 The model comes with a four-year, 50,000-mile warranty on the car itself and an eight-year, 130,000-mile warranty on the battery and the drive.
In his capital replacement budget, Anderson had set aside $35,000 for a new base vehicle. He spent $49,000 on the Tesla. The vehicle was purchased to replace a 2013 Ford Interceptor SUV that was due to be decommissioned.
"During our analysis when considering an electric vehicle, we looked at not only the cost of the purchase, but the cost of the use of the vehicle over its lifetime."
The electric cost of driving this vehicle one mile is approximately 3 to 4 cents, states a press release from the sheriff, compared to 10 to 20 cents for a gas vehicle.
Anderson said the result of the analysis was that the Tesla would save up to 80 percent of the costs of operating a normal gas vehicle, which can run between $5,000 and $8,000 a year, depending on usage and type of vehicle.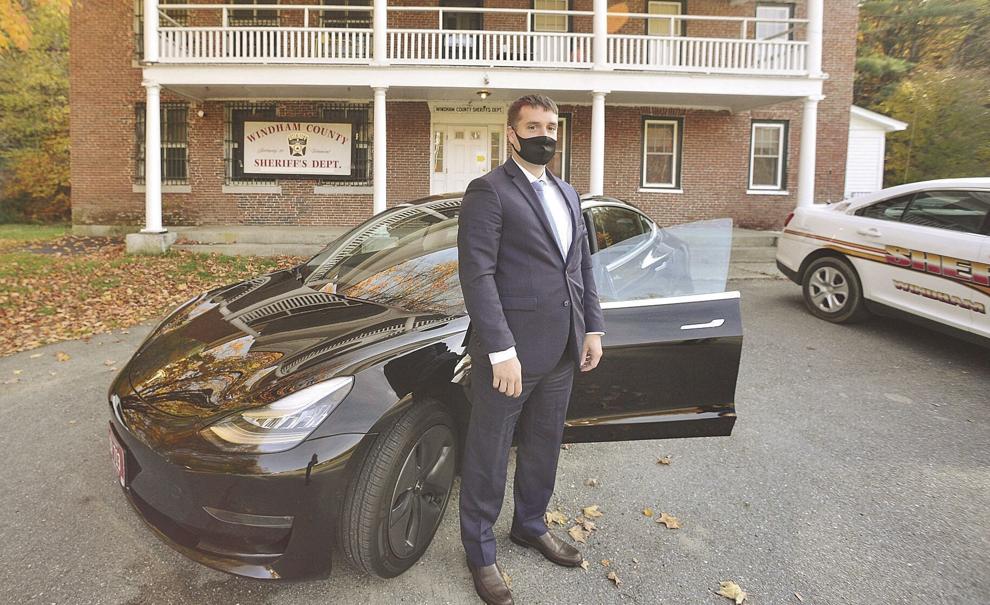 The purchase was financed with the help of Brattleboro Savings and Loan, he said.
Anderson also said that the funds to purchase the Tesla did not come from county taxpayers.
"Many people are not aware that Vermont's sheriff departments are run more like a business," he said.
Most of his budget, other than building costs, which come out of the county budget, is derived from income the department receives from contracts with local towns, transporting detainees for court hearings, and from hiring deputies out to provide safety at road construction projects.
Because the Tesla will mainly be used for administrative purposes, it won't need all the equipment normally seen on a police car. Anderson said it will have police lights and a radio and he will be able to use it to respond to calls, but it's not suitable as a patrol vehicle that might have to venture out on to some of Vermont's rough backroads.
Up until the time he parked it at a charging station in Brattleboro, he wasn't seriously considering marking the black vehicle with the sheriff's logo.
"I had five conversations with people who were incredibly thrilled about the concept," he said. "Maybe this makes sense to mark it up because it is the first law enforcement vehicle in Vermont that is all electric."
Anderson also believes his is the only sheriff's department in the whole nation with an electric vehicle.
"And I only know of two police departments that have deployed a Tesla in active service," he said.
He also said he thinks it might help him recruit some new deputies to his staff.
"I've had several people say they would be interested in working here simply because of that," Anderson said. "That's not what I was looking for, but I'm not turning down applicants."
Anderson said he is working with Green Mountain Power to get a Level 2 EV charger installed in Newfane.
"They have been a great partner through this decision, helping us to consider ways to save money and reduce our environmental impact. Law enforcement has a high demand on automobiles and to find a way to reduce our carbon footprint is big."
Currently, Anderson hasn't decided whether GMP will install a charger for the exclusive use of the sheriff's office or if the town would like to see a charging station at the location for the use of the general public.
"Our neighbors might want to weigh in," he said.
Anderson said he is also excited to bring the Tesla around to area schools.
"We've had a long-standing relationship with schools in the county," he said. "We are trying to work toward a future view of what the policing relationship should be within the educational environment, which includes the use of technology and how it ties into climate change and law enforcement tactics."
Anderson said it should be no surprise that the first sheriff in the nation with an electric vehicle can be found in Vermont.
"There is a reason our electric charging infrastructure is far superior to many other places," he said. "In Vermont, we consider unique ideas and how we can accomplish things in different ways."
Even if Anderson is happy with the Tesla and decides to make further similar purchases, there are some vehicles he won't be able to replace right away.
"We need a truck to tow our trailer," he said. "I'm not familiar with a comparable electric or alternate energy vehicle that can do what a truck can do for a price that makes sense."
On Tuesday night, the Brattleboro Police Department is also taking a step into alternative-energy vehicles.
"We are requesting the Select Board authorize the purchase of a Ford hybrid," said BPD Capt. Mark Carignan.
While the hybrid feature adds $3,353 to the cost, said Carignan, and doesn't include actually spinning the wheels with a battery.
"The hybrid aspect is a large battery that reduces the need to idle, thereby saving gas," he said. "The battery powers heat, air conditioning, emergency lights, and other needed equipment. This will be most often used during static traffic enforcement and at scenes such as collisions where cruisers usually idle."
Carignan said on average, a BPD vehicle idles four hours a day over two eight-hour shifts, or 1,460 hour a year. Using the hybrid feature means using 380 less gallons of gas each year.
"In addition to cost, there are environmental benefits," said Carignan. "A gallon of gas, when burned, creates approximately 19 pounds of carbon dioxide. The hybrid could potentially prevent the release of about 7,220 pounds of carbon dioxide per year or 28,880 pounds over the projected four-year life of the vehicle."
As with the sheriff's office, the BPD's purchase of a hybrid vehicle is a pilot program, he said.
"This would be our first experience with such a vehicle, so we will be keeping a close eye on gas consumption, vehicle performance, and maintenance costs."
With a $4,000 trade-in of a 2016 Ford Explorer, the town will pay $33,163 cash out of its capital budget. It comes with a five-year, 100,000-mile drivetrain warranty and an eight-year, 100,000 mile hybrid components warranty.
The Vermont State Police is also buying three Ford hybrids, said Adam Silverman, spokesman for the VSP. The Department of Public Safety also is purchasing two hybrids for civilian members of DPS, he said.
"Currently, manufacturers do not make a pursuit-rated electric vehicle, which would be needed for road troopers in our Field Force Division," he said.