The worst natural disaster since Tropical Storm Irene 10 years ago dropped close to 5 inches of rain on many Windham County towns Thursday night, leading to widespread road, bridge and culvert damage and closures.
Unlike Irene, emergency workers said they had no record of anyone being hurt or homes significantly damaged during the emergency. The storm and rising flood waters kept crews working throughout the night. Some people in Jamaica had to be rescued from their homes because of rising waters, but there were only scattered reports of serious home damages, aside from dozens of flooded cellars.
The National Weather Service in Albany, N.Y., said the storm came on top of already saturated ground, which had seen between 12 to 18 inches of rain this month. Normal rainfall during July is about 4 inches, said Michael Main, a staff meteorologist for the weather service.
Main said an area of Putney received the most reported rain in the county, officially measured at 4.5 inches. Other areas of the county received anywhere from 2 to 4 inches, he said. It created havoc, washing out roads and driveways, and flooding basements.
Didn't match Irene's intensity
More than one person said the storm and damage reminded them — but did not match — the devastation that hit the state from Irene on Aug. 28, 2011.
For comparison's sake, the U.S. Geological Survey measured the Saxtons River at 10,500 cubic feet per second Friday, the highest since Irene, but far below that storm, which tallied flows of 17,200 cfs.
The damage from the storm Thursday appeared to be limited to the state's two southern counties — Windham and Bennington. Manchester reported the highest amount of rain, Main said, with 4.68 inches. Communities in neighboring New Hampshire, including Walpole, Acworth and Alstead, N.H., reported damage that mirrored Vermont's, with Marlow, N.H., especially hard hit.
Putney, Newfane, Townshend, Dummerston and Westminster appeared to have been hit the hardest, said Alyssa Sabetto, a planner with the Windham Regional Commission who was working with towns Friday to list their damage with state planners. Other towns, such as Rockingham, Jamaica and Brookline, also reported significant damage.
"This is the worst storm since Irene for this region," she said, "but it's not as bad as Irene."
Sabetto said that as of Friday afternoon, it appeared Westminster had the most road damage.
Newfane was hit hard, said Select Board member Angela Sanborn, who said a lot of damage hit near the center of town, including WW Building Supplies.
Sheltering in place
Drew Hazelton of Rescue Inc. said the group's swiftwater rescue team assessed the threat to homes in a Newfane housing development and decided letting people to "shelter in place" was the safest alternative. "It was safer to leave them in their homes than to move them across the water," he said.
Westminster Town Manager Russell Hodgkins said that the town highway crew and independent contractors would be working throughout the weekend to try and repair the roads that were currently closed, leaving residents isolated in their homes.
He said Friday morning there were 12 closed roads, and crews were able to repair four roads enough so people could get in and out of those homes.
But he said there were eight roads where people could not leave their homes, and he urged Westminster residents to check and help their neighbors.
He said his priority now was helping people with medical needs to get oxygen and other supplies while they were marooned in their homes.
He said emergency personnel had to evacuate three families Thursday night because their homes were threatened by flood waters.
"We will have five contractors and ourselves working all weekend," said Hodgkins.
Too much for dirt roads to handle
"Five inches of rain in 3 1/2 hours is too much for any dirt road in Vermont," he said, noting most of Westminster's closed roads were dirt. He said a few paved roads were "compromised, but not impassable."
By comparison, Brattleboro, the county's largest town, was just south of the storm's concentration, and escaped any serious damage, said Public Works Director Steve Barrett.
Last week had been Brattleboro's turn to wrack up $300,000 of storm damage, Barrett said.
Joseph Flynn, the secretary of the Agency of Transportation, was in Putney on Friday afternoon, touring one of the hard hit areas of Putney: River Road, which was closed to traffic because of large washouts.
Flynn said, judging by the serious washouts along the road, and depending if material and a construction crew could be lined up, he said there was about a week's worth of work to get the road back in shape. And that was just one road, he said.
After River Road, he and Rep. Michael Mrowicki, D-Putney, were headed to view another hard-hit area of Putney, Putney Mountain Road. "It's a mess," Mrowicki said of River Road.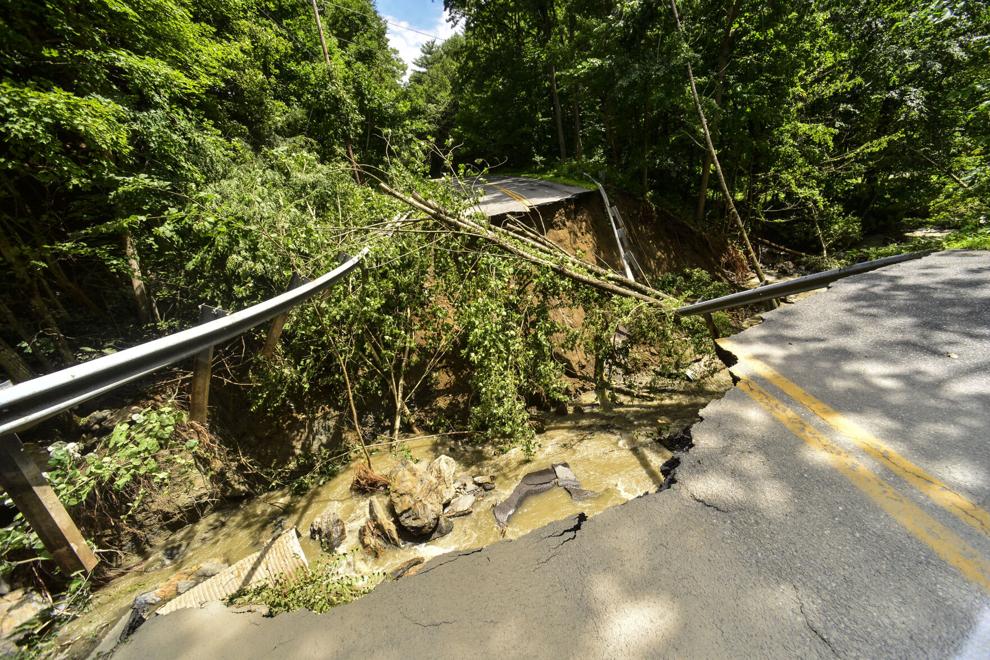 'Significant and extensive'
Putney Town Manager Karen Astley said the damage was "significant and extensive." She said there were 13 roads closed, "with more being added," saying that Putney Mountain, Holland Hill, Pine Banks, and River roads were hardest hit.
She said the town had pulled together local contractors, along with the town highway crew, to work to reopen the road, and crews were bringing in two heavy duty bulldozers from elsewhere to help with the work. Putney doesn't have a heavy duty bulldozer, she said.
Astley said it was too soon to give an estimate on the damage.
Walpole also had plenty of flooding and road washouts, said Walpole Select Board member Steve Dalessio, who said there were three roads closed, and many roads damaged. He said on Friday afternoon crews were focusing on Cold River Road where a couple of homes were isolated, but he said Old Drewsville Road and Black Jack Crossing were also hard hit.
Many emergency management and road crew foremen in the other towns, such as Newfane and Townshend, couldn't be reached Friday.
Erica Bornemann, Vermont's emergency management chief, said the storm only hit Windham County, and a couple of Bennington County towns. Bornemann, like others, urged Vermont residents to call 211 to report damage and to seek help, allowing the state to understand the full scope of the problems.
Soaked here, drought there
Bornemann said while Windham County's soils are saturated now, the northern part of the state remains in a drought.
And with more rain in the both short and long-term forecast, those saturated soils could prove to be a big problem, she said, and people should be alert to the increased potential for flash flooding.
The storm, while creating havoc, was nowhere near as bad as Irene, when 7 to 11 inches of rain fell in southern Vermont, Bornemann said.
One of the more dramatic flooding incidents Thursday happened in a neighborhood in Bellows Falls near the fire station, when a large culvert on Hyde Hill Road became blocked with debris and sent 3 feet of water cascading into the Laurel Avenue neighborhood below, swamping cars and basements.
On Friday afternoon, Rockingham highway foreman Andy Howarth was watching his crews clean up the mud and debris still clogging one end of Laurel Avenue, Wells Street and Hyde Hill Road. Unlike Irene, Howarth said, people had little warning that a serious rainstorm and the threat of flash flooding was about to hit them. With Irene, Howarth said, the state started warning people days in advance. With this storm, there was no advance warning, he said, until the early evening.
Rockingham Town Manager Scott Pickup said the area and the drainage had long been a source of problems, and the town had in recent years invested in what it had hoped to be a long-term fix.
Hill roads hit hard
Pickup said that Howarth even used a bucket loader during the storm to try and remove the debris blocking the drains, but with limited success. Many of the roads hit the hardest in Rockingham had the word "hill" in their name, Pickup said: Rockingham Hill Road, Hartley Hill Road, Corey Hill Road.
Howarth said the worst-hit road was Leach Road, which he said was "completely destroyed."
Resident Stanley Budzik said the road damage wasn't as bad as Irene, but it was bad, with multiple bridges and culverts washed out along the narrow dirt road.
Hodgkins, the Westminster town manager, said the most important thing was for his fellow residents to help their neighbors in need.
"Look after your neighbors. If you know someone whose driveway is washed out, please check on them. I know they will. Westminster is a great place to live," Hodgkins said.
Photographer Kristopher Radder contributed to this report.