LINCOLN — As an English teacher, one of Louella Bryant's goals was to teach history through literature.
The newly christened Weston Theater Company opened its 86th season with a charming outdoor production of "Shrek: The Musical," the fractured f…
BENNINGTON — Among the first things one might notice on a visit with Pat Adams Ricks, a renowned painter who has made Bennington her home sinc…
GRAFTON — Vermont Symphony Orchestra's Summer Festival Tour has a lot to like.
SAXTONS RIVER — This is a very different Hamlet: shorter, punchier, with sets and clothing from the Mad Men era of the early 1960s.
PUTNEY — International artists known for their dancing and beatboxing skills are sharing those art forms with local audiences this week.
PUTNEY — Just two weeks ago, 30 young musicians from all over the country and Europe arrived in Putney to attend Yellow Barn's Young Artists Program.
BRATTLEBORO — 118 Elliot Gallery's "Creative Relations'' exhibit will close on Sunday at 5 p.m. with the first full screening of "Through Her …
BRATTLEBORO — Growing up in Brattleboro, Samantha Fisher recalls her peers only knowing that she "kind of disappeared for a while" when she sp…
Brattleboro Museum & Art Center is among six institutions in Vermont and New York awarded a total of $800,000 in grants from the Wolf Kahn…
PUTNEY — Next Stage's 2021 Artist-in-Residence Arun Ramamurthy returns to Putney this weekend with his trio on Saturday and Brooklyn Raga Mass…
BENNINGTON — In 1972, five New York City actors, Eric Peterson, Gary Poe, Paul Falzone, Norrine Sims and Joe Warik, founded Oldcastle Theatre …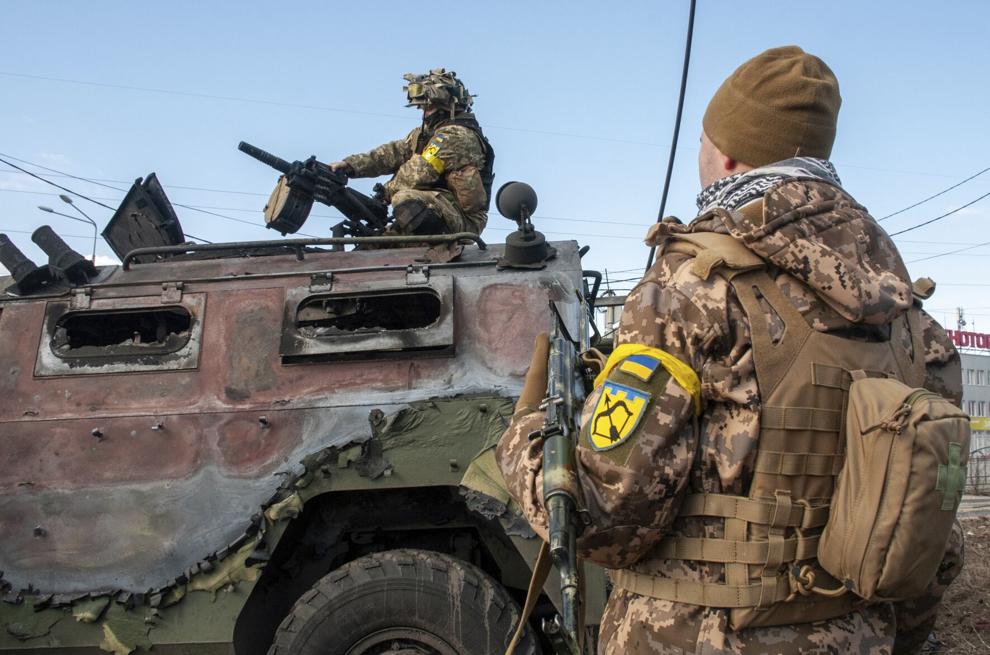 Vermont News & Media's three newspapers have a direct connection to people there who continue to work in Ukraine while under siege: Owner Paul Belogour has information technology teams based in Dnepr and Kyiv, Ukraine, which support the online operations of his other businesses, such as Vermont Innovation Box, Vermont Beer Makers and Vermont Real Estate and Development. Send your photos, videos and English-language reports from Ukraine to news@reformer.com to share them with Vermonters and other American readers.
LONDONDERRY — Dead of Summer Music Festival is coming in hot and gearing up to be the best yet.
BRATTLEBORO — BrattRock, a youth festival presented by sponsor Guilford Sound is returning with its first in-person performances on Saturday a…
GREENFIELD, MASS. — The Green River Festival celebrates 35 years on June 24, 25, 26 at Franklin County Fairgrounds with headliners Lake Street…
BENNINGTON — Oldcastle Theatre Company is excited to open its 50th season Friday with "Souvenir — A Fantasia on the Life of Florence Foster Je…
BRATTLEBORO — Five new exhibits will open at the Brattleboro Museum & Art Center on Saturday, June 18, including a group exhibit of art ma…
"Morning's At Seven" is Paul Osborn's treasured comedy classic set in a small Midwestern town in the 1920s. This American delight tells the st…
WEST CHESTERFIELD, N.H. — "Morning's At Seven" is Paul Osborn's treasured comedy classic set in a small Midwestern town in the 1920s. This Ame…
BRATTLEBORO — Looking for perfect card, something a little different than what you would find at a grocery store for Father's Day?
PUTNEY — Yellow Barn is ready to welcome audiences to the first concert in a series focusing on young artists.
SWANZEY, N.H. — Seth McNally likens the creation of the Northlands Music & Arts Festival to putting on a "circus," stitching together "a l…
PUTNEY — An avant-garde jazz legend will lead a group of multi-genre musicians in an incantation of poetry by his longtime collaborator, the l…
BRATTLEBORO — Acoustic duo Sharon & Daniel will lead a Summer Solstice Singalong at 7 p.m. June 21, at the West Village Meeting House in W…
BENNINGTON — Live music, food and drink will ring in this year's North Bennington Outdoor Sculpture Show (NBOSS).
WILLIAMSVILLE — A Brattleboro duo will bring its captivating sounds to a woodland setting for Manitou's Summer Solstice concert.
BRATTLEBORO — Mitchell-Giddings Fine Arts presents "Willa Cox: Abstract Narratives," opening at noon June 25, with an artist reception from 5 …
BELLOWS FALLS — A Chapel Hill, N.C., multi-instrumentalist duo will co-bill the Stage 33 Live listening room with The Milkhouse Heaters June 1…
NEWFANE — During the month of June, the Crowell Art Gallery at Moore Free Library, 23 West St., presents "Art Among Friends" by a group of six…
New England Center for Circus Arts' professional track year-two students held their end-of-the-year performances over the weekend. The show, c…