BRATTLEBORO — Most of the contestants in the inaugural Artful Ice Shanties Design-Build Competition do not ice fish.
Rachel Mangean, art teacher at Green Street School in Brattleboro, said she signed up to build an ice shanty, or a portable shelter used during ice fishing, simply for creative inspiration.
Like many educators, she has been teaching online during the COVID-19 pandemic, and misses working with her hands.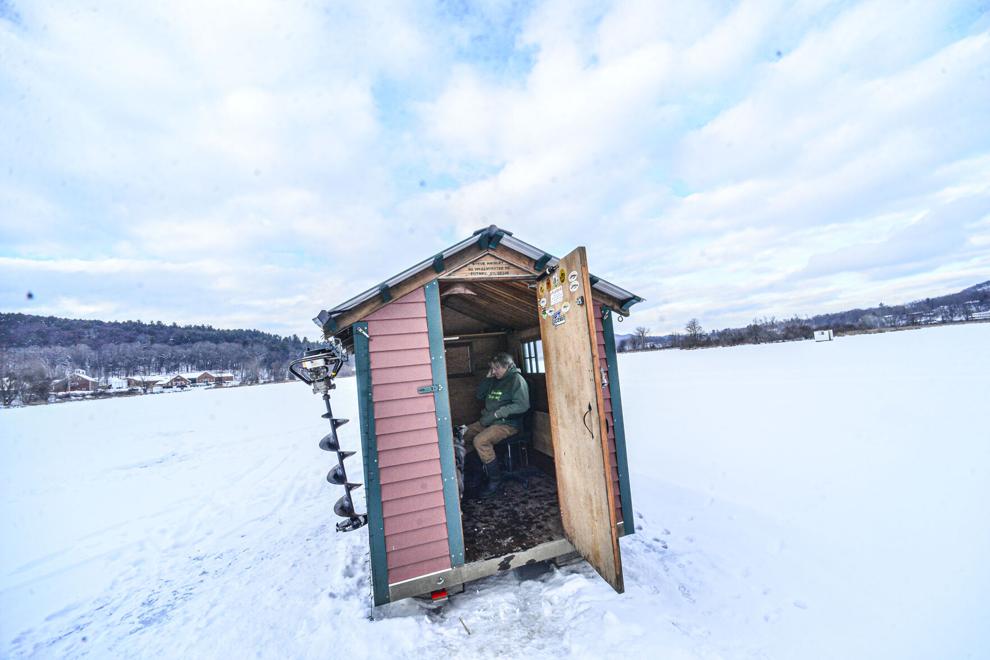 "I automatically signed up, not really knowing anything about building a shanty or liking ice fishing," she said. "I signed up because I needed to get back into making art, and I thought it would be a fun way to start."
Mangean, of Dummerston, is among more than a dozen participants in the new, lighthearted competition organized by the Brattleboro Museum & Art Center and Retreat Farm. The artful shanties will be on view at Retreat Farm from Saturday to Feb. 28, with a public, outdoor award ceremony from noon to 1 p.m. this Sunday at the farm.
The event is in conjunction with two Brattleboro Museum & Art Center exhibits, "Ice Shanties: Fishing, People & Culture" and "Erik Hoffner: Ice Visions," both of which have to do with ice fishing and are on view through March 6.
Museum director Danny Lichtenfeld said he and his staff try to organize events that offer a deeper dive into topics raised by current exhibits. An ice shanties competition was partially inspired by a similar event in Minnesota, about which he learned from a former museum employee, he said.
In a post-COVID world, he hopes the event can involve food vendors, performances and other outdoor activities, taking on the form of a winter festival.
"Gauging the interest so far, it feels like this has the potential to be a signature Brattleboro winter thing that people come here to see," he said. "So I hope that actually proves to be the case."
Organizers encourage visitors to check out the shanties any time between dawn and dusk, and to pair their visits with ice skating on the Retreat Meadows or walking, snowshoeing or cross-country skiing on the trails at Retreat Farm, according to an event description. All activities are free and open to the public, with masks and social distancing required. Museum staff will serve complimentary hot chocolate on Saturdays and Sundays, 10 a.m. to 2 p.m., while the shanties are on display.
Mangean's shanty was inspired by "My Octopus Teacher," a Netflix documentary that follows a filmmaker's efforts to forge a relationship with a wild octopus. She built the shelter out of 2-by-4s and foam insulation board, and painted the outside with an octopus and coral reef-inspired designs. Lanterns will shine through holes in the octopus painting.
"I've always loved the coral reef, and I've gone scuba diving before, but this documentary is amazing. This guy goes out and visits the same octopus day after day and they become like, acquaintances," she said about the film that inspired her creation.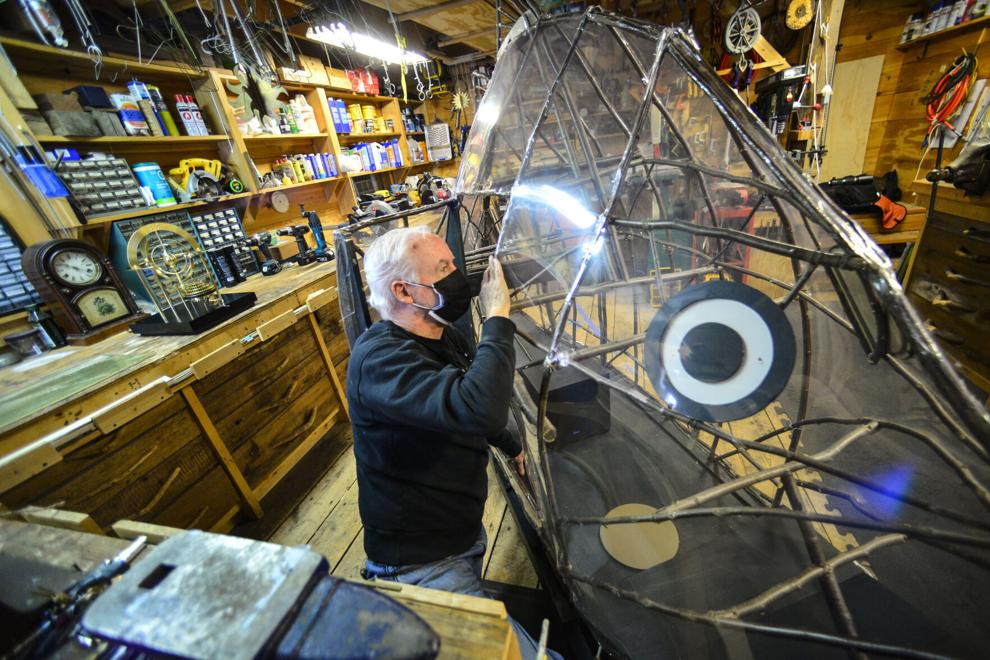 Bruce Campbell, a Brattleboro sculptor, built a shanty in the shape of a fish, made of black birch saplings connected by twine and a "couple of nails," covered with a transparent film.
He said he learned about the competition through Lichtenfeld, a friend.
"He knows I like making things with my hands and he wondered if I was interested. I said, sure," Campbell said. "When I first heard, I thought it would be really fun to make a fish shanty in the shape of a fish."
He said he chose to use black birch saplings because he wanted to use materials already available to him, and the trees grow "like weeds" near his home. He made his creation translucent so it would gain heat from the sun.
"I often thought, I bet those people are pretty cold inside those houses," he said. "If they made them translucent, they could get a lot of solar gain."
When planning the competition, Lichtenfeld said event organizers considered whether enough people would be interested in building a shanty. Looking back, he said the museum staff experienced a similar worry the first year of the Lego contest — held for the 13th year in November — that not enough people would want to build Lego creations.
"So it was like having deja vu with the ice shanties, but before we fully committed, we spoke to some people, asked what do you think, would you be into this," Lichtenfeld said. "We were getting pretty enthusiastic responses."
Also in conjunction with the contests and exhibits, an online panel of experts will discuss "Ice Fishing: Culture, Community, and Conservation" at 7 p.m. Feb. 16. Panelists include Paige Blaker, fish production supervisor for Vermont Fish and Wildlife; Roy Gangloff, multi-generational ice fisherman; Clay Groves, "Fish Nerds" podcaster and New Hampshire fishing guide, and Rich Holschuh, Tribal Historic Preservation Officer for the Elnu Abenaki and founder and director of the Atowi Project.
Possibly the only ice fisherman participating in the shanty contest is Stephen Haisley, of Putney, whose ice shanty is among those photographed in "Ice Shanties: Fishing, People & Culture." Haisley has been ice fishing for close to 20 years, and has had the shanty for 10 or 15. It is made of clapboards, with a mahogany floor and a recently redone roof. He said he did upgrades after learning about the contest.
"The shanty is sort of a microcosm of my life," Haisley said. "It's been dumped in the Retreat (Meadows) two or three times. It's fallen over. It's gotten knocked over. It's got all its scars and bruises but it still works."
He began ice fishing about the same time he began making what he describes as serious changes in his life. He said he does not ski or snow shoe, but said he had always liked to fish, and has memories of fishing with his father, who died when he was 6. So he took up ice fishing, and within the past month or so, learned from his sister that their father had also ice fished.
"I had no idea about following his footsteps," Haisley said.
He said he enjoys seeing families spending time on the Retreat Meadows, and that there is a sense of community among those who ice fish. For example, they will help one another if someone needs to move a shanty.
Inside his shanty is a foldaway bench and a satellite radio. Sometimes, he uses a heater.
He noted that from the outside, his shanty has a more simple design than others in the contest.
"Whether or not somebody thinks it's artful, I don't care," he said. "To me, it's artful, and it is in its own way."