BRATTLEBORO — A couple of Graces, four aces, a winner of races, and three other faces are now vying for Sam's Outdoor Outfitters and Brattleboro Reformer Athlete of the Spring honors and a $25 gift certificate from The Marina.
Brattleboro Union High School varsity boys' soccer player Magnus von Krusenstiern (fall) and Bellows Falls wrestler Trenton Rumrill (winter) captured the first two prizes during the 2021-2022 school year.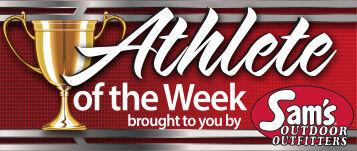 Each of the spring contestants are shown below, along with the reason why they were originally nominated. In order to participate, simply select your choice on the reformer.com poll. The voting will end on June 26 at 9 a.m.
Laura Kamel placed 20th in the discus to lead all area athletes at the New England Track and Field Meet. The Bellows Falls freshman had qualified by placing first at the Division 2 State Championships.
Jonathan Terry struck gold in the triple jump with a leap of 40-9 at the Division 2 State Track and Field Meet. The Bellows Falls senior was also the runner-up in the discus that day.
Isabella Lonardo swept the two hurdles races and also won the long jump for host Brattleboro Union High School at the Southern Vermont League Championships.
Aidan Davis went 3-for-4 against Portsmouth Christian and then drove in three runs versus Pittsfield to power the Hinsdale varsity baseball team offensively.
Grace Guild won three consecutive singles matches for the Bellows Falls varsity girls tennis team.
Jamison Nystrom struck out a dozen batters and also scored the game-winning run for the Terriers during a battle with Hartford.
Jack Cravinho fanned eight, walked one and scattered three hits as the Bellows Falls varsity baseball team topped rival Springfield 3-2.
Izzy Stoodley fired a two-hitter, with eight strikeouts and a couple of walks, when the BF varsity softball team outscored Poultney 15-2.
Grace Wilkinson exploded for seven total hits during the Bellows Falls varsity softball team's first two contests this year.
Warren Roberts racked up four goals and two assists to pace Leland & Gray Ultimate in its season opener.