BRATTLEBORO — A pair of podium finishers, a lax star, a talented tennis player, and a softball slugger have all been nominated for Sam's Outdoor Outfitters and Brattleboro Reformer Athlete of the Week honors.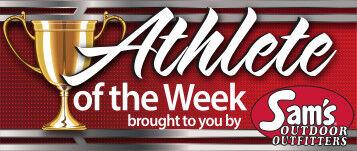 In order to participate, simply select your choice on the reformer.com poll. The voting will end on May 22 at 9 a.m.
The five nominees are shown below.
Noah Dornburgh placed second in the discus and third in the shot put to pace the Twin Valley track and field team at the MAU Invitational in Bennington.
Hunter Fillion earned a silver medal in both the javelin and discus to power the Leland & Gray track and field team during a meet in Manchester.
Willow Romo erupted for eight goals as the Brattleboro varsity girls lacrosse team won its first game of the season, 10-7 over Keene.
Grace Guild was the only tennis player to win a match for Bellows Falls in her team's 6-1 loss to Woodstock. She followed that up with recent victories against Hartford and Brattleboro.
Aleah Owen pounded out three hits to power the Hinsdale varsity softball team to a thrilling 14-13 win over Wilton.