WESTMINSTER — About four weeks after he fired a three-hitter against Vergennes in a Division 3 quarterfinal, Jack Cravinho has earned another win.
The 2022 Bellows Falls Union High School graduate received 217 votes from his fans to become the Sam's Outdoor Outfitters and Brattleboro Reformer Athlete of the Spring. His prize is a $25 gift certificate from The Marina.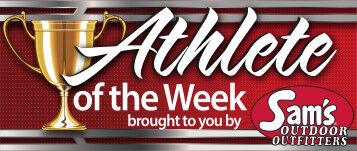 Cravinho batted second in the order for the Terriers during his final varsity season. The ace hurler and gifted shortstop helped his squad to a Division 3 Final Four appearance and a 13-5 overall record.
Also getting some love in the polls were: electric Hinsdale baseball player Aidan Davis (129 votes), Bellows Falls tennis standout Grace Guild (63), BF track star Laura Kamel (54), Brattleboro speed demon Isabella Lonardo (40), BF baseball great Jamison Nystrom (29), awesome BF hurler Izzy Stoodley (29), BF slugger Grace Wilkinson (19), exceptional BF track athlete Jonathan Terry (10), and dangerous Leland & Gray ultimate disc player Warren Roberts.
Cravinho's parents, John and Jen, took the time to answer some questions about their son's legendary baseball career.
1. What's it like to watch Jack pitch?
We are very proud watching him out there on the mound. As his mom, it's a bit nerve wracking for me. I'm always on the edge of my seat. His father is always calm watching him pitch.
2. What's a best memory of yours from Jack's baseball career?
10U championship game in Chester. Coached by Jeff Wilson, the team went in as the underdog and walked away with the win. The excitement was beyond measurable.
3. How was Jack introduced to the sport?
Playing T-ball on Well Street with the Rockingham Rec, at age 5.
4. Who does Jack get his athletic ability from?
His dad
5. Does Jack remind you of a certain player?
As a pitcher, Rick Porcello
6. What do you think is Jack's secret to success on the diamond?
His desire to win. He has a calm and focused demeanor on the mound. He doesn't get rattled easily.
7. How many games would you guess you've seen Jack play in?
650-plus games. For multiple years, he played spring, summer and fall ball.
8. What's the best thing about being the parents of a player?
Watching him succeed after all the time and effort put in to the sport.
9. What could you tell me about the first glove or bat Jack ever had?
It was a generic glove and bat to start, but we soon learned the difference it makes with an A2000 glove and composite bat.
10. What would your scouting report for Jack look like?
Patient at the plate, aggressive and athletic shortstop. Pitches strikes around the plate, commands the fastball, with a very good curve, and will mix in a changeup from time to time.