BRATTLEBORO — Beginner's luck?
Grace Guild, who has only been playing tennis for just over a year, recently won three consecutive singles matches and then received 241 votes to earn Sam's Outdoor Outfitters and Brattleboro Reformer Athlete of the Week honors.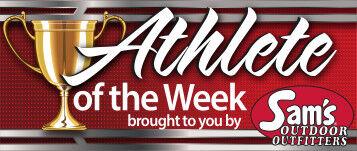 "My favorite player is Rafael Nadal. I have studied his game and style over the past year and applied it to my game," said the Bellows Falls senior.
Her streak consisted of victories against Brattleboro, Hartford and Woodstock. She was the only player on her team to prevail against the latter.
"It was the first match I played the No. 1 ranking," Guild explained. "My (Woodstock) opponent was incredibly skilled and forced me to adapt. I won the tiebreaker with a short backhand crosscourt return, which was my favorite shot of the match."
All About Grace
1. Grade: Senior
2. When did you start playing tennis: My junior year
3. Favorite tennis player: Rafael Nadal
4. Future plans: Attending Champlain College to establish a career in sports management
5. Best tennis memory: My win over Woodstock
6. Other sports you follow: Formula 1, boxing
7. Favorite classes: social studies and history
8. Favorite movies: Oceans 11, The Gentlemen, Training Day
9. One thing on your bucket list: I would love to watch a tennis Grand Slam in person
10. Favorite type of music: I enjoy many genres (country, rap, pop, rock)