WESTMINSTER — Chunky Monkey. Phish Food. Cherry Garcia.
Any one of those could be the secret fuel for track and field athlete Laura Kamel, who recently placed first in the discus at the Division 2 State Championships. The Bellows Falls student then received 98 votes in order to earn Sam's Outdoor Outfitters and Brattleboro Reformer Athlete of the Week honors.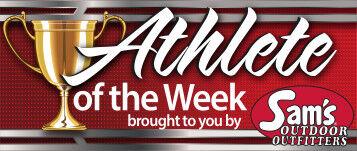 "My favorite things about Vermont are the open fields and mountains, and Ben and Jerry's Ice Cream," she pointed out.
Kamel went on to lead all area athletes by placing 20th in the discus at the New England Meet.
"She decided to come out for track even though she was injured. We worked around her injury and when she could compete, she shocked the state," said BF track coach Jamie Dansereau. "That's what she does, she shocks you with her athleticism, her teamwork, and her heart that she gives to the sport and all those around her."
All About Laura
1. Grade recently completed: Ninth
2. Favorite track and field event: Discus
3. A track and field goal of yours: To learn how to spin so I can throw way farther
4. Are you superstitious: Yes, very
5. Secret to your success: I'm very hard on myself when I don't do the best that I can, so practice and patience.
6. Summer plans: I'm excited to go to Maine
7. A best high school memory: Winter Carnival Week
8. Favorite meal: Chicken pesto pasta
9. Favorite board game: Monopoly
10. Who should play you in a movie: Jennifer Lawrence