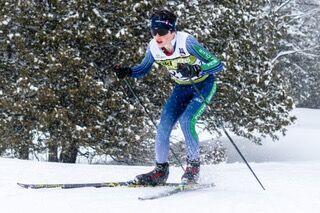 CRAFTSBURY — Fourteen members of the Putney Ski Club made the trip to Craftsbury for the New England Bill Koch League Ski Festival last weekend. The 11 racers from Putney joined a team of over 70 athletes between the ages of 3 and 14 representing Southern Vermont. The action-packed weekend featured youth ski racing in five age classes, with over 650 youth skiers competing from all around New England.
The racing started on Saturday with two-person relays using skate technique — the style of skiing popularized by local legend and the ski league's namesake, Bill Koch, who was in attendance. Right out of the gate, Putney's Lena Quintal and her teammate Eliza Mandel from Prospect Mountain Ski Club won a silver medal in the Grade 1/2 relay. Vivie O'Brien of Putney also skied in that race joining teammate Rosley Blaylock of West River Ski Club.
In the Grade 5/6 girls race, Merritt Goodell of Putney anchored for teammate Aida Chalmers of West River for a silver medal performance, while Nola Witherell of Putney won a thrilling finish sprint to take 11th place by inches.
With hundreds of skiers competing from across the Northeast, results off the podium were still noteworthy. Cole Bancroft of Putney with teammate Wyatt Hughes (West River) skated to an 11th place finish in the Grade 5/6 boys race, and Putney's September Bodel joined Caitlin Craddock of West River to finish in the 10th spot in the Girls Grade 7/8 race. Rounding out Putney relay skiers was Matt Northcott, who won gold in the Grade 7/8 boys race with teammate Ivan Ivanov from Stratton Mountain School.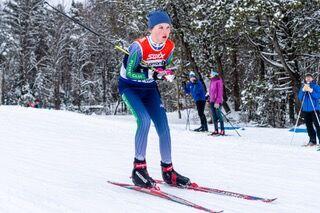 In addition to the racing, the festival featured numerous cross country ski and winter activities: pump tracks, obstacle courses, timed speed runs, a parade, jumps, games, laser biathlon, maple sugaring, and much more. There was a constant swirl of skiers everywhere, and the excitement of all of the participants was palpable.
Sunday featured individual races in classic technique. Waxing is a critical component of all ski racing, but is especially tricky for classic skiing as the wax has to provide both grip, or "kick," as well as glide. In addition to athletes, Putney was responsible for the world-class waxing prowess behind the Southern Vermont team, with World Cup coach Patrick O'Brien joining Zach Caldwell of West Hill Shop and Caldwell Sport, to provide all the athletes with the fastest skis possible. Their expert efforts were reflected in race results.
In individual racing, Goodell placed 8th in the Girls Grade 5/6 race, followed in 29th by Witherell, while Bancroft finished solidly in the top half of the Grade 5/6 boys field, at 42nd out of 96 skiers. He was joined in that race by Putney skiers Leander Chapin and Sebastian Bodel. Sebastian's big sister September matched Witherell's result in the Girls Grade 7/8 race, finishing 29th out of 73 competitors.
One enduring tradition of all kids races throughout the cross-country ski season is the "Lollipop Race," where competitors who are new to skiing or under the age of 6 participate in a "race," or fast ski parade, around a short loop, and are presented lollipops at the finish line. Quintal was Putney's lone entrant in the festival rendition.
Northcott won the Boys Grade 7/8 individual race with a 0.4 second lead over closest competitor Tor Webb from Boston. The razor-thin margin of victory was even more impressive considering that the race was run as an interval start, with each skier racing against the clock. Finally, Quintal finished out the day, the weekend, and the prizes with a gold medal in the Grade 1/2 individual race, joined in that race by Putney skiers Vivie and Henry O'Brien.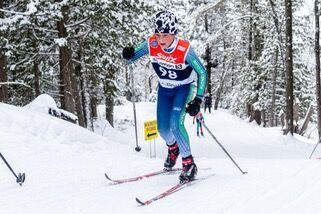 The Putney Ski Club is a recreational ski program open to all skiers of any ability, and from any town, ages three- to 14-years-old. They meet once or twice a week after school through the winter months, on ski trails, or patches of snow, around Putney. Their mission is to help kids get outside, make friends, have fun on skis, and develop a love for winter and sport.
For more information visit putneskiclub.org, or email sam@putneyskiclub.org.